News
USA Wrestling
International
College
Women
USAW
Guilford pins Welker in loaded 76 kg bracket, as semifinals are set at U.S. Senior Women's Open
by Gary Abbott, USA Wrestling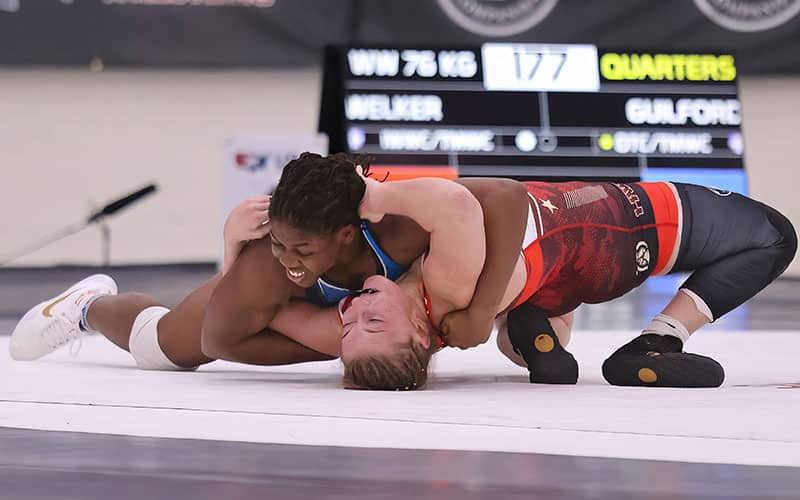 Dymond Guilford goes for the pin in a comeback win over Kylie Welker at 76 kg. Photo by John Sachs
LAS VEGAS, Nev. – The
U.S. Senior Women's Open
started with a bang, as the most loaded weight class in the tournament at 76 kg had some great action in the quarterfinals.
In a battle of past Senior World Team members, No. 4 seed and 2022 Senior World Team member
Dymond Guilford
battled back from an 8-0 deficit to throw and pin No. 5 seed and 2021 Senior World Team member Kylie Welker in 2:32. Welker dominated from the start and had Guilford on her back for an extended time before she was able to get out of Welker's hold. Guilford hit a throw and was able to finish the fall in a shocking finish to the bout.
The top four seeds at 76 kg held their position. Six-time World champion
Adeline Gray
returned after missing a year to have twins and pinned four-time NCWWC champion Sydnee Kimber, putting her against Guilford in the semifinals. No. 2 seed
Kennedy Blades
, an Olympic Trials runner-up and this year's U20 Nationals champion, will face No. 3 seed
Yelena Makoyed
, a three-time NCWWC national champion and the Women's College Wrestler of the Year award winner in the other semifinals.
In most cases, the top seeds were able to advance to the semifinals, as five weight classes had the top four seeds all advance to the semifinals.
However, there are a pair of unseeded wrestlers in the semifinals. At 72 kg, NAIA national champion
Kaylyn Albrecht
of Baker University and the Wildcat Elite WC scored a 10-0 technical fall over No. 1 seed and current Senior National Team member Marilyn Garcia.
At 65 kg, unseeded
Aine Drury
of California pinned No. 4 seed Skylar Hattendorf of the New York AC in 3:23, earning a spot in the semifinals against No. 1 seed and multiple age-group World medalist Macey Kilty of the Sunkist Kids.
Two-time World bronze medalist and top seed
Alyssa Lampe
of the Sunkist Kids advanced to the 50 kg semifinals, where she will face No. 4 seed Sage Mortimer of the Titan Mercury WC. Nine of the 10 No. 1 seeds are in the semifinals.
The U.S. Women's Open semifinals are set for 4:00 p.m. PT, live on FloWrestling.
U.S SENIOR WOMEN'S OPEN
At Las Vegas, Nev., April 28

Senior Women's Semifinals pairings
50 kg
No. 1 Alyssa Lampe (Sunkist Kids) vs. No. 4 Sage Mortimer (Titan Mercury WC)
No. 3 Audrey Jimenez (Sunkist Kids) vs. No. 2 Erin Golston (New York AC)
53 kg
No. 1 Amy Fearnside (USOPTC / TMWC) vs. No. 5 Samara Chavez (Team Tornado WC)
No. 3 Katie Gomez (Sunkist Kids) vs. No. 2 Felicity Taylor (Iowa Womens WC/TMWC)
55 kg
No. 1 Lauren Mason (UVRTC / TMWC) vs. No. 4 Areana Villaescusa (Army WCAP)
No. 3 Alisha Howk (Sunkist Kids) vs. No. 2 Marissa Gallegos (Titan Mercury WC)
57 kg
No. 1 Alexandra Hedrick (USOPTC / TMWC) vs. No. 4 Shelby Moore (White River Hornets WC)
No. 3 Xochitl Mota-Pettis (Rise RTC) vs. No. 2 Amanda Martinez (TMWC/Cardinal WC)
59 kg
No. 1 Maya Nelson (Sunkist Kids) vs. No. 4 Brenda Reyna (Army WCAP)
No. 3 Michaela Beck (Sunkist Kids) vs. No. 2 Abigail Nette (Army (WCAP)
62 kg
No. 1 Jennifer Page (Nittany Lion WC/ TMWC) vs. No. 4 Savannah Cosme (Sunkist Kids)
No. 6 Bridgette Duty (Army WCAP) vs. No. 2 Adaugo Nwachukwu (Titan Mercury WC)
65 kg
No. 1 Macey Kilty (Sunkist Kids) vs. unseeded Aine Drury (California)
No. 6 Maya Letona (New York City RTC) vs. No. 2 Emma Bruntil (USOPTC / TMWC)
68 kg
No. 1 Forrest Molinari (Sunkist Kids) vs. No. 5 Katerina Lange (Minnesota Gold / Storm)
No. 3 Alexandria Glaude (Beaver Dam RTC/TMWC) vs. No. 2 Solin Piearcy (Menlo WC)
72 kg
Unseeded Kaylynn Albrecht (Wildcat Elite) vs. No. 4 Rose Cassioppi (New York AC)
No. 3 Nahiela Magee (Army WCAP) vs. No. 2 Joye Levendusky (New York)
76 kg
No. 1 Adeline Gray (New York AC) vs. No. 4 Dymond Guilford (USOPTC / TMWC)
No. 3 Yelena Makoyed (Cardinal WC/TMWC) vs. No. 2 Kennedy Blades (Sunkist Kids)
Quarterfinal results
50 kg
Alyssa Lampe (Sunkist Kids Wrestling Club) pin Jasmine Howard TX (High Ground Wrestling), 1:26
Sage Mortimer UT (Titan Mercury Wrestling Club) inj dft. Nyla Valencia CA (Iowa Women's Wrestling Club / TMWC), 8-7 3:27
Audrey Jimenez (Sunkist Kids Wrestling Club) tech fall Ava Bayless PA (Iowa Womens Wrestling Club), 10-0 0:45
Erin Golston (New York Athletic Club) dec. Kendra Ryan IL (Cardinal Wrestling Club), 13-5
53 kg
Amy Fearnside CO (USOPTC / TMWC) tech. fall Haley Franich WA (Air Force RTC), 11-0 1:43
Samara Chavez (Team Tornado Wrestling Club) tech. fall Estrella Dorado Marin (Army WCAP), 10-0 1:44
Katie Gomez CA (Sunkist Kids Wrestling Club) tech fall Vanessa Ramirez CO (Army WCAP), 10-0 2:44
Felicity Taylor IA (Iowa Womens Wrestling Club) pin Sydney Petzinger NJ (Cardinal Wrestling Club), 8-0 1:15
55 kg
Lauren Mason CA (UVRTC / TMWC) dec. Virginia Foard (New York Athletic Club), 6-2
Areana Villaescusa CO (Army WCAP) tech fall Isabella Ngo CA (California), 13-2 4:56
Alisha Howk WI (Sunkist Kids Wrestling Club) dec. Ella Jauregui CA (California), 6-4
Marissa Gallegos CO (Titan Mercury Wrestling Club) tech fall Vayle Baker PA (Team Tornado Wrestling Club), 13-2 6:00
57 kg
Alexandra Hedrick CA (USOPTC / TMWC) dec. Carolina Moreno AZ (Arizona), 9-0
Shelby Moore WA (White River Hornets WC) dec. Montana Delawder PA (Team Tornado Wrestling Club), 8-3
Xochitl Mota-Pettis TX (Rise RTC) tech. fall Ashley Whetzal MO (Missouri), 14-4 2:51
Amanda Martinez IL (TMWC/Cardinal WC) VSU Emma Truex OR (Northwest Wrestling Club), 10-0 0:47
59 kg
Maya Nelson CO (Sunkist Kids Wrestling Club) tech. fall Lauren Louive OH (New York Athletic Club), 10-0 4:49
Brenda Reyna WA (Army (WCAP)) tech. fall Lexie Basham TX (New York Athletic Club), 11-0 1:42
Michaela Beck NY (Sunkist Kids Wrestling Club) tech fall Sarah Savidge CO (Army (WCAP)), 10-0 2:31
Abigail Nette LA (Army (WCAP)) tech fall Gracie Figueroa CA (Titan Mercury Wrestling Club), 13-2 4:24
62 kg
Jennifer Page PA (Nittany Lion Wrestling Club / TMWC) dec. Zoe Nowicki MI (Bulldog Wrestling Club), 8-6
Savannah Cosme AZ (Sunkist Kids Wrestling Club) tech fall Claire Dicugno WA (White River Hornets Wrestling Club), 17-5 6:00
Bridgette Duty TX (Army (WCAP)) dec. Amanda Hendey TN (Titan Mercury Wrestling Club), 14-8
Adaugo Nwachukwu CA (Titan Mercury Wrestling Club) pin Ashlynn Ortega CO (New York Athletic Club), 5:42
65 kg
Macey Kilty WI (Sunkist Kids Wrestling Club) VSU Viktorya Torres WA (Team Tornado Wrestling Club), 10-0 1:27
Aine Drury CA (California) pin Skylar Hattendorf NH (New York Athletic Club), 3:23
Maya Letona CA (New York City RTC) tech fall Ana Luciano FL (New York Athletic Club), 12-1 5:11
Emma Bruntil WA (USOPTC / TMWC) tech fall Ella Schmit IA (Iowa Womens Wrestling Club), 11-0 3:00
68 kg
Forrest Molinari AZ (Sunkist Kids Wrestling Club) tech fall Love Daley MD (Wyoming Seminary Wrestling Club), 12-0 1:43
Katerina Lange MN (Minnesota Gold / Storm) dec. Isabella Mir NV (Iowa Womens Wrestling Club), 3-2
Alexandria Glaude OR (Beaver Dam RTC / TMWC) pin London Houston WA (Cardinal Wrestling Club), 14-4 4:30
Solin Piearcy CA (Menlo Wrestling Club) tech fall Chloe Ogden NC (North Carolina), 16-5 4:21
72 kg
Kaylynn Albrecht KS (Wildcat Elite) tech fall Marilyn Garcia CA (Birmingham Community Charter High School Wrestling), 10-0 3:55
Rose Cassioppi IL (New York Athletic Club) dec. Haley Ward MO (MO West Championship Wrestling Club), 8-7
Nahiela Magee CO (Army (WCAP)) tech fall Brooklyn Hays UT (Minnesota Gold / Storm), 11-0 1:55
Joye Levendusky NY (New York) dec. Noelle Gaffney NJ (New Jersey), 9-1
76 kg
Adeline Gray CO (New York Athletic Club) pin Sydnee Kimber AK (Bearcat Wrestling Club), 3:52
Dymond Guilford CA (USOPTC / TMWC) VFA Kylie Welker WI (Iowa Women's Wrestling Club / TMWC), 8-2 2:32
Yelena Makoyed CA (Titan Mercury Wrestling Club) VFA Precious Bell MN (Titan Mercury Wrestling Club), 8-0 1:25
Kennedy Blades IL (Sunkist Kids Wrestling Club) VSU Ashley Lekas TX (Minnesota Gold / Storm), 10-0 1:14