News
USA Wrestling
International
USAW
Jordan Burroughs makes triumphant return to New Jersey to compete in Final X
by Gary Abbott, USA Wrestling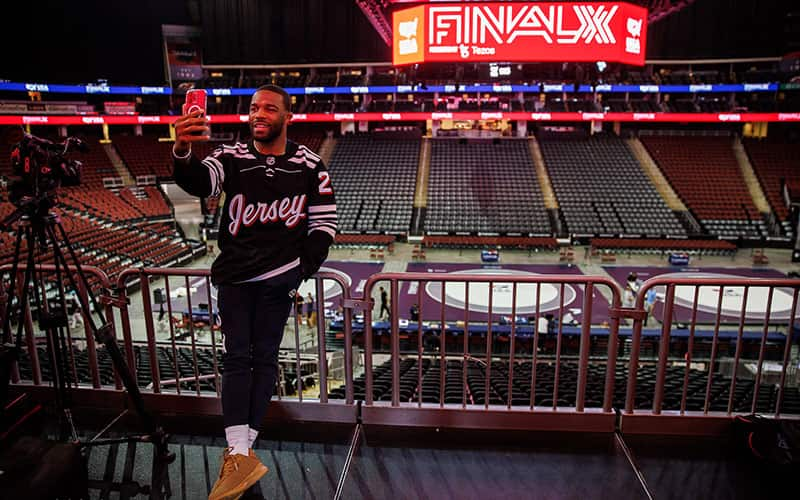 Jordan Burroughs takes a selfie with his custom New Jersey Devils hockey jersey in Prudential Center prior to Final X. Photo by Justin Hoch
.
Olympic champion and six-time World champion
Jordan Burroughs
is one of the greatest athletes in history from the
state of New Jersey
, a place which takes pride in producing super stars in so many sports.
You might think that a native son of New Jersey would get an opportunity to wrestle in his home state often during the prime of his career. You would expect that he might have had the chance to return to his home for a hero's welcome and a chance to perform his craft for those he knows and loves best.
Think again. In fact, it has been 15 years since the pride of the Garden State has competed on his home soil.
As always, Burroughs was one of the most entertaining and informative athletes at the
Final X press conferences
, held today at
Prudential Center in Newark
. He let everybody know how much he is excited to wrestle for his home fans.
"We were just talking about the last time I wrestled in New Jersey, which is my home. I grew up in South Jersey, Sicklerville to be exact. Typically, when you are from New Jersey, you measure yourself by the exit on the New Jersey Turnpike. I actually grew off exit 38 of the Atlantic City Expressway," he said.
"I have not wrestled in New Jersey since 2008, against Rider University. We had a dual meet with Rider when I was a sophomore at Nebraska. It has been 15 years since I got to wrestle in my home, so I am excited about it," said Burroughs.
Think about that. In 2008, Burroughs had not yet even begun to make the major impact which has changed the history of American wrestling. He won a New Jersey state title for Winslow Township High School in 2006, a year after being a state runner-up in 2005. He chose Nebraska for his college home, and in 2008, he had not yet become a college champion. His NCAA titles came in 2009 and 2011. He hadn't even competed in his first major international tournament, because later in 2008, he placed 10th in the Junior World Championships at 66 kg in Istanbul, Turkey.
While this is the first time Burroughs has wrestled in New Jersey since he was a young college wrestler just starting his rise in the sport, this will not be the first time Burroughs has had a home field advantage for Final X. In fact, when he was living and training in Lincoln, Nebraska after his college career had ended, he was able to win Final X twice in front of his home crowd in Lincoln. In 2018, Burroughs defeated Isaiah Martinez in two straight matches in Final X Lincoln. In 2019, Lincoln hosted Final X again, and Burroughs needed to go all three matches to defeat Martinez to make another World team.
At the press conference, Burroughs was asked by a 16-year-old journalist with the New York Times about what motivates him. It reminded him about his early days in New Jersey
"I remember when I was 16. My goal was to get a varsity jacket and to get my name in the paper, maybe a picture on the front page of the sports section of the Courier Post or the Philadelphia Inquirer. That was the goal for all the kids in my area at that time. It shifts distinctly depending upon the time frame that you are in. When I got to college, I wanted to have my name in the rafters. I wanted to have my picture on the front of our media guide that they passed out to all of the recruits. When I got to the senior level, I wanted followers, I wanted to make money, I wanted to make a name for myself."
"Now I have gotten back to the purity of why I started this. I have four little ones in my household who count on me daily. And they watch me. They get to see the way I operate and navigate in the world, how I train, how I take care of my body, and how I treat people. It has shifted, every season of my life. I rely heavily on my faith, I rely deeply on my family and the people that encourage and support me. Lastly, I am a competitor. I like beating people at stuff," he said with a chuckle.
Well, since Burroughs had last competed in New Jersey, he beat a lot of people at a lot of stuff. His seven combined World and Olympic gold medals is an American wrestling record, something that he continues to seek to add to. He has achieved all those goals along the way, varsity jacket, name in the rafters, followers and money, even a chance to stand on the top of podium at the Olympic Games, and wrestle on two U.S. Senior World Teams that came home as World Team champions.
Burroughs returns to New Jersey as arguably the greatest wrestler in American history. So what does that mean when he finally has a chance to come home?
"The only problem with being back and wrestling in your home is all the free tickets that people ask for. I've spent more money buying tickets for my family and friends to come watch me this weekend than I am going to make from winning this weekend. It is going to be an exciting time. I am excited to be back and can't wait to compete," he said.
Welcome home, Jersey's greatest!!!!