News
USA Wrestling
International
Women
USAW
Maroulis receives delay of Final X series against Mota-Pettis for medical reasons, with site and date of series to be determined
by Gary Abbott, USA Wrestling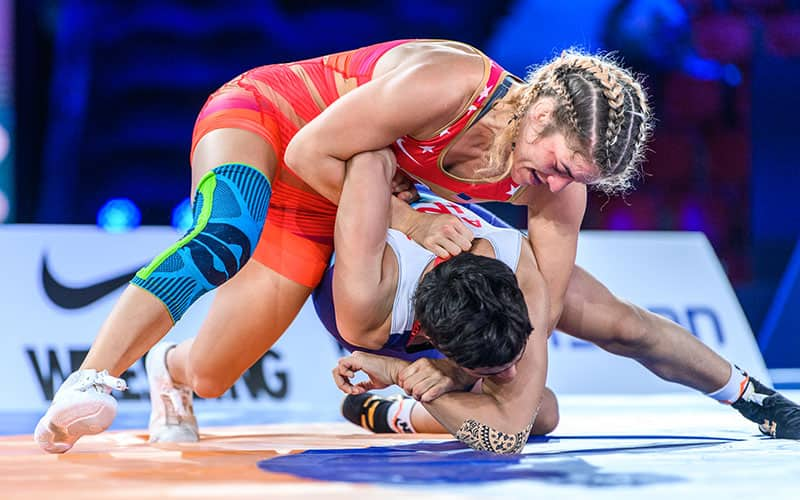 Helen Maroulis works an arm bar at the 2021 World Championships. Photo by Tony Rotundo, Wrestlers Are Warriors
2022 World silver medalist
Helen Maroulis
(Tempe, Ariz./Sunkist Kids) has received a delay of her 57 kg women's freestyle Final X series for medical reasons.
Maroulis was scheduled to face Xochitl Mota-Pettis (Humble, Texas/Rise RTC) in Final X at Prudential Center in Newark, N.J., Saturday, June 10.
Maroulis notified USA Wrestling and followed all of the proper procedures under the Athlete Selection Procedures, 2023 Senior World Team, 2023 Senior Pan American Games – Women's Freestyle, 1.2.2, which includes the following:
Only a 2022 Senior World Championship medalist who earned an automatic berth into Final X or a 2022 Senior Women's Freestyle World Championship medalist who relinquished their automatic berth by who wins the 2023 U.S. Open in the same weight category, can request a delay of the Final X for medical reasons. This request must be submitted as set forth below at least 48 hours prior to the scheduled weigh-in time (no request for delay will be allowed or granted otherwise).
The site and date of this Final X best-of-three series has yet to be determined.
The winner of each Final X Championship Series will represent the Team USA at the Senior World Championships in Belgrade, Serbia, Sept. 16-24.
For more information on the 2023 Team Selection Procedures, visit:
https://www.teamusa.org/usa-wrestling/team-usa/team-selection-criteria