News
USA Wrestling
International
Women
College
Beach
USAW
USA qualifies at five weight classes for 2023 ANOC World Beach Games in Bali, Indonesia, August 10-11
by Gary Abbott, USA Wrestling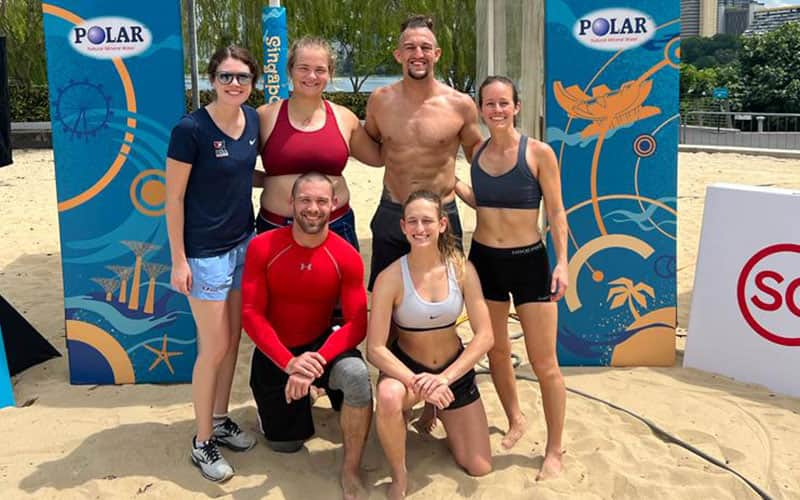 The five athletes who qualified Team USA for the World Beach Games at the Beach World Series in Singapore: Standing L to R, Trainer Jenna Jackson, plus Isabeau Shalack, Ty Loethen, Laura White. Kneeling L to R: Mitch Cook, Mia Macaluso. (Photo courtesy of Laura White).
The United States has qualified at five of the eight weight classes for the
2023 Association of National Olympic Committees (ANOC) World Beach Games
in Bali, Indonesia, August 10-11.
ANOC notified the U.S. Olympic and Paralympic Committee (USOPC) that the USA qualified in these five weight classes, and the USOPC has accepted those positions. In addition, United World Wrestling (UWW) has posted the qualified nations on its Beach Wrestling website https://beachwrestling.org/rules
The weight classes which the USA has qualified are:
• Women's 50 kg
• Women's 60 kg
• Women's +70 kg
• Men's 70 kg
• Men's 80 kg
Eight athletes in each weight class were determined through a point-scoring system from five specific UWW Beach World Series events, three in 2022 and two in 2023. Similar to the Olympic Games, individual athletes did not qualify themselves but qualified their nation to compete at the World Beach Games based upon these standings. Two other athletes in each weight class have been selected as wildcard additions by United World Wrestling, including four athletes from the host nation, Indonesia.
The following U.S. athletes placed in the top eight of their weight class in the qualifying standings and qualified the United States to compete in Bali:
• Mia Macaluso of Otisville, N.Y. (No. 4 at 60 kg women)
• Laura White of Duanesburg, N.Y. (No. 5 at 50 kg women)
• Isabeau Shalack of Oak Lawn, Ill. (No. 5 at Over 70 kg women)
• Mitchell Cook of Orland Park, Ill. (No. 6 at 70 kg men)
• Ty Loethen of Columbia, Mo. (No. 7 at 80 kg men).
The U.S. team for the World Beach Games is not yet completed. Based upon the World Beach Games Athlete Selection Procedures, there will be wrestle-offs between the athlete who qualified the weight class for Bali and the 2023 U.S. Beach Nationals champion at that weight class. Details on these Special Wrestle-offs will be posted tomorrow.
There were 29 nations that have earned qualifiers for the World Beach Games, pending acceptance from their National Olympic Committee. Only four nations had more qualifiers than Team USA: France and Romania with eight athletes, plus Hungary and India with seven athletes. In addition to the United States, Turkey also had five qualifying berths.
This will be the second ANOC World Beach Games, with the first held in Doha, Qatar in 2019. Team USA had five athletes compete in Qatar, four women and one man. Shauna Kemp became the first U.S. wrestler to win a medal at the World Beach Games, when she claimed the bronze medal at 60 kg in women's beach wrestling in Qatar.
ANOC World Beach Games Qualified Nations (by number of qualifiers
)
8 - France, Romania
7 - Hungary, India
5 - Turkey, United States
4 - Azerbaijan, Bulgaria, Spain, Georgia, Greece, Indonesia,
3 - Ukraine
1 - Argentina, Belgium, China, Colombia, Ecuador, Italy, Japan, Moldova, Norway, Pakistan, Portugal, South Africa, Senegal, Singapore, Slovenia, Venezuela
ANOC World Beach Games qualified nations, with athlete who qualified weight (as posted on UWW Beach World Series website)
WOMEN – 50 kg
1 ROU Stefania Claudia PRICEPUTU
2 TUR Emine CATALOGLU
3 IND Kumari HANNY
4 FRA Justine Fanny VIGOUROUX
5 USA Laura Elizabeth WHITE
6 HUN Bianka RECZI
7 ESP Cristina ANDUJAR OJEDA
8 BUL Miglena Georgieva SELISHKA
9 ARG Maia Abigail CABRERA
10 VEN Naiyeliz Silvana GUTIERREZ RIVAS
WOMEN – 60 kg
1 ROU Elena Simona IONESCU
2 UKR Iryna KHARIV
3 ESP Maria Victoria BAEZ DILONE
4 USA Mia Kaur MACALUSO
5 FRA Aurore CABANNE
6 IND Kusum KUSUM
7 HUN Nikolett SZABO
8 CHN Yue ZHANG
9 INA Putri Meilinda RINALDY
10 ITA Francesca INDELICATO
WOMEN – 70 kg
1 FRA Manon KURY
2 ROU Adina Ionela IRIMIA
3 BUL Mimi Nikolova HRISTOVA
4 HUN Viktoria FELHO
5 UKR Yuliia KREMEZNA MALYK
6 TUR Hatice Ece TEKIN
7 GRE Agoro PAPAVASILEIOU
8 SLO Sara TRBULIN
9 POR Sonia Marina PEREIRA BRAZIO
10 RSA Bea MEIRING
WOMEN - +70 kg
1 ROU Catalina AXENTE
2 UKR Liudmyla PAVLOVETS TYCHYNA
3 GRE Stefania ZACHEILA
4 FRA Angelique Carole GONZALEZ
5 USA Isabeau Marie SHALACK
6 ESP Noelia LALIN CANDA
7 IND Reetika REETIKA
8 NOR Cathrine FRILSETH
9 COL Tatiana RENTERIA RENTERIA
10 ECU Genesis Rosangela REASCO VALDEZ
MEN 70 kg
1 GEO Levan KELEKHSASHVILI
2 AZE Ramiz HASANOV
3 ROU Stefan Ionut COMAN
4 TUR Yunus COSKUN
5 FRA Quentin Jean-René STICKER
6 USA Mitchell Kenneth COOK
7 IND Rahul GULIA
8 HUN Daniel ANTAL
9 MDA Ion MARCU
10 SGP HONG YEOW LOU
MEN – 80 kg
1 GEO Nika KENTCHADZE
2 ROU Maxim VASILIOGLO
3 HUN Csaba VIDA
4 AZE Omid Abdolali KAMALIAGHDAM
5 ESP Pablo GARCIA GARCIA
6 IND Vijay VIJAY
7 USA Tyler Mackenzie LOETHEN
8 FRA Ewan Emile LEPRINCE
9 BUL Dimitar Atanasov ANGELOV
10 JPN Hirotaka ABE
MEN – 90 kg
1 AZE Ibrahim YUSUBOV
2 GEO Davit KHUTSISHVILI
3 TUR Mahmut Seyfi OZKAYA
4 ROU Mihai Nicolae PALAGHIA
5 FRA Mathis Damien Leon MAYRAND
6 BEL Jonas VAN CAENEGHEM
7 HUN Patrik PUESPOEKI
8 GRE Christos SAMARTSIDIS
9 IND Suryapratap SURYAPRATAP
10 PAK Muhammad INAM
MEN - +90 kg
1 GEO Mamuka KORDZAIA
2 TUR Fatih YASARLI
3 ROU Vasile Vlad CARAS
4 HUN Richard VEGH
5 FRA Luc Rene ZANETTON
6 AZE Oyan NAZARIANI
7 GRE Rafail GKIRNIS
8 BUL Georgi Lyubomirov IVANOV
9 IND Ashish ASHISH
10 SEN Modou FAYE