News
USA Wrestling
Women
High School & Youth
USAW
Four premier high school matches announced for Final X and Beat The Streets Annual Benefit
by Brandon Cain, Beat The Streets New York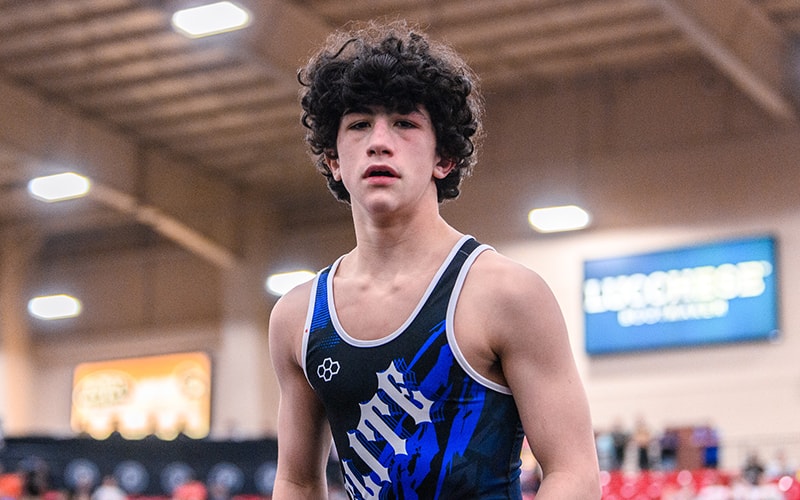 Photo: Paul Kenny at the 2023 U.S. Open Championships in Las Vegas, Nev. (Tony Rotundo/wrestlersarewarriors.com)

Four premium high school freestyle wrestling matches will be showcased between Final X sessions on Saturday, June 10 at Prudential Center in Newark, New Jersey.
There will be a boys and girls matchup at the conclusion of the first Final X session at approximately 4:15 p.m. (ET). The second set of matchups will be prior to the evening Final X session, which starts at 6 p.m. (ET).
Aubre Krazer (Easton, Pa.) will face Kira Pipkins (Bloomfield, N.J.), and Paul Kenny (Christian Brothers Academy, N.J.) will meet Seth Mendoza (Mount Carmel, IL) after Final X session one. Jordan Chapman (Cranford, N.J.) will face Alessio Perentin (Delbarton, N.J.), and Carina Giangeruso (Columbus, N.J.) will meet Maura White (Jefferson, N.J.) prior to Final X session two.
It is the second straight year Final X will serve as the Beat the Streets New York Annual Benefit. This year's event will be the 13th BTSNY Annual Benefit. These unique and electrifying annual events help BTSNY raise more than $1 million each year to support local youth wrestling programs which empower young people in New York City. The BTSNY Annual Benefit after-party will follow the conclusion of Final X.
Benefit tickets and sponsorship packages (Final X plus exclusive after-party celebration access), that also provide the best wrestling-event seats, are available at
give.btsny.org/beatthestreetsbenefit2023
. For more information on ticket packages, email Katrin Pokalyukhin at katrin@btsny.org.
Proceeds from Benefit tickets and sponsorship packages will directly help BTSNY, which provides a safe, positive atmosphere for student-athletes to learn the essential life lessons of discipline, perseverance, self-reliance, humility and a strong work ethic through wrestling.
Event-only tickets for Final X without access to the BTSNY after-party celebration are available on
Ticketmaster.
FloWrestling
will serve as the host broadcasting partner for Final X, presented by Tezos.
Final X, presented by Tezos

At Prudential Center, Newark, N.J., Saturday, June 10High School Exhibition Matches


Aubre Krazer (Easton, Pa.) vs. Kira Pipkins (Bloomfield, N.J.)

Aubre Krazer credentials

Undefeated two-time Pennsylvania state champion
USA Wrestling Junior Nationals women's freestyle runner-up
Two-time USA Wrestling 16U Nationals women's freestyle All-American
Kira Pipkins credentials

First woman four-time New Jersey state champion
First woman in New Jersey to reach 100 career high school wins
NJ.com Girls Wrestler of the Year
Columbia University Women's Wrestling Club signee
Paul Kenny (Christian Brothers Academy, N.J.) vs. Seth Mendoza (Chicago, IL)

Paul Kenny credentials

Three-time Super 32 champion
Super 32 Most Outstanding Wrestler
U17 Nationals men's freestyle champion
U17 Nationals men's freestyle Most Outstanding Wrestler
Seth Mendoza credentials

Two-time Illinois 3A state champion
2021 USA Wrestling 16U Nationals men's freestyle champion
2022 USA Wrestling 16U Nationals men's freestyle runner-up
Two-time U17 Nationals men's freestyle runner-up
Super 32 funner-up
Jordan Chapman (Cranford, N.J.) vs. Alessio Perentin (Delbarton, N.J.)

Jordan Chapman credentials

2023 New Jersey high school state tournament third place
2023 U17 Nationals men's freestyle All-American
2022 USA Wrestling 16U Nationals men's freestyle All-American
Alessio Perentin credentials

2023 New Jersey state champion
2022 USA Wrestling 16U Nationals men's freestyle runner-up
2022 Powerade tournament runner-up
2022 New Jersey high school state tournament fourth place
2022 Beast of the East champion
Carina Giangeruso (Columbus, N.J.) vs. Maura White (Jefferson, N.J.)

Carina Giangeruso credentials

2023 U17 National Team member for Puerto Rico
2022 USA Wrestling U16 Nationals women's freestyle champion
Maura White credentials

2023 U20 Women's Beach Wrestling Nationals third place
Two-time New Jersey Junior state champion
2023 New Jersey high school state tournament third place
2023 USA Wrestling Phil Portuese Northeast Regional women's freestyle third place