News
USA Wrestling
High School & Youth
USAW
Illinois, with huge Greco-Roman finish, edges Pennsylvania in final combined #Fargo2023 team standings
by Gary Abbott, USA Wrestling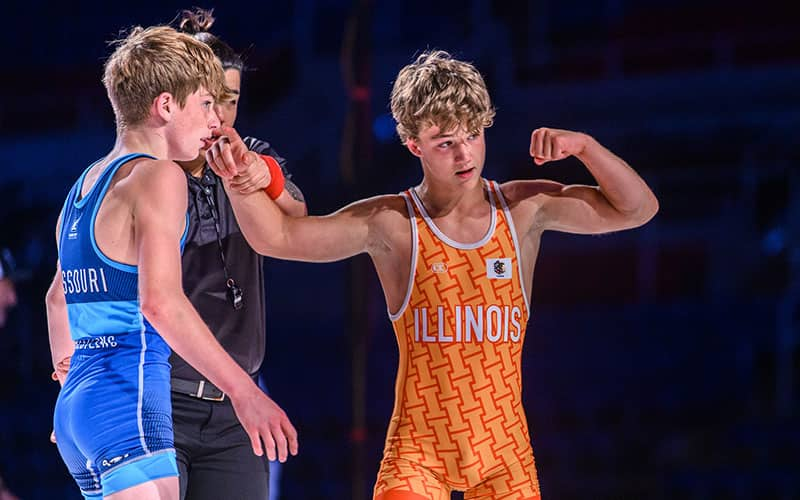 Caden Correll (IL) celebrates with a flexed muscle after winning the 2023 Junior Nationals Greco-Roman title at 100 pounds. Photo by Tony Rotundo, Wrestlers Are Warriors
.
After the women's freestyle and men's freestyle competition, Illinois trailed Pennsylvania by 151 points in the #Fargo2023 combined team standings.
Then came Greco-Roman. Illinois amassed 319 points in Greco-Roman, with 213 points in winning the 16U Greco-Roman Nationals and 106 points in placing third in the Junior Greco-Roman event. Pennsylvania scored 162 points in the two Greco-Roman tournaments, placing in a tie for 4th in 16U Greco-Roman and 10th in Junior Greco-Roman.
Illinois
finished with 767 points to edge
Pennsylvania
by six points, which finished with 761 points in the overall team standings, featuring all six national tournaments included in the
2023 USMC Junior/16U Nationals
in Fargo, N.D.
Iowa,
which was fourth after the first four tournaments, had a strong Greco-Roman effort, adding 311 Greco-Roman points in the two events to jump above
California
to place third. Iowa finished with 696 points, with fourth-place California with 552 points.
Oklahoma
had a balanced competition, scoring well in five of the six tournaments, including two excellent Greco-Roman performances, to place fifth with 470 points, just one point ahead of sixth-place
Wisconsin
with 469 points.
Rounding out the top 10 were No. 7
Ohio
with 428 points, No. 8
Minnesota
with 381 points, No. 9.
Michigan
with 298 points and No. 10
New Jersey
with 273 points.
Ohio and Minnesota showed balance in the six tournaments, while Michigan scored a majority of its points in the women's freestyle events and New Jeresy scored big in both of the men's freestyle events.
Overall, Pennsylvania won the most team titles with three: 16U Women's Freestyle Nationals, 16U Men's Freestyle Nationals, Junior Men's Freestyle Nationals. Illinois won two tournaments, the Junior Women's Freestyle Nationals and the 16U Greco-Roman Nationals. Winning its first team national title ever was
Idaho,
which made history by capturing the Junior Greco-Roman team title. Idaho's Junior Greco-Roman effort, helped them jump from 21st place after four events to 13th place in the final standings.
#FARGO2023 OVERALL TEAM STANDINGS

(after six of the six tournaments)


Place/State/16UW/JRW/16UFS/JRFS/16UGR/JRGR/TOTAL
1 Illinois 43 + 151 + 160 + 94 + 213 + 106 = 767
2 Pennsylvania 129 + 77 + 183 + 210 + 110 + 52 = 761
3 Iowa 64 + 54 + 156 + 111 + 191 + 120 = 696
4 California 70 + 102 + 117 + 112 + 34 + 97 = 532
5 Oklahoma 78 + 2 + 39 + 129 + 131 + 91 = 470
6 Wisconsin 56 + 61 + 66 + 159 + 50 + 77 = 469
7 Ohio 34 + 45 + 146 + 67 + 110 + 26 = 428
8 Minnesota 52 + 44 + 71 + 66 + 73 + 75 = 381
9 Michigan 95 + 86 + 50 + 5 + 47 + 15 = 298
10 New Jersey 15 + 14 + 93 + 103 + 36 + 12 = 273
11 (tie) Florida 67 + 61 + 45 + 21 + 30 + 47 = 271
11 (tie) Missouri 78 + 67 + 27 + 23 + 29 + 47 = 271
13 Idaho 15 + 27 + 0 + 44 + 34 + 141 = 261
14 Colorado 12 + 70 + 42 + 0 + 52 + 80 = 256
15 Indiana 42 + 46 + 30 + 68 + 40 + 17 = 243
16 Arizona 71 + 7 + 27 + 53 + 15 + 15 = 188
17 Tennessee 37 + 0 + 74 + 15 + 51 + 0 = 177
18 Washington 56 + 54 + 12 + 9 + 25 + 14 = 170
19 Utah 25 + 44 + 14 + 12 + 49 + 21 = 165
20 New York 65 + 51 + 32 + 0 + 0 + 16 = 164
21 Georgia 0 + 0 + 75 + 19 + 41 + 24 = 159
22 Texas 28 + 41 + 0 + 12 + 24 + 34 = 139
23 Nebraska 20 + 0 + 26 + 0 + 34 + 55 = 135
24 Maryland 0 + 64 + 15 + 0 + 20 + 27 = 126
25 Virginia 5 + 35 + 9 + 21 + 21 + 34 = 125
26 Kansas - 0 + 16 + 9 + 26 + 41 = 92
27 South Dakota 34 + 12+ 12 + 15 + 7 + 5 = 85
28 Montana 15 + 27 + 0 + 2 + 21 + 14 = 79
29 Alabama 12 + 0 + 12 + 20 + 0 + 27 = 71
30 Kentucky 0 + 0 + 25 + 0 + 37 + 5 = 67
31 Connecticut 35 + 20 + 0 +0 + 7 + 0 = 62
32 Massachusetts 12 + 25 + 0 + 7 + 0 + 15 = 59
33 Nevada 14 + 4 + 20 + 0 + 18 + 0 = 56
34 Oregon 7 + 0 + 0 + 15 + 5 + 21 = 48
35 (tie) New Mexico 0 + 0 + 0 + 0 + 32 + 0 = 32
35 (tie) West Virginia 32 + 0 + 0 + 0 + 0 + 0 = 32
37 North Dakota 0 + 9 + 0 + 0 + 0 + 20 = 29
38 Alaska 0 + 0 + 0 + 0 + 0 + 25 = 25
39 South Carolina 0 + 20 + 0 + 2 + 0 + 0 = 22
40 Rhode Island 0 + 0 + 9 + 0 + 0 + 9 = 18
41 Wyoming 0 + 5 + 7 + 0 + 0 + 0 = 12
42 Arkansas 5 + 0 + 0 + 0 + 2 + 0 = 7
43 Hawaii 0 + 5 + 0 + 0 + 0 + 0 = 5
44 North Carolina 0 + 0 + 0 + 2 + 0 + 0 = 2