News
USA Wrestling
High School & Youth
USAW
Pennsylvania wins USMC Junior men's freestyle team title, but Wisconsin shines in finals; Four champs win second titles
by Jason Bryant, Special to TheMat.com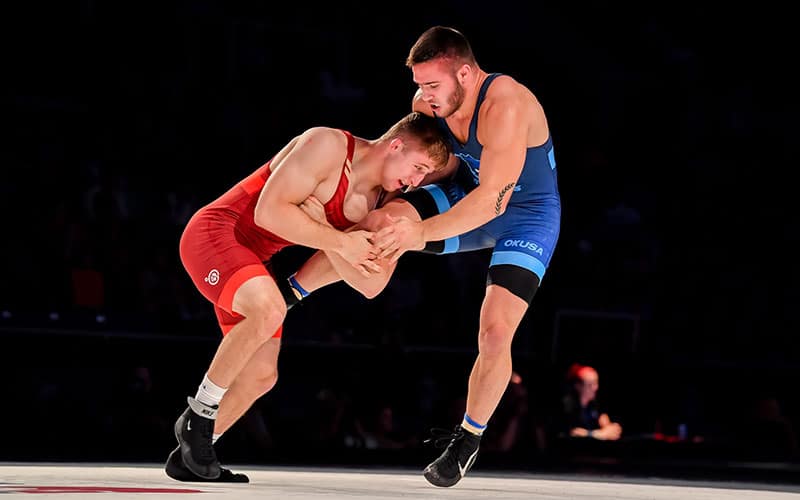 Connor Mirasola (WI) gets a high single on Jersey Robb (OK) in Junior Nationals finals. Photo by Ty Lundquist, Mat Focus.

Fargo, North Dakota –
Pennsylvania
set a state-record with 19 All-Americans and came away with two individual champions and a ninth Junior men's freestyle team title, but
Wisconsin
stole the show Wednesday night as they set their own records and tied a national record with five champions at the 2023 USMC Men's Junior Freestyle National Championships at the Fargodome on the campus of North Dakota State University in Fargo, North Dakota.
Four of the five Juniors looking to win second men's freestyle titles were successful as Iowa's
Ryder Block
, Illinois'
Kannon Webster
, Wisconsin's
Connor Mirasola
and California's
Cody Merrill
were all victorious. The fifth, Idaho's
Aden Attao
, was pinned in the finals by Wisconsin's
Koy Hopke
.
Pennsylvania won two of their three finals --
Jax Forrest
at 126 pounds,
Vince Bouzakis
at 152 pounds. Coming into the finals, Wisconsin set a state record with six finalists. The state's previous high was in 2002 when they put five in the finals and won three titles. Titlists Mirasola and Hopke were joined atop the podium by
Haakon Peterson
(106 pounds),
Braeden Scoles
(160) and
Noah Mulvaney
(170). Wisconsin's second-place finish its best in state history as well.
The five champions ties a national record for most Junior men's freestyle champions in a year, set by Ohio in both 1991 and 2003. Pennsylvania's 19 placewinners was the second-most all-time. Illinois had 20 medalists in 2011 and 2018.
Block, one of two Iowa champions on the night, earned his second title in a row, dominating California's Daniel Zepeda 10-0. Block had five techs, a fall and a decision en route to his title. He outscored his opponents 76-10 in the tournament.
Webster won his second championship in three finals trips and returned to the top of the podium after finishing second a year ago after a 7-4 win at 145 pounds over Cross Wasilewski. It was one of two champions from Illinois on the night.
Wisconsin's first champion of the night came at 106 pounds where Peterson won his fourth all-time title in Fargo and his first Junior freestyle championship with a 6-4 win over Iowa's Tyler Harper. Scoles climbed to the top of the podium after finishing fourth and third each of the last two years. He topped New Jersey's William Henckel, a 2021 16U freestyle champion, 7-4. Mulvaney followed with a dominant 14-1 technical fall over Illinois' Chris Moore.
Of the five Wisconsin champions, four were part of Ben and Max Askren's Askren Wrestling Academy, including 195-pound gold medalist Mirasola, who won last year at 182 pounds. Mirasola was one of the most dominant wrestlers in the tournament, going 7-0 and not surrendering a single point and putting up 71 points in seven technical falls.
California's Merrill won his second title and was the only one who was able to solve Wisconsin in the finals. Merrill beat Cole Mirasola 11-0 and was the only champion from the Golden State on the night.
Hopke put the cherry on top for Wisconsin, rallying from a 7-0 deficit to pin Idaho's returning champion Attao in the final 30 seconds. Hopke found an opening in the second period with sweeps and ended up tying the bout at nine before he maintained control on top and picked up the fall.
New Jersey's
Leo DeLuca
won his first Junior men's freestyle title with a quick 10-0 technical fall over Oklahoma's Beric Jordan at 120 pounds. DeLuca, a 2021 16U men's freestyle champion, used a trapped-arm gutwrench to pile up the points quickly after getting the first takedown. DeLuca was also voted the tournament's Outstanding Wrestler and outscored his opponents 72-1 with his longest match lasting 3:56.
Arizona's lone champion of the night was
Kyler Larkin
, who topped Iowa's Kale Petersen 8-0. It was Larkin's second career title in Fargo, pairing with his 2021 16U men's freestyle title. Larkin's father Eric won a 16U title (then known as Cadet) in 1995 at 103.5 pounds.
Illinois'
Rocco Hayes
picked up the first title of the night with a 9-0 victory over Alabama's Kiyan Simon at 100 pounds. Hayes built a 9-0 lead after the first three minutes and that's all it took.
Oklahoma's
Christopher Kiser
made the most of his first Fargo medal, winning gold at 113 pounds. Kiser trailed Pennsylvania's Aaron Seidel 4-0 midway through the first period when he countered a Seidel high-crotch attempt and tossed the Pennsylvanian to the mat, quickly registering the fall.
Pennsylvania's Forrest won his first Fargo title, rallying from a 4-0 deficit to defeat Oklahoma's J.J. McComas-Rogers 5-4 at 126 pounds. He was joined by Pennsylvania teammate
Vince Bouzakis
as a champion. Bouzakis defeated California's Grigor Cholakyan 8-2 at 152 pounds.
USMC JUNIOR MEN'S FREESTYLE NATIONALS
At Fargo, N.D., July 19, 2023
100 lbs.
1st Rocco Hayes (Illinois) dec. Kiyan Simon (Alabama), 9-0
3rd Brady Byrd (Indiana) dec. Kole Davidheiser (Pennsylvania), 9-8
5th Caden Smith (Virginia) dec. Alexander Diaz (Pennsylvania), 12-9
7th Mason Brayfield (Missouri) dec. Gabriel Rosales (Idaho), 8-4
106 lbs.
1st Haakon Peterson (Wisconsin) dec. Tyler Harper (Iowa), 6-4
3rd Aydan Thomas (Oklahoma) dec. Nathan Rioux (Indiana), 12-4
5th Ezekiel Witt (Kansas) dec. Ayden Dodd (Ohio), 10-10
7th Damian Moreno (Arizona) tech fall Erik Egstad (Missouri), 10-0 2:22
113 lbs.
1st Christopher Kiser (Oklahoma) pin Aaron Seidel (Pennsylvania), 1:34
3rd Mack Mauger (Idaho) pin Davis Motyka (Pennsylvania), 2:57
5th Jake Knight (Iowa) dec. Dru Ayala (Iowa), 8-3
7th Cadell Lee (Virginia) tech fall Johnny Green (Ohio), 10-0 1:30
120 lbs.
1st Leo Deluca (New Jersey) tech. fall Beric Jordan (Oklahoma), 12-0 3:36
3rd Seth Mendoza (Illinois) dec. Nathan Desmond (Pennsylvania), 4-2
5th Isaiah Cortez (California) dec. Ethan Rivera (Florida), 4-0
7th Gauge Botero (Pennsylvania) tech fall Jermaine Peace (South Carolina), 10-0 1:59
126 lbs.
1st Jax Forrest (Pennsylvania) dec. JJ McComas-Rogers (Oklahoma), 7-4
3rd Dillon Campbell (Ohio) dec. Jake Hockaday (Indiana), 5-3
5th Brady Roark (Missouri) dec. Adrian Meza (Arizona), 3-1
7th Gage Walker (Oklahoma) tech. fall Benjamin Bast (Wisconsin), 13-2 1:49
132 lbs.
1st Kyler Larkin (Arizona) dec. Kale Petersen (Iowa), 8-0
3rd Cooper Hilton (Tennessee) tech. fall Sergio Vega (Arizona), 11-0 4:20
5th Dalton Perry (Pennsylvania) tech.fall Matthew Botello (Massachusetts), 10-0 4:09
7th Tahir Parkins (Pennsylvania) dec. Carter Schmidt (Montana), 10-5
138 lbs.
1st Ryder Block (Iowa) tech fall Daniel Zepeda (California), 10-0 1:19
3rd Landon Robideau (Minnesota) tech fall Paul Kelly (California), 10-0 1:00
5th Omar Ayoub (Ohio) tech fall Kade Brown (Ohio), 13-2 4:45
7th Tyson Charmoli (Minnesota) tech fall Carlos Stanton Jr. (Arizona), 11-0 3:37
145 lbs.
1st Kannon Webster (Illinois) dec. Cross Wasilewski (New Jersey), 7-4
3rd Pierson Manville (Pennsylvania) dec. Jaxon Joy (Ohio), 3-0
5th Alex Braun (Minnesota) dec. Logan W. Paradice (Georgia), 9-6
7th Layton Schneider (Oklahoma) tech. fall Gavin Linsman (Missouri), 10-0 0:36
152 lbs.
1st Vince Bouzakis (Pennsylvania) VPO1 Grigor Cholakyan (California), 8-2
3rd Zach Hanson (Minnesota) VPO Claudio Torres (Florida), 2-0
5th Kody Routledge (Oklahoma) VPO1 Collin Gaj (Pennsylvania), 9-7
7th Laird Root (California) VFA Ej Parco (California), 5-2 5:38
160 lbs.
1st Braeden Scoles (Wisconsin) dec. William Henckel (New Jersey), 9-4
3rd Ethan Birden (Ohio) dec. Charlie Millard (Wisconsin), 6-0
5th Thor Michaelson (Washington) inj. dft Nicholas Kunstek (Pennsylvania), 2:36
7th Cory Thomas (Michigan) tech fall Collin Guffey (California), 10-0 1:08
170 lbs.
1st Noah Mulvaney (Wisconsin) tech fall Chris Moore (Illinois), 14-1 3:06
3rd Adam Waters (Pennsylvania) tech fall Jordan Chapman (New Jersey), 16-3 5:14
5th Holden Garcia (Pennsylvania) dec. Ryan Burton (New Jersey), 7-5
7th Nicholas Fox (Iowa) dec. Angelo Posada (California), 8-2
182 lbs.
1st Tate Naaktgeboren (Iowa) dec. Orlando Cruz (Indiana), 10-4
3rd Justin Rademacher (Oregon) pin Hoke Poe (Georgia), 1:39
5th De'alcapon Veazy (Indiana) pin Marco Christiansen (Minnesota), 4:24
7th Peyton Westpfahl (Missouri) dec. Savoy New (North Carolina), 9-4
195 lbs.
1st Connor Mirasola (Wisconsin) tech fall Jersey Robb (Oklahoma), 10-0 5:04
3rd Joey Novak (Minnesota) tech fall Karson Tompkins (Texas), 18-7 5:01
5th Tucker Hogan (Pennsylvania) tech fall Kingsley Menifee (Virginia), 10-0 2:28
7th Dillon Bechtold (Pennsylvania) dec. Aidan Ysaguirre (Arizona), 11-2
220 lbs.
1st Cody Merrill (California) tech Cole Mirasola (Wisconsin), 11-0 3:44
3rd Coby Merrill (California) dec. Jay Henderson (Utah), 5-4
5th Nick Nosler (Illinois) tech fall Aidan Schlett (New Jersey), 12-1 3:30
7th Oscar Williams (Oklahoma) tech fall Calvin Lachman (Pennsylvania), 10-0 3:34
285 LBS
1st Koy Hopke (Wisconsin) pin Aden Attao (Idaho), 5:32
3rd Navarro Schunke (South Dakota) tech fall Rocco Dellagatta (New Jersey), 16-6 3:49
5th Nicholas Pavlechko (Pennsylvania) tech fall Shilo Jones (Idaho), 10-0 1:50
7th Richard Thomas (Oklahoma) dec. Caleb Rodriguez (Florida), 9-3
Junior Men's Freestyle Team Standings
1 Pennsylvania 210
2 Wisconsin 159
3 Oklahoma 129
4 California 112
5 Iowa 111
6 New Jersey 103
7 Illinois 94
8 Indiana 68
9 Ohio 67
10 Minnesota 66
11 Arizona 53
12 Idaho 44
13 Missouri 23
14 (tie) Florida and Virginia 21
16 Alabama 20
17 Georgia 19
18 (tie) Oregon, South Dakota, Tennessee 15
21 (tie) Texas, Utah 12
23 (tie) Kansas, Washington 9
25 Massachusetts 7
26 Michigan 5
27 (tie) Montana, North Carolina, South Carolina 2