News
USA Wrestling
International
USAW
Bey to wrestle for gold, Sancho and Woods go for bronze at Budapest Ranking Series event
by Joe Wedra, Special to TheMat.com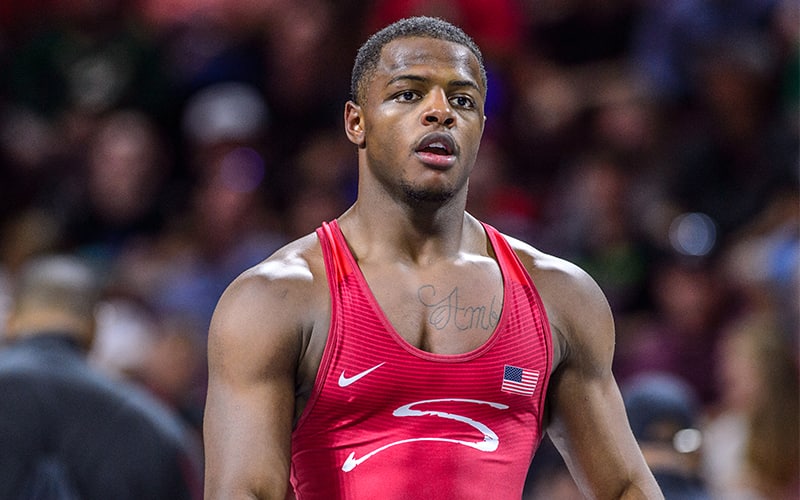 Kamal Bey (USA) competition portrait by Marion Stein, United World Wrestling
BUDAPEST, Hungary —
Kamal Bey
(77kg) will wrestle for gold and
Alejandro Sancho
(67kg) and
Spencer Woods
(82kg) will wrestle for bronze in Sunday's second session of the Polyák Imre & Varga János Memorial, the fourth and final UWW Senior Ranking Series event of the season. Bey, Sancho and Woods led the way for the U.S. Greco-Roman group competing in the last day of competition at the event.
Bey, a two-time Senior World team member, was a perfect 4-0 in the morning session, wrestling four hard-fought matches to make the finals. In his opening bout, Bey defeated Iran's Mohammad Naghousi, a three-time age-group World medalist and 2019 Junior World champion, 5-3. He will face Azerbaijan's Sunan Sulyemanov in the gold medal finals. Sulyemanov won a silver medal at the 2021 Senior World Championships.
Sancho won three matches to begin his day before falling in the semifinals to Georgia's Joni Khetsuriani. He earned wins against Hungary's Adam Pohilec and China's Husiyuetu in the first two rounds. In the quarterfinals, he advanced after Korea's Minseong Kwon was unable to finish the match due to injury. Sancho will wrestle Lei Li of China in the bronze medal bout.
Woods dropped his first match to Hungary's Erik Szilvassy, but was pulled into the bronze medal bout when Szilvassy made the finals. The medal round opponent for Woods will be Gela Bolkvadze of Georgia. Bolkvadze was a 2018 U23 World champion and a 2015 Junior World champion. He finished fifth at the 2022 World Championships.
At 97kg, Josef Rau won his first-round match against his opponent from Iran before falling in the quarterfinals to Felix Baldauf of Norway. Baldauf dropped a very close semifinal bout, eliminating Rau from the tournament.
RaVaughn Perkins (77kg) was pulled into repechage after dropping his first-round match, but he lost a close 3-2 bout to Finland's Jonni Sarkkinen.
Robert Perez III (67kg), Patrick Smith (72kg), Zachary Braunagel (87kg), Cohlton Schultz (130kg) and Adam Coon (130kg) all also competed for the U.S. on Sunday, dropping first-round bouts.
Finals for today's group will begin at 5 p.m. local time (11 a.m. ET).
Over the first three days of the tournament, the U.S. won 13 medals, eight in men's freestyle and five in women's freestyle. Four U.S. Greco-Roman athletes competed yesterday in the first day of Greco action: Brady Koontz (55kg), Ildar Hafizov (60kg), Dalton Roberts (60kg) and Xavier Johnson (63kg).
The finals will be streamed live on FloWrestling.com for the U.S. audience where match replays will be available. Complete brackets can be found at uww.org.
UWW Senior Ranking Series: Polyák Imre & Varga János Memorial

At Budapest, Hungary, July 16, 2023


U.S. Greco-Roman day two results
67 kg – Alejandro Sancho (Colorado Springs, Colo./Army WCAP)
WIN Adam Pohilec (Hungary), 5-1
WIN Husiyuetu Husiyuetu (China), 4-4
WIN Minseong Kwon (Korea), injury
LOSS Joni Khetsuriani (Georgia), 7-0
BRONZE Lei Li (China)
67 kg – Robert Perez III (Colorado Springs, Colo./Sunkist Kids WC)
LOSS Mingseong Kwon (Korea), 11-2
72 kg – Patrick Smith (Minneapolis, Minn./Minnesota Storm)
LOSS Elmer Mattila (Finland), 9-1
77 kg – Kamal Bey (Colorado Springs, Colo./Army WCAP)
WIN Mohammad Naghousi (Iran), 5-3
WIN Oldrich Varga (CZE), 7-3
WIN Sanchino Davitaia (Georgia), 8-0
WIN Zoltan Levai (Hungary), 7-3
GOLD Sunan Sulyemanov (Azerbaijan)
77 kg – RaVaughn Perkins (Colorado Springs, Colo./New York AC)
LOSS Sunan Sulyemanov (Azerbaijan), 3-1
LOSS Jonni Sarkkinen (Finland), 3-2
82 kg – Spencer Woods (Colorado Springs, Colo./Army WCAP)
LOSS Erik Szilvassy (Hungary), 2-1
BRONZE Gela Bolkvadze (Georgia)
87 kg – Zachary Braunagel (Belleville, Ill./Illinois RTC/Illini WC)
LOSS Rafig Huseynov (Azerbaijan), 2-1
97 kg – Josef Rau (Chicago, Ill./Titan Mercury WC)
WIN Vahid Dadkhah Ghasem Abadi (Iran), 10-1
LOSS Felix Baldauf (Norway), 4-0
130 kg – Cohlton Schultz (Parker, Colo./Sunkist Kids WC)
LOSS Aliakbar Yousofiahmadachali (Iran), 3-1
130 kg – Adam Coon (Ann Arbor, Mich./Cliff Keen WC/New York AC)
LOSS Alin Alexuc (Romania), 2-1