News
USA Wrestling
High School & Youth
Women
USAW
Pennsylvania within striking distance of first 16U women's freestyle team title as finals pairings set
by Jason Bryant, Special to TheMat.com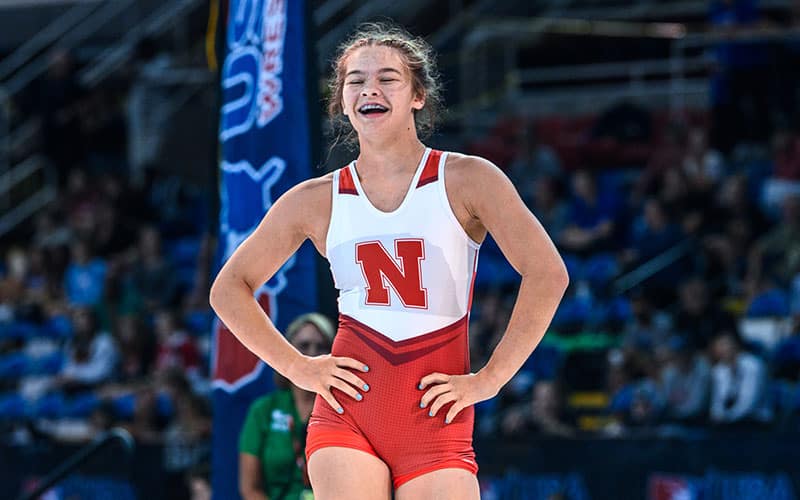 Nebraska's Kaylyn Harrill became the state's first 16U women's freestyle finalist in history after a 9-6 semifinal win over South Dakota's Regina Stoeser at 122 pounds. Tony Rotundo photo
.
Fargo, N.D. –
Pennsylvania's
been one of the most successful states in the 16U age-group on the men's side for decades, winning 24 16U men's team titles all-time. On the women's side, the Keystone State is still waiting for that first title.
They may not be waiting much longer.
Heading into Sunday night's finals at the 2023 USMC 16U Women's Freestyle Nationals at the Fargodome in Fargo, North Dakota, Pennsylvania leads the team race and has assured itself of nine All-Americans, tying the state record in the division set in 2021.
Heading into the medal matches Sunday afternoon, Pennsylvania led second-place Michigan 110-86. Missouri sits in third with 72, followed by Oklahoma with 66 and traditional power California with 58.
Illinois'
Morgan Turner
wasted little time reaching the finals, picking up a fall in 45 seconds over Indiana's returning All-American Kendall Moe. Turner will face the first of the four Pennsylvania finalists -
Jaclyn Bouzakis
– in the finals at 94 pounds. Bouzakis also wasted little time in a first-period 10-0 technical fall over Arizona's Khyla Lipumano.
Returning All-American
Caley Graber
ensured herself of a higher place on the podium after a 3-1 semifinal victory over Oklahoma's Addie Morse at 100 pounds. Graber finished third at 94 pounds a year ago. Graber will face Michigan's
Madison Nieuwenheis
in the final. Niewenheis hit a four-point action in the first 15 seconds of the bout to give her what eventually became the tie-breaking criteria in a 6-6 victory over Arizona's Elizabeth Valenzuela Smith.
Connecticut will have a finalist for the fourth straight event as
Kayla Batres
topped Iowa's Reanah Utterback 6-1 in the 106-pound top bracket semifinal. She'll face returning All-American
Mary Manis
of Florida in the finals. Manis topped Nakayla Dawson of Michigan 8-5. Manis trailed 5-4 with just over a minute to go before getting the go-head points on a four-pointer as she completed a double leg and took Dawson to her back. Batres joins last year's champion Sarah Henckel, 2021 runner-up Julianna Morris and 2019 runner-up Dakota-Marie Dinielli to continue the finalist streak for the Nutmeg State.
Pennsylvania pushed its second wrestler into the finals as
Emma Bacon
teched Raenuh Smith of Washington 11-0 at 112 pounds. Bacon will face Washington's
Libby Roberts,
who picked up a 4-0 win over Puerto Rico's Aneishka Santos Baez.
The Keystone State made it three in the finals after
Sierra Chiesa
scored a 10-0 technical fall over Nevada's Noelani Lutz at 117 pounds. Chiesa will face Michigan's
Alexis Lazar
for gold. Lazar used a low ankle shot to score quickly and then ran New York's RaeAnn Craft over to her back to register the quick 18-second fall to advance.
Nebraska's
Kaylyn Harrill
became the state's first 16U women's freestyle finalist in history after she rallied from a 6-3 deficit to beat South Dakota's Regina Stoeser 9-6 at 122 pounds. Harrill will face returning All-American
Bella Williams
of Oklahoma. Williams, who placed third at both age groups in 2022, teched Alabama's Evelyn Holmes-Smith 10-0 in the bottom bracket semifinals. The weight was also the tournament's largest, with 80 of the record 740 entries in the 16U women's freestyle division.
Oklahoma punched a second finalist through for the first time in state history as
Lynn Horn
pinned South Dakota's Peyton Hellmann at 2:49 at 127 pounds. Horn will face returning finalist
Carley Ceshker
of Wisconsin. Ceshker, who fell in last year's finals at 122 pounds, topped another South Dakotan, Britney Rueb 10-0 in the top bracket semifinal.
At 132 pounds, Pennsylvania pushed its fourth finalist through as returning All-American
Jordyn Fouse
reached her first 16U women's final. Fouse was fifth at 16U last year, but reached the Junior women's finals, finishing second. Fouse reached the finals with a 6-2 win over Missouri's Madeline Haynes, a returning All-American who finished seventh at 144 pounds a year ago. Fouse will face Arizona's returning All-American
Isis France
, who beat Colorado's Timberly Martinez 10-2.
Returning All-American
Zoe Griffith
of New York scored early and often in a 14-0 first-period tech over California's Oliva Davis at 138 pounds. Davis will face Indiana's
Aleksandra Bastaic
of Indiana in the finals. Bastaic defeated seasoned judoka Jayda Fulp of Texas 4-1 in the semifinals. Fulp is a member of the USA Judo Cadet World Team.
Morgan Lucio
will best her 2022 finish as the returning All-American from Arizona reached the finals with an 11-0 technical fall over Michigan's Rihanna Venegas at 144 pounds. Lucio, fourth a year ago at 132, will face Missouri's
Jayci Shelton
, who defeated Iowa's returning runner-up Skylar Slade. Shelton fell behind early but scored seven second-period points to prevail 8-3.
Michigan's
Maddie Hayden
continued her dominant run, reaching the finals at 152 pounds. Hayden pinned returning champion Sarah Henckel of Connecticut in Saturday's quarterfinals and the Michigander scored another fall in the semifinals, earning the win at 2:44 over New York's Brynn Shepardson. Hayden will face Florida's
Mya Bethel
in the finals. Bethel earned a 9-2 decision over Indiana's Elly Janovsky in the bottom bracket semifinal.
Tennessee's
Piper Fowler
will wrestle in the finals for a second straight year. Fowler, last year's runner-up, will take on Ohio's
Alexandria Alli
at 164 pounds. Fowler won her semifinal 12-3 over Oklahoma's Millie Azlin while Alli defeated another Oklahoman, Alexandria Ray 2-0.
At 180 pounds, Iowa's
Brooklyn Graham
will face Wisconsin's
Brooke Huffman
for the title. Graham beat Oregon's Ylyana Sandoval 9-0 in the top bracket semifinal, while Huffman pinned California's Alexandria Perez at the 2:58 mark to advance.
Wisconsin followed with another finalist at 200 pounds as Mia Cienega pinned Pennsylvania's Carolina Hattala in the semifinals. Cienega will face Utah's
Keilikki Nau Rarick
in the final. Rarick earned an 11-1 techincal fall over Tennessee's Irelynn Laurin.
Finals Pairings
94- Jaclyn Bouzakis (Pennsylvania) vs. Morgan Turner (Illinois)
100- Caley Graber (Minnesota) vs. Madison Nieuwenhuis (Michigan)
106- Kayla Batres (Connecticut) vs. Mary Manis (Florida)
112- Emma Bacon (Pennsylvania) vs. Libby Roberts (Washington)
117- Sierra Chiesa (Pennsylvania) vs. Alexis Lazar (Michigan)
122- Kaylyn Harrill (Nebraska) vs. Bella Williams (Oklahoma)
127- Carley Ceshker (Wisconsin) vs. Lynn Horn (Oklahoma)
132- Jordyn Fouse (Pennsylvania) vs. Isis France (Arizona)
138- Zoe Griffith (New York) vs. Aleksandra Bastaic (Indiana)
144- Jayci Shelton (Missouri) vs. Morgan Lucio (Arizona)
152- Maddie Hayden (Michigan) vs. Mya Bethel (Florida)
164- Piper Fowler (Tennessee) vs. Alexandria Alli (Ohio)
180- Brooklyn Graham (Iowa) vs. Brooke Huffman (Wisconsin)
200- Mia Cienega (Washington) vs. Keilikki Nau Rarick (Utah)
Semifinal Results
94- Jaclyn Bouzakis (Pennsylvania) tech fall Khyla Lipumano (Arizona), 10-0 1:50
94- Morgan Turner (Illinois) pin Kendall Moe (Indiana), 0:45
100- Caley Graber (Minnesota) dec. Addie Morse (Oklahoma), 3-1
100- Madison Nieuwenhuis (Michigan) dec. Elizabeth Valenzuela smith (Arizona), 6-6
106- Kayla Batres (Connecticut) dec. Reanah Utterback (Iowa), 6-1
106- Mary Manis (Florida) dec. Nakayla Dawson (Michigan), 8-5
112- Emma Bacon (Pennsylvania) tech fall Raenah Smith (Washington), 11-0 1:20
112- Libby Roberts (Washington) dec. Aneishka n. Santos baez (US Territory), 4-0
117- Sierra Chiesa (Pennsylvania) tech fall Noelani Lutz (Nevada), 10-0 2:24
117- Alexis Lazar (Michigan) pin Raeann Craft (New York), 0:18
122- Kaylyn Harrill (Nebraska) dec. Regina Stoeser (South Dakota), 9-6
122- Bella Williams (Oklahoma) tech fall Evelyn Holmes-Smith (Alabama), 10-0 3:19
127- Carley Ceshker (Wisconsin) tech fall Britney Rueb (South Dakota), 10-0 1:48
127- Lynn Horn (Oklahoma) pin Peyton Hellmann (South Dakota), 2:49
132- Jordyn Fouse (Pennsylvania) dec. Madeline Haynes (Missouri), 6-2
132- Isis France (Arizona) dec. Timberly Martinez (Colorado), 10-2
138- Zoe Griffith (New York) tech fall Olivia Davis (California), 14-0 0:40
138- Aleksandra Bastaic (Indiana) dec. Jayda Fulp (Texas), 4-1
144- Jayci Shelton (Missouri) dec. Skylar Slade (Iowa), 8-3
144- Morgan Lucio (Arizona) tech fall Rihanna Venegas (Michigan), 11-0 1:56
152- Maddie Hayden (Michigan) pin Brynn Shepardson (New York), 2:44
152- Mya Bethel (Florida) dec. Elly Janovsky (Indiana), 9-2
164- Piper Fowler (Tennessee) dec. Millie Azlin (Oklahoma), 12-3
164- Alexandria Alli (Ohio) dec. Alexandria Ray (Oklahoma), 2-0
180- Brooklyn Graham (Iowa) dec. Ylyana Sandoval (Oregon), 9-0
180- Brooke Huffman (Wisconsin) pin Alexandria Perez (California), 2:58
200- Mia Cienega (Washington) pin Caroline Hattala (Pennsylvania), 2:36
200- Keilikki Nau Rarick (Utah) tech fall Irelynn Laurin (Tennessee), 11-1 4:00
Top 10 Team Scores going into medal matches (finalists in parenthesis)
1. Pennsylvania 110 (4)
2. Michigan 86 (3)
3. Missouri 72 (1)
4. Oklahoma 66 (2)
5. California 58 (0)
6. New York 57 (1)
7. Arizona 56 (2)
7. Iowa 56 (1)
9. Florida 54 (2)
9. Washington 54 (2)