News
USA Wrestling
High School & Youth
Women
USAW
2023 National High School Girls Wrestling Guide released, celebrating success with 122 pages of data from every state
by Gary Abbott, USA Wrestling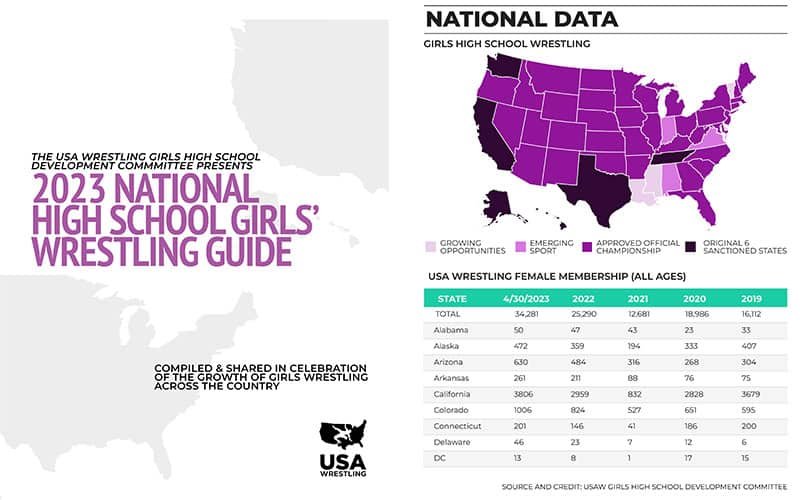 USA Wrestling's Girls High School Development Committee
has released its 2
023 National High School Girls Wrestling Guide
to educate and inspire the nation about the explosive growth of girls high school wrestling in our nation.
This 122-page online document provides extensive history on the development of girls high school wrestling, as noted on the cover, "compiled and shared in celebration of the growth of girls wrestling across the nation."
This guide is posted on USA Wrestling's website, and has been provided to all of the major organizations within the wrestling community. People can view the guide in an on-line format, or download a pdf of the entire document.
The National High School Girls Wrestling Guide
The document was developed by
Andrea Yamamoto
and
Joan Fulp
of the USA Wrestling Girls High School Development Committee, with cooperation from numerous stakeholders. It was designed by accomplished graphic artist
Victoria Francis,
a USA Wrestling Senior World Team member with an extensive career in wrestling.
Included in the document are data from each state in the nation, including a list of 2023 state champions, the NWHOF Tricia Saunders High School Excellence Award winners from the state, a list of college programs in the state, and a participation growth chart for the state in terms of high school wrestling participants and USA Wrestling membership.
Other sections include information on the National Wrestling Hall of Fame, the 2023 U.S. U17 and U20 World Teams, plus extensive national data on girls wrestling on the high school level and within USA Wrestling.
"Gratitude and Celebration are at the center of our vision for the 2023 USAW National Girls HS Wrestling Guide. We want to express our gratitude to everyone that has advocated for girls to represent their high school wrestling team, shake hands at center mat with another female competitor and enjoy the lifelong benefits of wrestling. This guide is an effort to celebrate the achievements made in scholastic girls wrestling by showcasing individual champions, award recipients, growth statistics and images of the amazing female student athletes representing their schools in action, said Yamamoto and Fulp.
Girls wrestling has become a core sport for the National Federation of State High School Associations. USA Wrestling's membership from girls and women has been growing substantially. This guide gives all of the information explaining why girls wrestling is considered the fastest growing sport for young women in our nation.