News
USA Wrestling
International
USAW
U.S. receives Greco-Roman draw for UWW Ranking Tournament in Budapest
by Gary Abbott, USA Wrestling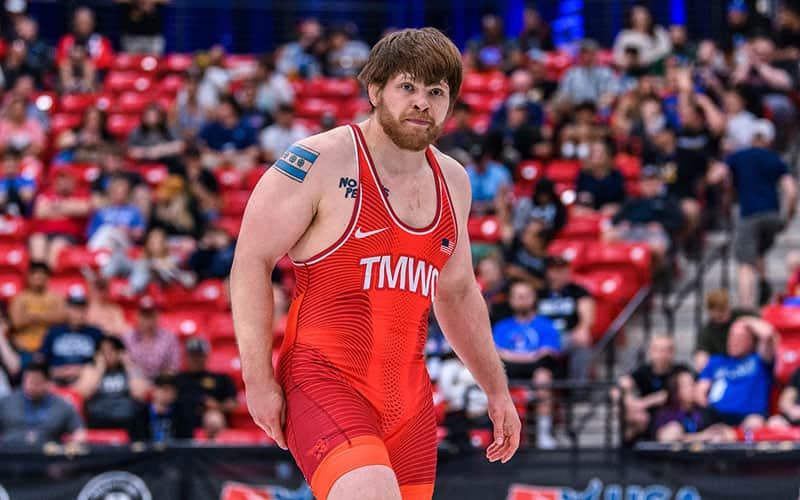 Joseph Rau is one of the 10 U.S. Senior World Team members competing in the ranking event in Hungary this weekend. Photo by Tony Rotundo, Wrestlers Are Warriors.
BUDAPEST, Hungary – The United States has received its draw for the 10 Greco-Roman brackets at the
Polyák Imre & Varga János Memorial
in Budapest, Hungary. The Greco-Roman competition will include three weight class on Saturday (55 kg, 60 kg, 63 kg), and seven weight classes on Sunday (67 kg, 72 kg, 77 kg, 82 kg, 87 kg, 97 kg, 130 kg).
All 10 of the 2023 U.S. Senior World Team members will compete in this event, as well as four other National Team members.
The 2023 World Team members in the Greco-Roman draw are
Brady Koontz
(55 kg),
Ildar Hafizov
(60 kg)
, Xavier Johnson (
63 kg),
Alejandro Sancho
(67 kg),
Patrick Smith
(72 kg),
Kamal Bey
(77 kg),
Spencer Woods
(82 kg),
Zachary Braunagel
(87 kg),
Josef Rau
(97 kg) and
Cohlton Schultz
(130 kg). This is the major tune-up event for the World Team, which competes in the Senior Worlds in Serbia in September.
The other four wrestlers in the event are members of the 2023-24 Greco-Roman National Team:
Dalton Roberts
(60 kg),
Robert Perez III
(67 kg),
RaVaughn Perkins
(77 kg) and 2018 World silver medalist
Adam Coon
(130 kg). Except for Perez, the other three are all past Senior World Team members.
The tournament is loaded with World and Olympic medalists. Koontz is competing in a Group A roundrobin, while the other U.S. wrestlers are in straight line brackets.
The Polyák Imre & Varga János Memorial action will begin at 10:30 a.m. local time each day with medal matches set for 5 p.m. Budapest, Hungary, is located six hours ahead of U.S. Eastern Time.
A live stream of the event is available to the U.S. market on
FloWrestling.com
. Brackets and real-time results will be provided by United World Wrestling at
UWW.org
.
UWW Senior Ranking Series: Polyák Imre & Varga János Memorial

At Budapest, Hungary,


U.S. Greco-Roman draw
55 kg – Brady Koontz (Dubuque, Iowa/Titan Mercury WC/Dubuque RTC)
Group A
Vs. Amangali Bekbolatov (Kazakhstan), 3rd in 2023 Asian Championships, 5th in 2022 World Championships, 2nd in 2022 Asian Championships, 3rd in 2018 U23 Worlds
Vs. Yersin Abyir (Kazakhstan), 3rd in 2022 Asian U23 Championships
Vs. Mahdi Kioumars Ahadi Zenab (Iran), 5th in 2019 U17 Worlds, 7th in 2019 U17 Asians
60 kg – Ildar Hafizov (Colorado Springs, Colo./Army WCAP)
Vs. Erik Torba (Hungary), 5th in 2021 Worlds, 2nd 2019 European Games, 3rd in 2015 U20 Worlds, 3rd in 2013 U17 Worlds
60 kg – Dalton Roberts (Fountain, Colo./Army WCAP)
Vs. Razvan Arnaut (Romania), 10th in 2019 and 2022 World Championships, 5th in 2022 Europeans, 3rd in 2021 Europeans,
63 kg – Xavier Johnson (Colorado Springs, Colo./Army WCAP)
Vs. winner of Victor Ciobanu (Moldova) and Murad Mamadov (Azerbaijan)
Ciobanu – 2021 World champion, 5th in 2020 Olympics, 2014 and 2018 World silver medalist,
Mamadov – 2021 World bronze medalist, 4th in 2022 Worlds, 2nd in 2018 U23 Worlds
67 kg – Alejandro Sancho (Colorado Springs, Colo./Army WCAP)
Vs. Adam Pohilec (Hungary), 8th in 2022 Ion Corneanu Memorial (Romania), 2021 Hungarian U20 World Team member
67 kg – Robert Perez III (Colorado Springs, Colo./Sunkist Kids WC)
Vs. Mingseong Kwon (Korea), 2017 U20 World team member, 3rd in 2017 Asian U20 Championships,
72 kg – Patrick Smith (Minneapolis, Minn./Minnesota Storm)
Vs. Elmer Mattila (Finland), 2021 Senior World Team member, 2021 U23 World Team member, 7th in 2019 U20 World Championships
77 kg – Kamal Bey (Colorado Springs, Colo./Army WCAP)
Vs. Mohammad Naghousi (Iran), 2019 U20 World champion, 5th in 2021 U23 Worlds, 3rd in 2021 U20 Worlds,
77 kg – RaVaughn Perkins (Colorado Springs, Colo./New York AC)
Vs. Sunan Sulyemanov (Azerbaijan), 2021 World silver medalist, 2019 U23 World silver medalist, 2020 European champion, 3rd in 2022 European Champiojnships,
82 kg – Spencer Woods (Colorado Springs, Colo./Army WCAP)
Vs. Erik Szilvassy (Hungary), 2017 U23 World champion, 3rd in 2019 European Championships, 2016 University World champion
87 kg – Zachary Braunagel (Belleville, Ill./Illinois RTC/Illini WC)
Vs. Rafig Huseynov (Azerbaijan), 2021 World champion, 2020 Olympic bronze medalist, 2019 World silver medalist,
97 kg – Josef Rau (Chicago, Ill./Titan Mercury WC)
Vs. winner of Markus Ragginger (Austria) and Vahid Dadkhah Ghasem Abadi (Iran)
Ragginger – 3rd in 2022 U23 Worlds, 2nd in 2018 U20 World Championships, 2nd in 2016 U17 World Championships
Ghasem – 2nd in 2016 U17 Worlds, 2nd in 2018 U20 Asians, 2018 U20 World Team member,
130 kg – Cohlton Schultz (Parker, Colo./Sunkist Kids WC)
Vs. Aliakbar Yousofiahmadachali (Iran), 2021 World champion, 32019 U23 World champion, 2019 U20 World champion
130 kg – Adam Coon (Ann Arbor, Mich./Cliff Keen WC/New York AC)
Vs. Alin Alexuc (Romania), 2022 World bronze medalist, three-time Olympian,
Event Schedule for Greco-Roman
Saturday, July 15
10:30 a.m. –Greco-Roman (55 kg, 60 kg, 63 kg) qualification rounds and repechage
5 p.m. –Greco-Roman (55 kg, 60 kg, 63 kg) finals and award ceremonies
Sunday, July 16
10:30 a.m. –Greco-Roman (67 kg, 72 kg, 77 kg, 82 kg, 87 kg, 97 kg, 130 kg) qualification rounds and repechage
5 p.m. – Greco-Roman (67 kg, 72 kg, 77 kg, 82 kg, 87 kg, 97 kg, 130 kg finals and award ceremonies