News
USA Wrestling
International
USAW
U.S. wins seven men's freestyle golds at Henri Deglane, with an 18-medal haul
by Lara Lay Hinojosa, Special to TheMat.com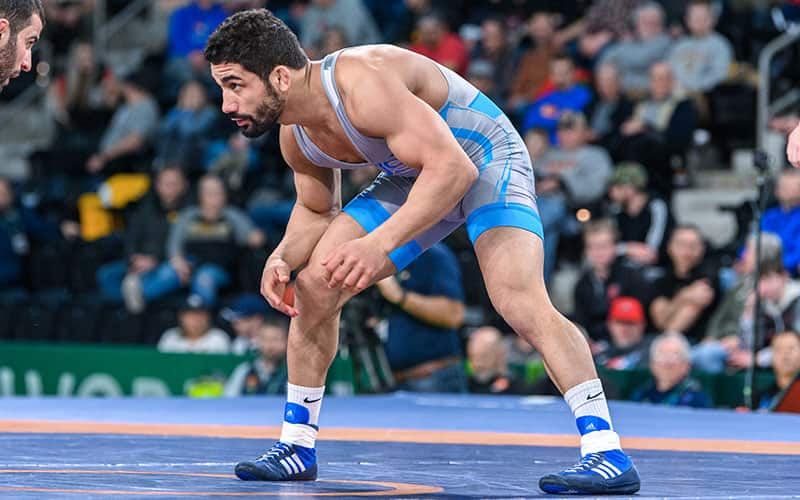 Alec Pantaleo (USA) was one of seven U.S. champions in men's freestyle today at the Henri Deglane Challenge. Photo by Tony Rotundo, Wrestlers Are Warriors.
NICE, France – Day two at the Henri Deglane Challenge featured men's freestyle, and the 25-athlete contingent claimed 18 medals: seven gold, six silver and five bronze!
U.S. gold medalists included Nick Suriano (57 kg), Austin DeSanto (61 kg), Pat Lugo (65 kg), Alec Pantaleo (70 kg), Joey Lavallee (74 kg), Evan Wick (79 kg) and Eric Schultz (92 kg).
NCAA Champion Suriano won Deglane gold in 2021. This year, he won three matches over Valentin Damour of France, Georgia's Giorgi Gegelashvili and a 10-0 technical fall over Guinea-Bissau's Diamantino Iuna in the finals.
DeSanto won three matches, defeating Georgia's Giorgi Goniashvili 6-3 and fellow Americans Nahshon Garrett 14-13 and Shelton Mack 5-4 for the gold.
Lugo pinned Poland's Aminjon Sadulloev in the second period after leading the match 8-0. He then beat Germany's Nico Megerle and Matthew Kolodzik of the USA In the finals, Lugo stopped Andre Clarke of France, 7-0.
Pantaleo out scored his opponents 32-1. Pantaleo claimed a pair of 10-0 technical falls over Congo's Arnaud Mambou and Germany's Leon Gerstenberger. Georgia's Giorgi Tcholadze was able to squeeze in one point in the finals, with Pantaleo winning, 12-1.
Lavallee also had a high-scoring weekend outscoring opponents 35-5 over four dominant matches. He defeated Szymon Wojtkowski of Poland with a 10-0 technical fall and scored three pins, including stopping Vincenzo Joseph in the final bout in 3:39.
Wick also met a fellow American on the finals mat, defeating Alex Marinelli, 6-5. He defeated Germany's Ansgar Reinke 14-3 in the quarterfinals and pinned U.S. opponent Taylor Lujan in the semifinals.
Schultz outscored the four-athletes round robin bracket 34-3. Schultz defeated American Jay Aiello 8-1 in Round 1. Schultz then had two outstanding matches, stopping Spain's Aimar Eguinoa 10-0 and France's Adlan Viskhanov, 16-2!
U.S. Silver Medalists
• 61 Kg Shelton Mack
• 74 Kg Vincenzo Joseph
• 79 Kg Alex Marinelli
• 92 Kg Jay Aiello
• 97 Kg Morgan Smith
• 125 Kg Christian Lance
U.S. Bronze Medalists
• 61 Kg Nahshon Garrett
• 65 Kg Ridge Lovett
• 70 Kg Lucas Chittum
• 74 Kg Collin Purinton
• 79 Kg Taylor Lujan
The Henri Deglane Challenge comes just ahead of the first UWW Ranking Series event, the Zagreb Open, February 1. Many of the competing athletes from this weekend have registered for the Open, gaining much experience with international competition.
Stay tuned for Day 3 featuring the solo U.S. Greco-Roman entry, Duncan Nelson at 72 Kg, starting early tomorrow morning. Nice is six hours ahead of U.S. Eastern time zone. Action begins at 4:30 EST / 3:30 CST.
Streaming live on Sportall
.
HENRI DEGLANE CHALLENGE
At Nice, France, January 2
1
U.S. Men's Freestyle Results
57 Kg Nick Suriano (Sunkist Kids) – Gold
• WIN Valentin Damour (FRA), 9-0
• WIN Giorgi Gegelashvili (GEO), 8-2
• WIN Diamantino Iuna (GNB), 10-0
57 Kg Akhil Vega (NYCRTC) – 7th Place
• LOSS Guesseppe Ricardo Rea Villarroel (ECU), 12-2
• LOSS Karamjeet Holstein (GER), 10-0
61 Kg Shelton Mack (NJRTC/TMWC) – Silver
• WIN Daniel Popov (ISR), 6-3
• WIN Kye Jesse Raymond Mills (CAN), 12-0
• LOSS Austin DeSanto (USA), 5-4
61 Kg Nahshon Garrett (Lehigh Valley WC/TMWC) – Bronze
• WIN Levan Metreveli Vartanov (ESP), 10-0
• LOSS Austin DeSanto (USA), 14-13
• WIN Daniel Popov (ISR), 13-4
61 Kg Austin DeSanto (Hawkeye WC/TMWC) – Gold
• WIN Giorgi Goniashvili (GEO), 6-3
• WIN Nahshon Garrett (USA), 14-13
• WIN Shelton Mack (USA), 5-4
65 Kg Matthew Kolodzik (NJRTC/NYAC) – 5th Place
• WIN M'bunde Cumba (GNB), 10-0
• WIN Niklas Dietmar Dorn (GER), 10-7
• WIN Marwane Yezza (FRA), 10-0
• LOSS Pat Lugo (USA), 6-2
• LOSS Ridge Lovett (USA), 15-12
65 Kg Evan Henderson (Lehigh Valley WC/TMWC) – 5th Place
• WIN Khamzat Arsamerzouev (FRA), 7-6
• WIN Agustin Alejandro Destribats (ARG), PIN, 4:46
• LOSS Andre Clarke (GER), 10-8
• LOSS Marwane Yezza (FRA), Forfeit
65 Kg Anthony Ashnault (NYCRTC/TMWC) – 9th Place
• LOSS Agustin Alejandro Destribats (ARG), 8-6
• WIN Quentin Sticker (FRA), 6-5
• WIN Nariman Serikbayev (KAZ), 13-3
• LOSS Agustin Alejandro Destribats (ARG), 6-5
65 Kg Pat Lugo (Hawkeye WC/TMWC) – Gold
• WIN Aminjon Sadulloev (POL), PIN, 2:34
• WIN Nico Megerle (GER), 4-3
• WIN Matthew Kolodzik (USA), 6-2
• WIN Andre Clarke (GER), 7-0
65 Kg Ridge Lovett (Nebraska WTC) – Bronze
• WIN Nariman Serikbayev (KAZ), 15-4
• LOSS Andre Clarke (GER), 4-1
• WIN Khamzat Arsamerzouev (FRA), 5-3
• WIN Agustin Alejandro Destribats (ARG), PIN, 2:15
• WIN Matthew Kolodzik (USA), 15-12
70 Kg Lucas Chittum (Hawkeye WC/TMWC) – Bronze
• LOSS Kevin Christopher Henkel (GER), 10-10
• WIN Muhammad Abdurachmanov (BEL), 16-5
• WIN Leon Gerstenberger (DEU), 5-1
70 Kg Alec Pantaleo (Cliff KeenWC/TMWC) – Gold
• WIN Arnaud Mambou (COG), 10-0
• WIN Leon Gerstenberger (GER), 10-0
• WIN Giorgi Tcholadze (GEO), 12-1
74 Kg Joey Lavallee (Lehigh RTC/TMWC) – Gold
• WIN Stefan Kaeppeler (GER), PIN, 3:32
• WIN Szymon Wojtkowski (POL), 10-0
• WIN Saifedine Alekma (FRA), PIN, 5:51
• WIN Vincenzo Joseph (USA), PIN, 3:39
74 Kg Collin Purinton (Nebraska WTC) – Bronze
• WIN Jasmit Singh Phulka (CAN), 10-0
• WIN Rasul Altemirov (FRA), 11-9
• LOSS Vincenzo Joseph (USA), 16-6
• WIN Joshua Shields (USA), 14-10
74 Kg Vincenzo Joseph (Sunkist Kids) – Silver
• WIN Mitchell Louis Finesilver (ISR), 6-0
• WIN Lucas Marco Kahnt (GER), 12-0
• WIN Collin Purinton (USA), 16-6
• LOSS Joey Lavallee (USA), PIN, 3:39
74 Kg Joshua Shields (Sunkist Kids) – 5th Place
• WIN Lautaro Agustín Seghesso (ARG), 10-0
• LOSS Saifedine Alekma (FRA), 15-1
• WIN Stefan Kaeppeler (GER), PIN, 4:01
• WIN Raul Zarbaliev (ISR), 11-0
• LOSS Collin Purinton (USA), 14-10
79 Kg Evan Wick (SoCal RTC/TMWC) – Gold
• WIN Ansgar Thorben Reinke (GER), 14-3
• WIN Taylor Lujan (USA), PIN, 2:54
• WIN Alex Marinelli (USA), 6-5
79 Kg Alex Marinelli (Hawkeye WC/TMWC) – Silver
• WIN Callum Glen Mcneice (CAN), 10-0
• WIN Gabriel Iglesias Ramos (ESP), 10-0
• WIN Evsem Shvelidze (GEO), 3-2
• LOSS Evan Wick (USA), 6-5
79 Kg Taylor Lujan (Panther WC WTC) – Bronze
• WIN Kevin Spiegel (GER), PIN, 2:26
• WIN Max Kasperovich (ISR), 15-5
• LOSS Evan Wick (USA), PIN, 2:54
• WIN Callum Glen Mcneice (CAN), 11-0
86 Kg Owen Webster (Gopher WC RTC) – 5th Place
• WIN Daviti Koguashvili (GEO), 8-7
• LOSS Taimuraz Friev Naskidaeva (ESP), 6-0
• LOSS Uri Kalashnikov (ISR), 6-1
92 Kg Eric Schultz (Nebraska WTC) – Gold
• WIN Jay Aiello (USA), 8-1
• WIN Aimar Alzon Eguinoa (ESP), 10-0
• WIN Adlan Viskhanov (FRA), 16-2
92 Kg Jay Aiello (Cavalier WC/TMWC) – Silver
• LOSS Eric Schultz (USA), 8-1
• WIN Adlan Viskhanov (FRA), PIN, 3:58
• WIN Aimar Alzon Eguinoa (ESP), PIN, 0:58
97 Kg J'den Cox (Cliff Keen WC/TMWC) – DNP
• WIN Ricardo Adrian Baez (ARG), 11-0
• LOSS Ilja Matuhin (GER), Forfeitt
97 Kg Morgan Smith (Lehigh Valley WC) – Silver
• LOSS Merab Suleimanishvili (GEO), 8-0
• WIN Johannes Mayer (GER), 3-1
• WIN Lukas Krasauskas (LTU), 8-4
• LOSS Merab Suleimanishvili (GEO) 11-0
125 Kg Christian Lance (Nebraska RTC) – Silver
• WIN Catriel Pehuen Muriel (ARG), PIN, 3:20
• WIN Krzysztof Jan Cieslak (POL), 11-0
• WIN Gennadij Cudinovic (GER), 5-1
• LOSS Nika Berulava (GEO), 6-4
Men's Freestyle Medalists
57 Kg
Gold - Nick Suriano (USA)
Silver - Diamantino Iuna (Guinea-Bissau)
Bronze - Valentin Damour (France)
Bronze - Giorgi Gegelashvili (Georgia)
61 Kg
Gold – Austin DeSanto (USA)
Silver - Shelton Mack (USA)
Bronze - Giorgi Goniashvili (Georgia)
Bronze – Nahshon Garrett (USA)
65 Kg
Gold – Pat Lugo (USA)
Silver - Andre Clarke (Germany)
Bronze - Marwane Yezza (France)
Bronze – Ridge Lovett (USA)
70 Kg
Gold – Alec Pantaleo (USA)
Silver - Giorgi Tcholadze (Georgia)
Bronze - Kevin Christopher Henkel (Germany)
Bronze – Lucas Chittum (USA)
74 Kg
Gold – Joey Lavallee (USA)
Silver - Vincenzo Joseph (USA)
Bronze - Rasul Altemirov (France)
Bronze – Collin Purinton (USA)
79 Kg
Gold – Evan Wick (USA)
Silver - Alex Marinelli (USA)
Bronze - Evsem Shvelidze (Georgia)
Bronze – Taylor Lujan (USA)
86 Kg
Gold – Ruslan Valiev (France)
Silver - Taimuraz Friev Naskidaeva (Spain)
Bronze – Uri Kalashnikov (Israel)
Bronze - Akhmed Aibuev (France)
92 Kg
Gold – Eric Schultz (USA)
Silver - Jay Aiello (USA)
Bronze - Adlan Viskhanov (France)
97 Kg
Gold – Merab Suleimanishvili (Georgia)
Silver - Morgan Smith (USA)
Bronze - Ilja Matuhin (Germany)
Bronze – Lukas Krasauskas (Lithuania)
125 Kg
Gold – Nika Berulava (Georgia)
Silver - Christian Lance (USA)
Bronze - Gennadij Cudinovic (Germany)
Bronze – Catriel Pehuen Muriel (Argentina)
Remaining Henri Deglane Challenge Schedule(6 hours before U.S. Eastern time zone
)
Sunday, January 22
Greco-Roman: 55 kg, 60 kg, 63 kg, 67 kg, 72 kg, 77 kg, 82 kg, 87 kg, 97 kg, 130 kg
10:30 a.m. – conclusion – Women's Freestyle Qualification rounds and finals