News
USA Wrestling
College
Women
USAW
NAIA No. 3 Life women control No. 4 Campbellsville, 7-3 in bouts, in the FloWrestling Dual Series
by Gary Abbott, USA Wrestling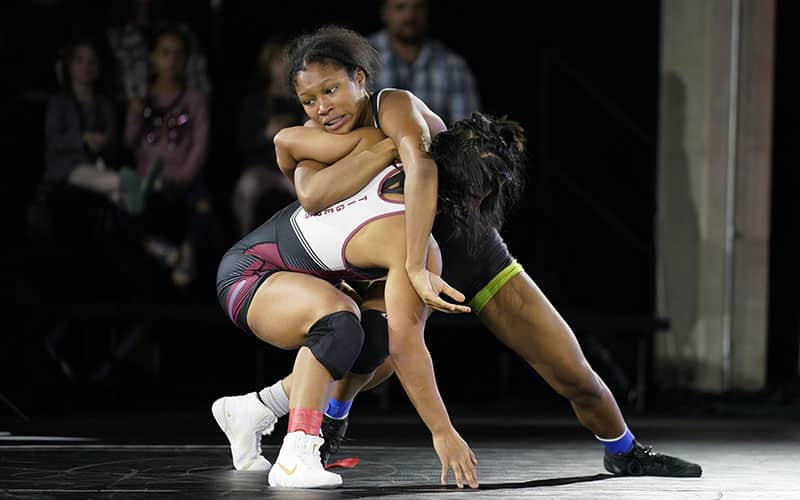 Action image
© Scott Wachter-USA TODAY Sports, courtesy of FloWrestling.
Two of the nation's top women's college programs got national exposure as part of FloWrestling's Dual Series, as NAIA No. 3 Life was impressive in defeating NAIA No. 4 Campbellsville, winning 7 matches to 3 on Friday afternoon. Using the team scoring system from college women's wrestling, Life won 26-14.
This is a traditional rivaly in NAIA women's wrestling. Campbellsville has won the last two NAIA national team titles, but it was Life that stepped up their game for this dual meet.
Two of the three McBryde sisters on the Life team won their matches, beating higher ranked opponents. No. 5
Jamilah McBryde
stopped No. 3 Emma Walker at 143 pounds, 12-7. Immediately after, No. 5
Latifah McBryde
opened up the offense in an 11-0
Prior to those wins, Life's talented freshman
Sarah Savidge
had the quickest victory for the Eagles, securing a 10-0 technical fall in just 31 seconds over Esperanza Dorantes at 136 pounds.
Life opened up with power, winning three of the first four bouts. No. 18
Devyn Gomez
was dominant in a 10-0 technical fall over Gabrielle Medeiros at 101 pounds. At 109, No. 7
Jasmine Godinez
had the most big moves in a wide-open 12-6 victory over No. 19 Kelsey Bilz. After a Campbellsville win, No. 12
Olivia Mottley
secured a clutch 6-4 victory over No. 19 Jacqueline Ghent at 123.
Life also closed out the dual with a victory, as No. 7
Catherine Palmieri
was placed on the shot clock, and just before the 30-second clock was done, scored the only takedown in a 3-0 win over Sierra Chavez at 191 pounds.
Campbellsville got its first win at 116 pounds, when freshman
Shea Reisel
grinded out a 7-4 win over Kory Phillips. Reisel had a four-point move early in the bout, and kept up the pressure throughout the bout.
Campbellsville had a big win at 130 pounds, when No. 4
Angela Vitritti
scored a slick takedown on the edge early in the bout and went on to defeat No. 3 Zaynah McBryde, 7-3.
The other Campbellsville win was the only fall of the dual, as No. 5
Lilliana Vergera
needed just 1:11 to put away Caitlin Cardenas at 170 pounds.
Life's record moves up to an impressive 13-1 in duals, while Campbellsville falls to a 14-4 dual meet record. The teams will meet again at the the Mid South Conference Championships, Feb. 23-24 in Georgetown, Kentucky then at the NAIA Nationals in Jamestown, N.D., March 10-11.
The second match of the FloWrestling double header today features Div. I Princeton vs. Oregon State, starting at 7 p.m. Central time.
Life 7, Campbellsville 3

Match score: Life 26, Campbellsville 14
101 – No. 18 Devyn Gomez (Life) tech fall Gabrielle Medeiros (Campbellsville), 10-0 4:05
109 – No. 7 Jasmine Godinez (Life) dec. No. 19 Kelsey Bilz (Campbellsville), 12-6
116 - Shea Reisel (Campbellsville) dec. Kory Phillips (Life), 7-4
123 – No. 12 Olivia Mottley (Life) dec. No. 19 Jacqueline Ghent (Campbellsville), 6-4
130 – No. 4 Angela Vitiritti (Campbellsville) dec. No. 3 Zaynah Mcbryde (Life), 7-3
136 - Sarah Savidge (Life) tech fall Esperanza Dorantes (Campbellsville), 10-0 0:31
143 - No. 5 Jamilah Mcbryde (Life) dec. No. 3 Emma Walker (Campbellsville), 12-7
155 - No. 5 Latifah Mcbryde (Life) tech. fall No. 4 Kendra Thompson (Campbellsville), 11-0 3:50
170 – No. 5 Lilliana Vergara (Campbellsville) pin Caitlin Cardenas (Life), 1:11
191 - No. 7 Catherine Palmieri (Life) dec. Sierra Chavez (Campbellsville), 3-0