News
USA Wrestling
College
Women
USAW
NCAA Div. III Misericordia University in Pennsylvania adding men's and women's wrestling
by Misericordia Athletics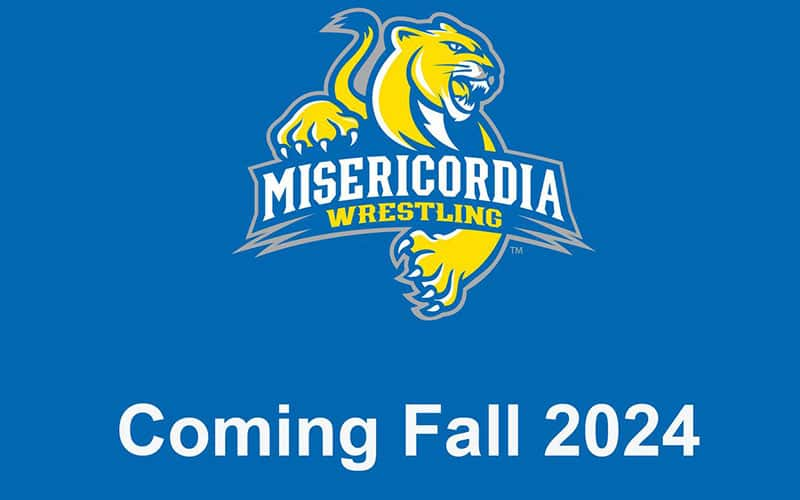 Misericordia University
will add two more sports to its vast array of varsity sports offerings, Daniel J. Myers, Ph.D, university president, has announced.
In addition to the recent addition of men's ice hockey and STUNT, Misericordia will field varsity teams in
men's and women's wrestling.
"Misericordia University is committed to expanding opportunities for students to be challenged academically, socially and athletically," said Myers. "The addition of men's and women's wrestling allows more students the opportunity to engage in our university's culture, one focused on student success, mutual support, and service to others."
Misericordia expects to begin intercollegiate
competition with the 2024-25 season
.
"This is an exciting time for Misericordia University community and our intercollegiate athletics program," said Chuck Edkins, director of athletics. "Our goal is to provide our student-athletes with a first-rate experience, which includes diverse offerings."
The 21st and 22nd sports added since Misericordia joined the NCAA Division III in 1992, wrestling brings MU's total number of intercollegiate offerings to 31.
"In an ongoing effort to meet the demands of student-athletes, our athletics program has grown in proportion to the University over the last two decades," said Edkins. "The addition of men's and women's wrestling will have a positive impact on our athletics program, which is regionally and nationally recognized for success in competition and in the classroom."
The first order of business is finding coaches for both wrestling programs as the Cougars prepare for the 2024-25 season. "We will immediately begin a national search for head coaches," said Edkins. "We plan to have a coach in place by late summer to begin the recruiting process for 2024."
The Cougars will be the seventh Middle Atlantic Conference institution to offer men's wrestling and the fourth school to offer women's wrestling.
The men's team will compete in the MAC and NCAA Southeast Regional along with dual meets and invitational tournaments while the women's team will an independent schedule featuring dual meets and invitational tournaments.
"The MAC has a long and proud tradition of broad-based sport sponsorship so anytime a new sport is offered at a MAC institution it strengthens that commitment," said Megan Morrison, MAC executive director. I am thrilled Misericordia is supporting the sport of wrestling, especially the growing sport of women's wrestling."
Myers echoes the sentiments expressed by Edkins. "Our current strategic plan, Mercy Thrives, is focused on enhancing the living and learning environment for our students and building a community as OneMU," said Myers. "In addition to athletics, we are expanding our offerings for music, debate, and other student engagement opportunities on campus to enhance all we have to offer as a small but vibrant university."