News
USA Wrestling
College
USAW
NCAA Wrestling Awards standings debut for season: In DI, American's Leete leads in pins, F&M's Leiphart leads in tech falls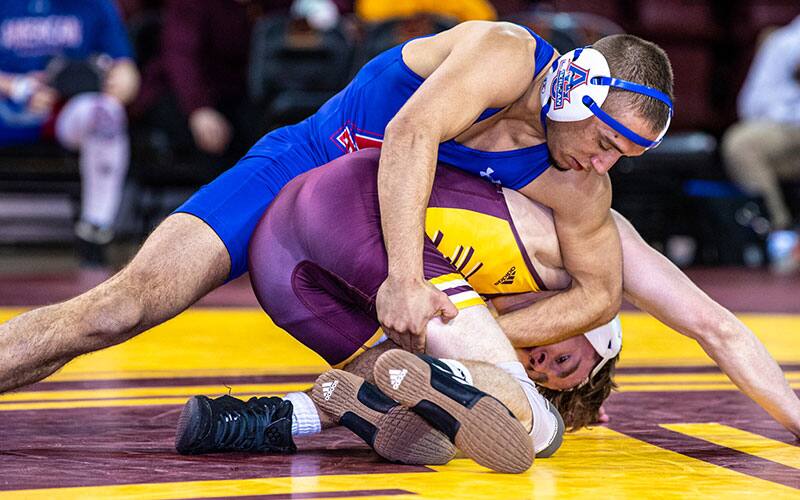 Photo of Maximilian Leete of American courtesy of American Athletics.
INDIANAPOLIS — The NCAA has released updated standings for the 2023
NCAA Wrestling Awards
that will be awarded in March at the respective Division I, II and III Wrestling Championships.
The inaugural NCAA Wrestling Awards were presented at the 2012 wrestling championships. The three awards, given in each division, honor the Most Dominant Wrestler as well as the student-athletes that have accumulated the most falls and the most technical falls throughout the course of the regular and postseasons.
For falls and tech falls to be counted for the awards they must come against opponents in the same division (i.e. Division II vs. Division II). Ties in the two categories are broken based on the aggregate time.
American's 125-pounder
Maximilian Leete
currently paces Division I with nine
falls
on the season. Lock Haven's
Tyler Stoltzfus
trails closely at eight while six wrestlers are right behind at seven.
In Division II, Lake Erie's
Christian Small
leads the way with eight. It's a close race as five wrestlers trail him by one, led by UIndy's 157-pounder
Logan Bailey
.
Three wrestlers in Division III have reached 13 falls this season, led by Springfield 157-pounder
Myles Leonard
who has accomplished the feat in the least amount of time at 3:57. Messiah 157-pounder
Garret Cornell
and Alfred State 184-pounder
Sean Malenfant
round out the trio.
In Division I
tech falls
Franklin & Marshall's 135-pounder
Mason Leiphart
leads the way with seven with Ohio's
Peyten Kellar
trailing him by one.
Cole Houser
of Glenville State has already established a dominant lead in Division II with nine tech falls on the season. Three wrestlers have recorded five.
A pair of 157-pounders sit atop Division III in Augsburg's
Tyler Shilson
and Johnson & Wales University's (Providence)
William Hughes.
They both have tallied eight but Shilson has done it in 33:28.
The initial Most Dominant Wrestler standings will be released later this season to allow wrestlers to achieve the minimum number of matches required to be eligible for the standings.