News
USA Wrestling
International
USAW
Adam Coon returns to Cliff Keen WC, Momir Petkovic joins its coaching staff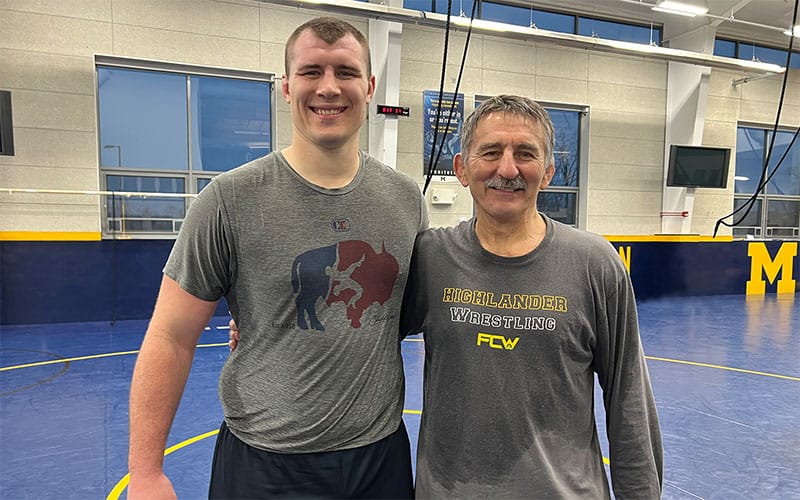 Adam Coon and Momir Petkovic pose together. Photo courtesy of the Cliff Keen WC
.
ANN ARBOR, Mich. — The Cliff Keen Wrestling Club announced Wednesday (Jan. 11) the return of world silver medalist and three-time Michigan All-American
Adam Coon t
o the club's roster. Longtime USA Wrestling Greco-Roman coach
Momir Petkovic
, himself an Olympic champion and four-time world medalist, has joined the CKWC coaching staff and will personally coach Coon at the Bahna Wrestling Center.
"I am very happy to be back home and training with the Cliff Keen Wrestling Club," said Coon. "I'm glad I got the opportunity to play football, but I decided that I wanted to come back to wrestling. I am excited to be back on the mat and training full time with the goal of being the best in the world."
"We are all very excited to have Adam back with the Cliff Keen Wrestling Club, training in the room every day and representing us both domestically and all over the world," said Michigan coach Sean Bormet. "He has proven that he can win at the highest level, and I can't wait to see his continued growth under Momir. I have the utmost respect for Momir, who has helped produce some of the greatest Greco results in USA Wrestling history, and I think Adam will absolutely flourish under his tutelage."
Coon returns to the CKWC after playing professional football for the last year and a half, including three months with the Tennessee Titans in 2021. Prior to his brief retirement from wrestling, Coon was the United States' top 130kg Greco wrestler, making back-to-back senior world teams in 2018 and 2019 before winning the U.S. Olympic Trials in 2021.
He earned four consecutive falls to pin his way to the 2018 world championship final before earning the silver medal. He is the only American to reach a Greco-Roman senior world final since 2009. He is a two-time senior-level Pan American finalist, winning gold in 2019, and a four-time world medalist, also claiming cadet freestyle gold (2011) and double junior bronze in freestyle and Greco (2014). Domestically, Coon also captured U.S. Open 125kg titles in freestyle in both 2018 and 2019.
Coon was a three-time NCAA All-American at heavyweight — and two-time finalist — over his collegiate career at Michigan (2014-16, '18). His 116-15 record ranks him sixth in program history with a .885 career winning percentage.
Petkovic spent 17 years as USA Wrestling's Assistant National Greco-Roman coach (2002-18) and helped lead Team USA to its only Greco-Roman team title in world championships history when it captured the title in 2007 in Baku, Azerbaijan. The United States also won team bronze at the 2000 Olympics and the 2001 and 2006 world championships. Petkovic served as a member of USA Greco-Roman coaching staff in 2000 and 2001 while he was a New York Athletic Club coach (1996-2002).
A 1976 Olympic gold medalist at 82kg Greco-Roman for the former Yugoslavia, Petkovic's international Greco-Roman career spanned 14 years from 1970-84. He also claimed three world silver medals (1978, '79, '81) and a world bronze medal (1977) during his career. He placed fourth at the 1984 Olympic Games in Los Angeles.