News
USA Wrestling
College
USAW
No. 4 Iowa State downs No. 3 Arizona State, 19-15, in Top-5 dual in Ames
by Andy Stubblefield, Iowa State Athletics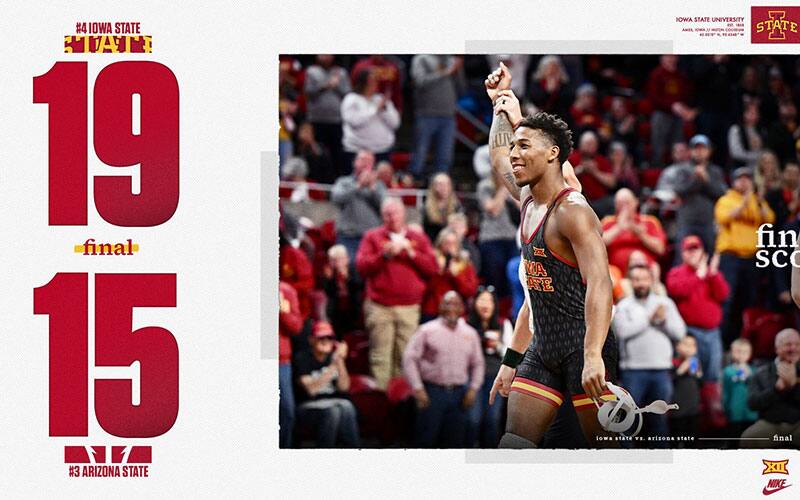 AMES, Iowa – No. 4
Iowa State
(9-2, 2-0 Big 12) held on to defeat No. 3 Arizona State (2-2, 0-0 Pac-12), 19-15, in a top-5 wrestling matchup Sunday afternoon in Hilton Coliseum.
This was the first top-5 dual matchup in Hilton Coliseum since 2009 and ISU's third win over a top-three opponent in the last 14 seasons.
Both teams won five matches each, with the Cyclones winning the first five beginning at 157 pounds and the Sun Devils claiming the final five. Bonus point victories for ISU at 165, 174 and 197 was the difference.
Jason Kraisser got the Cyclones rolling in the opening match at 157 pounds. Kraisser took down Max Wilner and finished the first period out on top. He countered a Wilner shot for a takedown in the closing seconds of period two enroute to a 7-0 victory.
Bonus points are huge in top-5 dual, and No. 3 David Carr chipped in with a dominating technical fall victory (17-2, 5:35) over Tony Negron at 165. Carr had five takedowns and tallied nearfall points on two occasions to remain unbeaten (12-0).
Julien Broderson padded the Cyclone lead to 12-0 with a 17-5 major decision over Josh Nummer in the 174-pound matchup. Broderson had six takedowns.
No. 4 Marcus Coleman won a 7-2 match at 184 pounds over Anthony Montalvo. Coleman was clinging to a 4-2 lead in the third period but got a takedown with 16 seconds left to seal the victory.
Yonger Bastida battled back from an 8-6 deficit to win 23-11 over Jonathan Fagen at 197 pounds. Bastida got caught on his back in the first period, but was able to get a reversal before falling down early. The third-ranked Bastida took over from there, registering six takedowns and a 2-point nearfall in the final two periods.
Sixth-ranked Cohlton Schultz got the Sun Devlis on the board with a hard fought 3-2 win against Sam Schuyler at 285 and Richard Figueroa beat Caleb Fuessley at 125 pounds, 7-5, to cut the Cyclone lead to 19-6 with three matches left.
Casey Swiderski lost a tight match at 141 pounds to Jesse Vasquez, falling 8-6 in the first sudden victory period. Swiderski fought back after falling behind. A takedown with :24 seconds left in regulation gave Swiderski a 6-5 lead, but the freshman was called for locking hands with three seconds remaining to send the match to an extra period, where Vasquez got the takedown for the win.
The marquee matchup was at 149 pounds, where No. 3 Paniro Johnson was pitted against No. 6 Kyle Parco. Johnson had two second-period takedowns to forge a lead, but Parco secured a takedown at the last second of the period to move ahead, 5-4. The match went into sudden victory, where Parco got the takedown for a 7-5 win.
Iowa State is back in action next Saturday (Jan. 14) at Utah Valley. First match is at 9 p.m. CT.


No. 4 Iowa State 19, No. 3 Arizona State 15
157: Jason Kraisser (ISU) dec. Max Wilner (ASU), 7-0
165: David Carr (ISU) tech. fall Tony Negron (ASU), 17-2 (5:35)
174: Julien Broderson (ISU) maj. dec. Josh Nummer (ASU), 17-5
184: Marcus Coleman (ISU) dec. Anthony Montalvo (ASU), 7-2
197: Yonger Bastida (ISU) maj. dec. Jonathan Fagen (ASU), 23-11
285: Cohlton Schultz (ASU) dec. Sam Schuyler (ISU), 3-2
125: Richard Figueroa (ASU) dec. Caleb Fuessley (ISU), 7-5
133: Michael McGee (ASU) dec. Ramazan Attasauov (ISU), 8-3
141: Jesse Vasquez (ASU) dec. Casey Swiderski (ISU), 8-6 SV1
149: Kyle Parco (ASU) dec. Paniro Johnson (ISU), 7-5 SV1
Attendance: 5,364
Officials: Josh Briscoe, Jacob Frias