News
USA Wrestling
College
Women
USAW
No. 2 Grand View women claim Heart of America Conference, with No. 9 Iowa Wesleyan in second
by Gary Abbott, USA Wrestling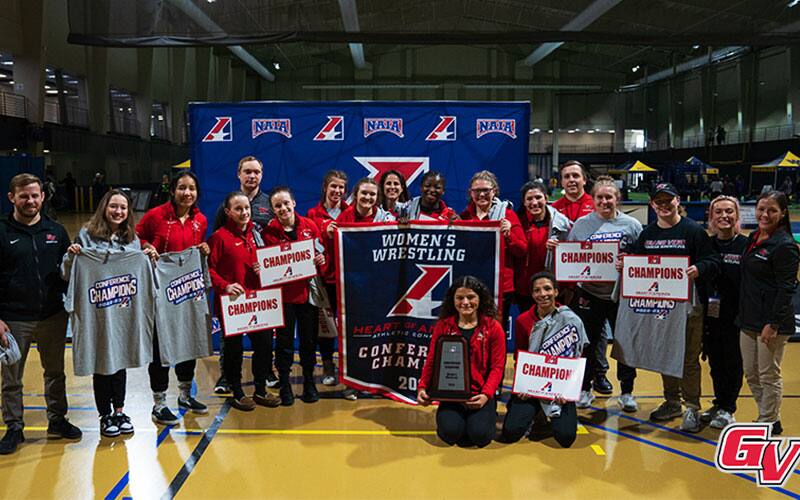 The 2023 Heart of America Conference women's wrestling champions, Grand View. Photo courtesy of Grand View Athletics.
Led by three individual champions and 12 national qualifiers, No. 2
Grand View
won the Heart of America Conference team title with 191 points, with No. 9
Iowa Wesleyan
in second with 148.5 points and No. 7
Central Methodist
in third with 136 points. Grand View repeated as conference champions.
Grand View individual champions were
Jasmine Alexander
(101),
Catharine Campbell
(123),
Alexis Gomez
(143) and
Abby McIntyre
(170).
Iowa Wesleyan champions were
Mia Palumbo
(109) and 2022 NAIA champion
Adaugo Nwachukwu
(136). Central Methodist also had two champions,
Caitlyn Thorne
(116) and
Skye Realin
(130).
Other individual conference champions were
Kaylynn Albrecht
of No. 19 Baker (155) and
Kelani Corbett
of No. 12 Missouri Valley College (191).
Repeat champions from last year were Palumbo, Nwachukwu, Gomez and McIntyre.
The Heart of America Conference received 43 automatic qualifiers for the NAIA Nationals, the most of any of the five NAIA qualifying conference tournaments.
HEART OF AMERICA CONFERENCE

At Oskaloosa, Iowa, Feb. 26


Women's freestyle results
101 (2 qualifiers)
1st Place Match - Jasmine Alexander (Grand View University) 25-10, Sr. over Alaina Sunlin (Iowa Wesleyan University) 21-7, Jr. (Fall 0:57)
True 2nd Place Match - Alaina Sunlin (Iowa Wesleyan University) 1-0, . over Emily Porras (Waldorf University) 0-1, . (Fall 1:57)
3rd Place Match - Emily Porras (Waldorf University) 8-4, Fr. over Kylie Hernandez (Baker University) 13-15, Jr. (Fall 1:30)
5th Place Match - Sage Beltran (Missouri Valley College) 1-2, Fr. over Alanis Serrano-Rios (Waldorf University) 10-17, Fr. (TF-1.5 0:49 (10-0))
109 (5 qualifiers)
1st Place Match - Mia Palumbo (Iowa Wesleyan University) 20-3, So. over Faith Cole (Iowa Wesleyan University) 26-10, Fr. (Dec 8-1)
3rd Place Match - Hailey Holland (Missouri Valley College) 3-1, So. over Victoria Nunez (Central Methodist University) 10-10, So. (TF-1.5 5:38 (10-0))
5th Place Match - Laura Lincoln (Missouri Valley College) 1-2, Jr. over Kylee Slyter (Baker University) 12-25, Fr. (Fall 1:44)
116 (5 qualifiers)
1st Place Match - Caitlyn Thorne (Central Methodist University) 18-4, So. over Cailin Campbell (Grand View University) 17-8, Fr. (TF-1.5 3:25 (10-0))
3rd Place Match - Katherine Heath (Baker University) 20-9, Jr. over Hannah Hall (Central Methodist University) 16-5, So. (Dec 13-7)
5th Place Match - Catherine Steinkamp (William Penn University) 15-10, So. over Brittany Cotter (William Penn University) 17-12, So. (Dec 7-0)
123 (4 qualifiers)
1st Place Match - Catharine Campbell (Grand View University) 22-6, Fr. over Ashley Whetzal (Missouri Valley College) 2-1, Jr. (TF-1.5 4:07 (14-4))
3rd Place Match - Maya Davis (Grand View University) 21-9, Fr. over Allison Hynes (Central Methodist University) 18-11, So. (Fall 1:13)
True 4th Place Match - Mami Selemani (William Penn University) 1-0, . over Allison Hynes (Central Methodist University) 0-1, . (Dec 7-2)
5th Place Match
Mami Selemani (William Penn University) 6-8, Jr. over Zoi Smith (Iowa Wesleyan University) 13-12, Jr. (TF-1.5 3:56 (10-0))
130 (5 qualifiers)
1st Place Match - Skye Realin (Central Methodist University) 19-3, So. over Andrea Schlabach (Grand View University) 14-2, Jr. (Dec 9-3)
3rd Place Match - Joanna Vanderwood (Iowa Wesleyan University) 28-9, So. over Destiny Campbell (Iowa Wesleyan University) 26-11, So. (Dec 3-1)
5th Place Match - Olivia Branson (Baker University) 17-11, Sr. over Isabella Gonzalez (Grand View University) 24-16, Sr. (M. For.)
136 (3 qualifiers)
1st Place Match - Adaugo Nwachukwu (Iowa Wesleyan University) 26-0, So. over Jade Martin (Missouri Valley College) 1-1, Fr. (Fall 1:08)
3rd Place Match - Abbie Jones (Baker University) 17-16, Jr. over Mariam Shariq (Baker University) 18-15, Fr. (Fall 4:00)
5th Place Match - Neve Barragan (Waldorf University) 6-13, Fr. over Alexis Cervantes (William Penn University) 6-17, Fr. (Fall 2:39)
143 (5 qualifiers)
1st Place Match - Alexis Gomez (Grand View University) 22-1, Sr. over Isabelle Hawley (Iowa Wesleyan University) 20-10, Fr. (Fall 1:38)
3rd Place Match - Lilly Gough (Central Methodist University) 12-10, So. over Ku`uipo Chan (Waldorf University) 17-9, RS Jr. (M. For.)
5th Place Match - Niah Smith (Waldorf University) 12-14, Fr. over Naida Abdijonovic (Iowa Wesleyan University) 19-16, Fr. (Fall 5:43)
155 (5 qualifiers)
1st Place Match - Kaylynn Albrecht (Baker University) 34-5, RS Jr. over Caitlyn Davis (Central Methodist University) 20-3, Fr. (Dec 9-0)
3rd Place Match - Mahealani Ramirez (Grand View University) 14-9, Fr. over Madison Diaz (Grand View University) 15-8, So. (M. For.)
5th Place Match - Genesis Higuera (Waldorf University) 11-14, Fr. over Payge Fuller (William Penn University) 1-3, . (Dec 10-4)
170 (4 qualifiers)
1st Place Match - Abby McIntyre (Grand View University) 13-3, So. over America Lopez (Iowa Wesleyan University) 3-1, So. (Dec 3-2)
3rd Place Match - Shenita Lawson (Grand View University) 30-6, Fr. over Shainne Whited (Central Methodist University) 11-6, So. (Fall 1:12)
True 4th Place Match - Danielle Saldivar (Missouri Valley College) 1-0, . over Shainne Whited (Central Methodist University) 0-1, . (Fall 3:45)
5th Place Match - Danielle Saldivar (Missouri Valley College) 2-2, Sr. over Kylee Eastwood (William Penn University) 14-14, Fr. (Dec 7-1)
191 (5 qualifiers)
1st Place Match - Kelani Corbett (Missouri Valley College) 3-0, Sr. over Jaycee Foeller (Central Methodist University) 19-5, So. (Dec 8-4)
3rd Place Match - Olivia Brown (Grand View University) 24-10, So. over Joanna Hendricks (Waldorf University) 21-5, RS Jr. (Dec 2-0)
5th Place Match - Sydney Manos (Iowa Wesleyan University) 15-5, So. over Grace Gray (Iowa Wesleyan University) 14-19, Fr. (Fall 1:27)
Team Standings
1 Grand View University 191.5
2 Iowa Wesleyan University 148.5
3 Central Methodist University 136.0
4 Missouri Valley College 92.0
5 Baker University 86.5
6 Waldorf University 67.5
7 William Penn University 50.5