News
USA Wrestling
International
USAW
U.S. men's freestylers receive first round draws for Ibrahim Moustafa Ranking Event in Egypt
by Gary Abbott, USA Wrestling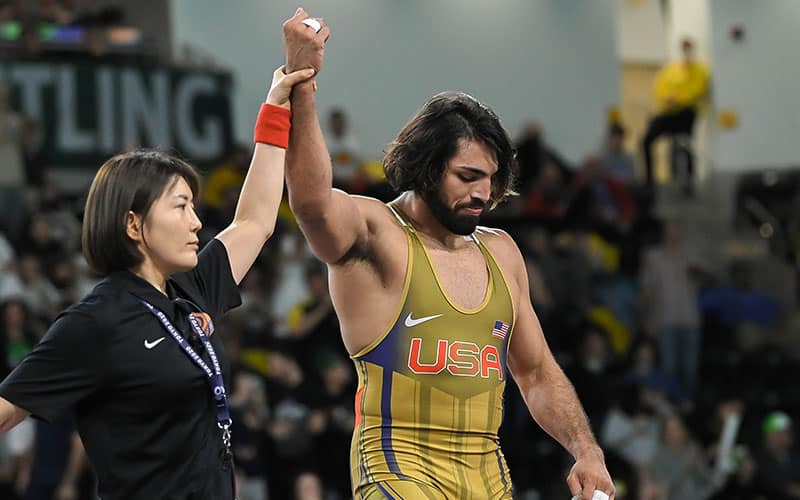 Zahid Valencia (USA), shown at the 2022 World Cup, are among the U.S. men's freestyle stars competing in Egypt. Photo by Ginnie Coleman, United World Wrestling
.
ALEXANDRIA, Egypt – The 19 U.S. men's freestyle wrestlers who have entered the Ibrahim Moustafa Ranking Event.
Men's freestyle competes on Saturday, February 25 and Sunday, February 26.
The two weight classes contested on Saturday are 97 kg and 125 kg. The eight weight classes contested on Sunday are 57 kg, 61 kg, 65 kg, 70 kg, 74 kg, 79 kg, 86 kg and 92 kg.
Among the U.S. men competing are No. 2 ranked National Team members
Chance Marsteller
(79 kg),
Zahid Valencia
(86 kg),
Nate Jackson
(92 kg),
Kollin Moore
(97 kg) and
Nick Gwiazdowski
(125 kg). Gwiazdowski is a two-time World bronze medalist.
This article will be updated later today with information on each of the USA athletes' opponents.
To follow brackets, visit
UWW Arena
.
Alexandria is nine hours ahead of U.S. Eastern time zone and the schedule is below. This event is being broadcast
live on FloWrestling
.
IBRAHIM MOUSTAFA RANKING EVENT

At Alexandria, Egypt,


U.S. Men's Freestyle entries
57 kg: Nick Suriano (Sunkist)
Vs. Nodirjon Safarov (Uzbekistan), 2021 Asian bronze medalist, 2017 Islamic Solidarity Games bronze medalist,
61 kg: Austin DeSanto (HWC)
Vs. Mahmoud Shorbaby (Egypt), 2nd 2019 Ibrahim Moustapha Tournament (Egypt)
65 kg: Pat Lugo (HWC)
Vs. Sanzhar Mukhtar (Kazakhstan), 9th in 2022 Tourlykanov Cup (Kazakhstan)
65 kg: Anthony Ashnault (TMWC/NYCRTC)
Vs. Shaohua Yuan (China), 2x Senior World Team member, 2019 Asian bronze medalist
65 kg: Joey McKenna (TMWC/PRTC)
Vs. Zohier Iftene (Algeria), 2nd 2016 Mediterranean Championships, 2015 All Africa Games champion
70 kg: Cody Chittum (HWC)
Vs. Agudamu (China), 9th in 2023 Zagreb Open (Croatia)
70 kg: Tyler Berger (Sunkist/PRTC)
Vs. Arman Andreasyan (Armenia), 5th in 2021 and 2022 World Championships, 2021 World Military Champion
74 kg: Vincenzo Joseph (Sunkist)
Vs. Luis Barrios Rochez (Honduras) 2017 Central American/Carribbean Games champion, 3rd in 2016 Pan American U20 Championships
74 kg: Josh Shields (Sunkist)
Vs. winner of Mitchell Finesilver (Israel) and Abdelkader Ikkal (Algeria)
Finesilver – 2x World Team member, 2021 European bronze medalist
Ikkal – 2022 African silver medalist, 2020 African U20 champion
74 kg: Joey Lavallee (TMWC/LVWC)
Vs. Nuertanbieke Wurenibai (China), 2022 World Team member, 10th in 2023 Zagreb Open (Croatia)
79 kg: Chance Marsteller (TMWC/NYRTC)
Vs. winner of Akhmed Mahmoud (Egypt) and Bibarys Nuryllauly (Kazakhstan)
Mahmoud – 2nd in 2018 Mediteranean Championships
Nuryll – 3rd in 2022 Kunaev Tournament (Kazakhstan), 3rd in 2022 Ion Corneanu (Romania)
79 kg: David McFadden (TMWC/PRTC)
Vs. Nasser Sayed (Egypt), no information available
79 kg: Evan Wick (TMWC)
Vs. Evsem Shvelidze (Georgia), 5th in 2022 U23 Worlds, 2022 European U23 silver medalist
86 kg: Zahid Valencia (Sunkist)
Vs. Sebastian Jezierzanski (Poland), 5th in 2022 Worlds, 2022 European bronze medalist
92 kg: Kollin Moore (TMWC/ORTC)
Vs. Miriani Maisuradze (Georgia), 2022 U23 World bronze medalist, 2022 European bronze medalist, 2016 U17 World champion
92 kg: Nate Jackson (NYAC/NJRTC)
Vs. Feyzullah Akturk (Turkey), 2022 U23 World bronze medalist, 2022 European champion, 2019 U20 World bronze medalist
97 kg: Morgan Smith (LVWC)
Vs. Benjamin Honis (Italy), 2022 World Team member, 8th in 2022 Pellicone Tournament (Italy), wrestled at Cornell
125 kg: Nick Gwiazdowski (TMWC/SCRTC)
Vs. Daniel Ligeti (Hungary), 5th in 2010 Worlds, 2022 European bronze medalist
125 kg: Jordan Wood (NYAC)
Vs. Robert Baran (Poland), 2016 and 2020 European silver medalist, 2018 and 2022 European bronze medalist,
Event Schedule

Local time seven hours ahead of U.S. Eastern time zone. Weight is in kilograms)
Saturday, February 25
10:30 a.m. – Qualification and repechage (WFS 50, 53, 55, 59, 65, 72 MFS 97, 125)
6:00 p.m. – Finals (WFS 50, 53, 55, 59, 65, 72 MFS 97, 125)
Sunday, February 26
10:30 a.m. – Qualification and repechage (MFS 57, 61, 65, 70, 74, 79, 86, 92)
6:00 p.m. – Finals (MFS 57, 61, 65, 70, 74, 79, 86, 92)