News
USA Wrestling
High School & Youth
Women
USAW
Girls High School Roundup: Girls state champion teams and individuals crowned in nine states
by Gary Abbott, USA Wrestling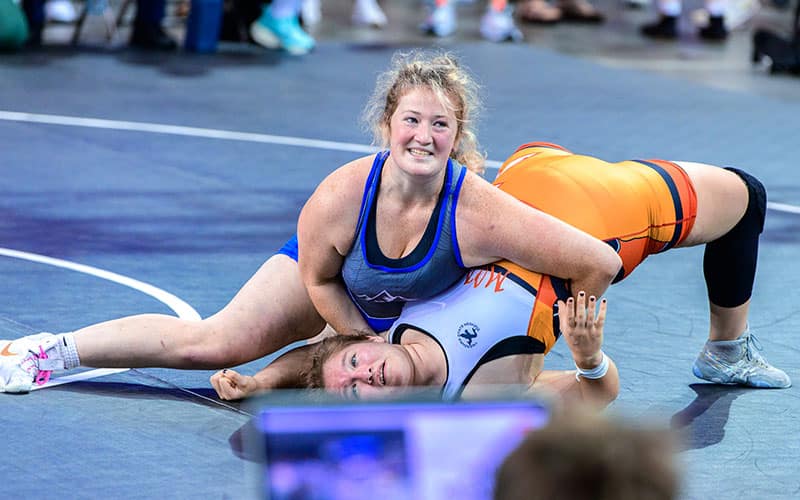 Alivia White of Marysville Pilchuck High School, shown at the 2022 Junior Nationals, won another Washington state title this past weekend. Photo by Tony Rotundo, Wrestlers Are Warriors.Northwest wins Texas 5A team title, No. 10 Allen and El-Paso Eastwood tie for 6A title.
Texas, which has been a two-division state for girls for a number of years, sends home three champion teams from their girls state championships, held in Cypress. The 5A champions were Northwest, with three runners-up and four placewinners, scoring 71 points, followed by Lubbock Cooper with 67.5 points, with three placewinners and one runner-up. The 6A title ended up as a tie, with national No. 10 Allen and El Paso Eastwood both finishing with 67.5 points. Allen was led by state champion and national No. 2 Jasmine Robinson (152), plus two third-place finishers. El Paso Eastwood featured state champion and national No. 4 Alexis Montes (120), plus a runner-up and a fifth-place finisher. Allen repeated as 6A state team champions.
The individual battles were very competitive. 5A state champions with national rankings were No. 9 Alexis Hanks of Killeen Ellison (114), No. 9 Madison Canales of Richmond Foster (126), No. 16 Avery Beckman of Friendswood (152), No. 30 Caitlyn Flaherty of Frisco Memorial and No. 6 Leilani Sanchez of El Paso Andress (235). Flaherty defeated No. 20 Madeline Hodges of Midlothian, who had beaten Flaherty in the qualifying event. Judith Sandoval of El Paso Hanks (100) beat No. 29 Zurri Zamora of Amarillo Tascosa in the 5A 100 finals. In 6A, nationally ranked state champions were Robinson, Montes, No. 16 Fernanda Lopez of Richardson Lake Highlands (114), No. 6 Olivia Moreno of Austin Bowie (126) and No. 5 Erica Cobos of El Paso Americas (235). Montes beat national No. 12 Alyssa Ruiz of Northwest Nelson in the finals. Moreno beat national No. 11 Emily Pedro of Little Elm in her finals. Riley Ferranti of Klein Oak won the 6A 185 title over national No. 11 Faith Macharia of Keller Central. Undefeated wrestlers were Hanks, Canales, Moreno and Serenity de La Garza of McAllen Memorial (5A 138). Repeating as state champions were Canales and de La Garza in 5A and Moreno and Robinson in 6A.
Washington hosts two state meets, as No. 2 Toppenish dominates 1B/2B/IA/2A and Moses Lake wins 3A/4A
Washington's girls state championships was split into two divisions this year. Claiming the 1B/2B/IA/2A was national No. 2 Toppenish with 299 points, more than double second place White River with 110 points. Toppenish had six champions, including four with national rankings: No. 8 Mia Zuniga (100), No. 14 Sophia Torrez (105), Adalyne Montiel (110), Ruby Clark (140), No. 9 Ruby Rodriguez-Rios (155) and No. 26 Makayla Torres (190). Toppenish had a total of 11 placewinners. In 3A/4A. Moses Lake won the team title with 136 points, followed by Curtis with 120. Moses Lake was led by state champion and No. 17 national Ashley Naranjo (155) and five placewinners. Curtis has three state champions, Sierra Wangen (130), Clarissa Wangen (155) and Ryley Nager (170). Other nationally ranked champions in 3A/4A were No. 11 Libby Roberts of University (105), No. 22 Zeta Lee of Mount Tahoma (110), No. 16 Karianne Baldwin of Glacier Peak (125), No. 2 Alivia White of Marysville Pilchuck (190) and No. 19 Faith Tarrant of Prairie. Joining the four nationally ranked Toppenish champions in 1B/2B/IA/2A were national No. 9 Nicole Poussier (135), No. 12 Anna Dicugno of White River (125) and No. 15 Alondra Morales (145). Undefeated wrestlers were Roberts, Naranjo, Baldwin, Tarrant, Torrez, Dicugno, Poussier and Rodriguez-Rios. Repeating as state champions were Roberts, Lee, Naranjo, Baldwin, Clarissa Wangen, Rodriguez-Rios, White and Tarrant.
No. 4 Liberty, led by three champions, tops Sunnyside in Arizona states, National No. 1 P-4-P Jimenez wins title
National No. 4 Liberty, led by three state champions, defeated Sunnyside by 55 points to take the girls team title in Arizona in Phoenix. Liberty's national ranked champions were No. 15 Bella Bocanegra (100), No. 12 Taylor Colangelo (132) and No. 28 Bridgett Sotomayor (138). Sunnyside had a pair of champions, Illiana Castaneda (107) and national No. 1 Audrey Jimenez (114). Jimenez is the national Pound-For-Pound No. 1 wrestler in the nation. Bocanegra and Jimenez were repeat champions, along with Isabelle Munoz of Casteel (145) and Lilian Gradillas-Flores of Mountain View (152). Among the undefeated state champions were Jimenez, Colangelo, Munoz, Adacelli Noriega of Bisbee (120), Nylease Yzagere of Peoria (185) and Ave Risati of Ala West Foothills (235).
No. 7 Chatfield edges Discovery Canyon in Colorado States, 10 nationally ranked girls take titles
It went right down to the wire at the Colorado girls state championships in Denver, but when it ended, national No. 7 Chatfield edged Discovery Canyon by five points in the team race, 133 points to 128. Champions for Chatfield included national No. 7 Janessa George (110), national No. 21Taylor Miess (135) and national No. 25 Ryen Hickey (140). George defeated national No. 30 Morgan Johnson of Loveland, denying Johnson of a fourth state title. The champions for Discovery Canyon were Mia Hargrove (115), national No. 4 Janida Garcia (145) and national No. 20 Victoria Guinard. Hargrove avenged two losses from earlier in the year, beating undefeated opponents in both the semifinals and the finals. Garcia pinned national No. 26 Munson in her finals. Other nationally ranked champions were No. 7 Katey Valdez of Doherty (100), No. 29 Alexsys Jacquez of Fountain Fort Carson (105), No. 3 Persaeus Gomez of Pomona (120), No. 6 Taylor Knox of Calhan (190) and No. 2 Ciara Monger of Calhan. Knox beat national No. 3 Blythe Cayko of Eaglecrest in the finals. Freshman state champion Timberly Martinez of Pomona (130) finished with a 24-0 record. Repeat champions were Gomez and Monger.
No. 23 South Sioux City repeats as Nebraska state team champions, four nationally ranked wrestlers claim titles
Led by two champions and four placewinners, national No. 23 South Sioux City repeated as Nebraska girls state team champions with 109 points, ahead of runner-up Omaha Westside with 89 points. State champions for South Sioux City were No. 30 national Yohaly Quinones (155) and Melissa De la Torre (235). Omaha Westside had five placewinners, led by state champion Regan Rosseter (130). Nationally ranked winners were No. 27 Alexis Pehrson of Yutan (125), No. 23 Kaylee Ricketts of Wahoo (170) and No. 4 Makenna Schramm of Fairbury. Alexis Pehrson's sister Aubrie Pehrson of Yutan as the 120 pound champion. Schramm defeated national No. 7 Claire Paasch of West Point-Beemer in the finals. Going unbeaten were Ricketts, Schramm, Afflyn Stusse of Battle Creek (105), Maycee Peacher of Bennington (110), Dylen Ritchey of Ralston (135) and Reagan Galloway of Amhurst (140). Repeat champions were Peacher, the Pehrson sisters, Rosseter, Gallaway, Quinones and Kenli Boeselager of Chadron (145).
Utah state champion teams were Grantsville (1A/2A/3A), Mountain Crest (4A), Uintah (5A), No. 9 Westlake (6A)
Utah hosted its four girls state championships this past weekend, with team champions including Grantsville (1A/2A/3A), Mountain Crest (4A), No. 9 national Westlake (5A) and Unitah (6A). Mountain Crest and Westlake were repeat state champion teams.
Grantsville had 17 state placewinners, including champions Nikki Dong (130) and Haley Broderick (155) to score 274 points in 1A/2A/32, ahead of runner-up Juab with 187 points. Mountain Crest won 4A with 399 points, ahead of No. 23 national Bear River with 353 points. Mountain Crest champions were Mattee Turnbow (110), Jacie Shock (120), Eastyn Nyman (130), Emmalee White (145), Gracie Howard (170), Brooke Keller (190) and Kalie Jensen (235), among 21 placewinners. Bear River champions were Sadie Hardy (100), Abigail Trayhorn (140) and Eve Allsup (155).
Uintah was 5A champion, led by state champion Chanley Green (110), Emma Carri (145) and Maddison Tenney (235), among eight place winners. Uintah had 208.5 points, ahead of Cedar Valley with 181 points. No. 9 national Westlake won the 6A states with 289 points and six state champions: national No. 25 Ashley Cannon (125), national No. 25 Celeste Detoles (135), Hailey Pigg (140), Emmy Finlinson (145), national No. 6 Lizzie Raleigh (155) and national No. 10 Keilikki Nau Rarick, among 12 placewinners. Copper Hills was second behind Westlake.
Utah has numerous nationally ranked champions who won titles. These include Cannon, Detoles, Raleigh and Nau Rarick, along with No. 9 Tilisa Matakaiongo of Canyon View (190 1A/2/3A), No. 9 Aurellia Ramos of Maple Mountain (170 5A), No. 18 Anya Hatch of Copper Hills (170, 6A) and No. 4 Cheyenne Ruiz of Taylorsville (190 6A).
Volcano Vista takes New Mexico state title over Miyamura, nationally ranked Munoz and Mariano win
Without an individual champion, but with three runners-up and eight place winners, Volcano Vista won the girls state team title in Rio Rancho over last year's team champion Miyamura, 147 points to 115.5 points. Volcano Vista runners-up were Chelsea Rivera (165), Elena Moya (185) and Jordyn Yazzie (235). Miyamura had state champions Lorianna Piestewa (107), Taniel Espinoza (120) and national No. 12 Hannah Mariano (235). National No. 17 Makayla Munoz of Aztec (145) won her finals match with a pin in 40 seconds over returning state champion Bianca Arundale-Maestas of Sandia. Repeat champions were Piestewa, Munoz and Alyssa Sedillo of Las Cruces (100).
Bismarck wins North Dakota state title over Minot, nationally ranked Johnson, Araujo, Lindseth take golds

Bismarck, led by state champion and national No. 16 Julia Araujo (110) and 11 placewinners, won the North Dakota State championships held in Fargo with 189 points, ahead of runner-up Minot with 169 points. Minot did not have a champion, but brought home 10 placewinners. Nationally ranked No. 5 Alyssa Johnson of Grand Forks (140) and national No. 17 Pheonix Lindseth of Bismarck Legacy (190) were among the champions. Repeat champions were Araujo and Johnson, plus Alexis Schneider of Napolean G-S (115), Avery Mohr of Fargo (125) and Catie Sinner of Central Cass (250). Johnson and Schneider were the only unbeatens among the state champions.
Chestatee wins Georgia girls states over Carrollton, four nationally ranked girls win titles
Led by state champion Ashley Godinez (155) and five place winners, Chestatee won the Georgia state championship with 82 points, followed by Carrollton with 52 points. State dual meet champion Carrollton had no champions and four place winners. Nationally ranked champions were No. 26 May Prado of Lassiter (135), No. 23 Greta Garbuzovas of Lumpkin County (140), No. 10 Genevieve An of Kennesaw Mountain (170) and No. 29 Lilly Chavis of Jackson County (235). Unbeaten champions were Garbuzovas, Artesmis Eaton of North Forsyth (100), Vera Spencer of North Oconee (115) and Raven Cook of Jackson County (145). Repeat champions were Prado, An and Chavis.
Seven high schools have so far won both girls and boys state team titles this year
There is a growing trend that high schools with championship boys wrestling programs are also developing champion girls wrestling teams. So far, there are seven high schools which have won state team titles for both their boys team and their girls team. They include Waverly-Shell Rock (Iowa), Volcano Vista (New Mexico), Allen (Texas), Toppenish (Washington), Mountain Crest (Utah) and Uintah (Utah). We will watch for more.
Girls winning boys state tournaments: Add Ripley of Maine and Donovan of New Hampshire to list
On Feb. 5, 2006, Michaela Hutchison of Alaska became the first girl to win a boys state wrestling championships, when she won the Alaska state title at 103 pounds for Skyline High School in Soldotna, Alaska. Since then, a very few number of girls have won boys state titles, all making history in their state. This past weekend, two more girls became the first to win their boys state tournaments. Junior Maddie Ripley of Oceanside High School won the Maine Class B state title at 106, pinning Nick Allen of Wells in the finals. Ripley was second in the Class B Boys tournament in 2022, and also won the 2022 Girls state tournament. Over in New Hampshire, freshman Liz Donovan of Pelham won the New Hampshire Div. 3 State Tournament at 113 pounds, then followed it up with a victory in New Hampshire's Meet of Champions. There is one more chance at more hardware with the New England Championships coming up next.