News
USA Wrestling
International
Women
USAW
Velte wins silver medal, Miracle claims bronze medal in women's freestyle at Zagreb Open Ranking Event
by Gary Abbott, USA Wrestling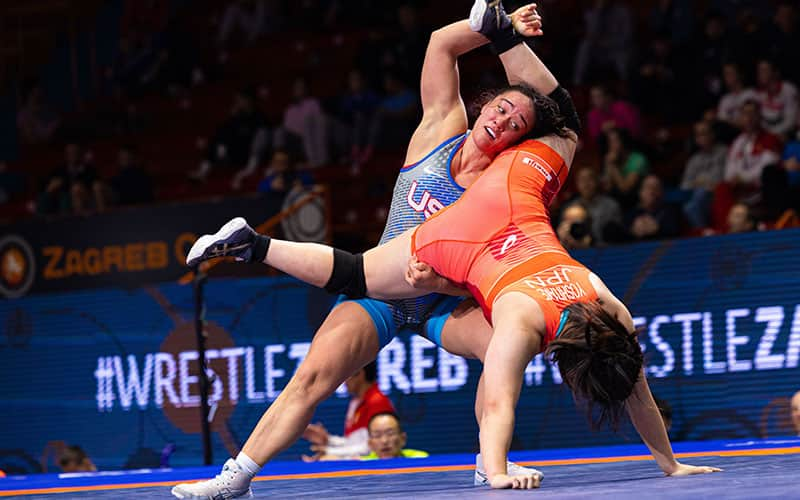 Mallory Velte (USA) battles Mahiro Yoshitake (Japan) at the Zagreb Open. Photo by Kadir Caliskan, United World Wrestling
ZAGREB, Croatia – The United States won its first two medals in women's freestyle at the Zagreb Open Ranking Event, a silver medal by Mallory Velte at 65 kg and a bronze medal by Kayla Miracle at 62 kg.
Velte, a two-time World bronze medalist, lost a close 2-1 match to U20 World champion Mahiro Yoshitake of Japan in the finals. Velte led 1-0 at the break, after Yoshitake was placed on the shot clock and did not score. In the second period, Yoshitake finished a takedown, the only scoring of the period, to win 2-1.
It was a rematch of the Pool A first round match this morning, with Yoshitake also getting a one-point win, 6-5 over Velte. However, Velte rallied with a Pool A win over Emma Bruntil of the USA, 4-2. Bruntil beat Yoshitake. All three athletes had 1-1 records, with Velte and Yoshitake advancing to the semifinals,
Miracle came out strong against 2018 World champion and 2020 Olympic bronze medalist Taybe Yusein of Bulgaria in her bronze-medal match, with a first period takedown and a step out to lead 3-0. She got her offense going in the second period, scoring a takedown followed by a turn two different times, with Yusein only getting one reversal, finishing off an 11-1 technical fall.
Including Yusein, Miracle beat three World medalists today, also stopping Elis Manolova of Azerbaijan and Jia Long of China in her first two bout. Her only loss came in the semifinals to 2022 World silver medalist Grace Bullen of Norway.
The USA had two women place fifth in their weight classes, Emma Bruntil (65 kg) and Solin Piearcy (68 kg). Bruntil went 1-1 in Pool A and did not advance to the semifinals due to the tiebreaker. Piearcy qualified for a bronze medal match, where she was defeated by 2021 World champion Irina Ringaci of Moldova, 6-0
After two days, with six weight classes completed, Japan leads the women's freestyle team race with 120 points, with Team USA in second with 67 points and Moldova third with 60 points.
Greco-Roman started with two weight classes on Friday. Three U.S. Greco-Roman wrestlers competed on Friday, falling in their opening matches. Two-time World Team members Kamal Bey (77 kg) and Alan Vera (87 kg) were injured and did not complete their bouts. Payton Jacobson (77 kg) lost by decision. None were eligible for repechage.
The Zagreb Open continues on Saturday with the final four women's freestyle weight classes (53 kg, 57 kg, 72 kg, 76 kg) and two more Greco-Roman weight classes (63 kg, 67 kg). All of the action is live on
FloWrestling.
ZAGREB OPEN RANKING EVENT
At Zagreb, Croatia,
Women's Freestyle Medalists
59 kg
Gold - Anastasia Nichita (Moldova)
Silver - Yui Sakano (Japan)
Bronze - Alyona Kolesnik (Azerbaijan)
62 kg
Gold - Sakura Motoki (Japan)
Silver - Grace Bullen (Norway)
Bronze - Kayla Miracle (USA)
Bronze - Bilyana Dudova (Bulgaria)
65 kg
Gold - Mahiro Yoshitake (Japan)
Silver - Mallory Velte (USA)
Bronze - Iva Geric (Croatia)
68 kg
Gold - Koumba Larroque (France)
Silver - Adela Hanzlickova (Czechia)
Bronze - Paulina LeCarpentier (France)
Bronze - Irina Ringaci (Moldova)
U.S. women's freestyle results
62 kg: Kayla Miracle (Sunkist), BRONZE MEDAL
WIN Elis Manolova (Azerbaijan), 5-2
WIN Jia Long (China), 6-4
LOSS Grace Bullen (Norway), 8-6
WIN Taybe Yusein (Bulgaria), tech fall 11-1
62 kg: Lauren Louvie (NYAC), dnp/23rd
LOSS Sakura Motoki (Japan), tech fall 10-0
LOSS Viktoria Vesso (Estonia), pin 1:08
65 kg: Mallory Velte (TMWC/BDRTC), SILVER MEDAL
LOSS Mahiro Yoshitake (Japan), 6-5
WIN Emma Bruntil (USA), 4-2
WIN Iva Geric (Croatia), tech fall 10-0
LOSS Mahiro Yoshitake (Japan), 2-1
65 kg: Emma Bruntil (TMWC), 5th place
WIN Mahiro Yoshitake (Japan), 3-1
LOSS Mallory Velte (USA), 4-2
68 kg: Solin Piearcy (Menlo WC), 5th place
WIN Alex Glaude (USA), 1-1
LOSS Koumba Larroque (France), 2-1
LOSS Irina Ringaci (Moldova), 6-0
68 kg: Alex Glaude (TMWC/BDRTC), 9th place
LOSS Solin Piearcy (USA), 1-1
68 kg: Marilyn Garcia (California), dnp/14th
LOSS Pauline LeCarpentier (France), tech. fall 10-0
Women's freestyle team race after two days (six weight classes)
1 Japan 120
2 United States 67
3 Moldova 60
4 Hungary 29
5 China 28
6 France 25
7 Azerbaijan 25
8 Czechia 20
8 Norway 20
10 India 20
Greco-Roman medalists
77 kg
Gold - Mohammadali Geraei (Iran)
Silver - Alexandru Gutu (Moldova)
Bronze - Aik Mnatsakanian (Bulgaria)
Bronze - Amin Kaviyanijead (Iran)
87 kg
Gold - Istvan Takacs (Hungary)
Silver - Naser Alizadeh (Iran)
Bronze - Ivan Huklek (Croatia)
Bronze - Turpat Bisultanov (Denmark)
U.S. Greco-Roman results
77 kg: Kamal Bey (Army WCAP), dnp/25th
LOSS Rui Liu (China), inj. dft., 2:07
77 kg: Payton Jacobson (Sunkist), dnp/23rd
LOSS Pavel Puklavec (Croatia), 3-1
87 kg: Alan Vera (NYAC), dnp/28th
LOSS Erik Szilvassy (Hungary), inj. dft., 3:38