News
USA Wrestling
International
Women
USAW
Miracle claims silver medal, Winchester gets fifth place in women's freestyle at World Championships
by Gary Abbott, USA Wrestling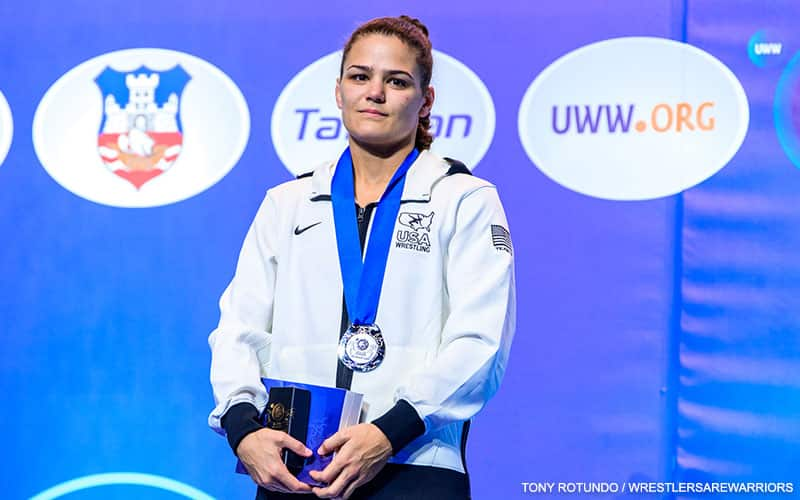 Kayla Miracle (USA), 2022 World silver medalist at 62 kg. Photo by Tony Rotundo, Wrestlers Are Warriors
BELGRADE, Serbia – Competing in her second straight World finals,
Kayla Miracle
claimed a silver medal at 62 kg at the World Championships in Stark Arena on Tuesday night. She won the first medal for Team USA at this year's World Championships.
Miracle, also a 2021 World silver medalist, was beaten in the finals by 2021 World bronze medalist Nonoka Ozaki of Japan, 10-0. Ozaki scored a takedown and secured two turns with an ankle lace for a 6-0 lead. She added a spin behind takedown, then a counter takedown, to close out the victory.
In the semifinals on Monday, Miracle scored a first-period pin over 2021 U23 World champion Ana Godinez Gonzalez of Canada in 1:37. She opened the tournament with a 17-6 technical fall over Xiaojuan Luo of China, and a 6-1 win over Tetiana Omelchenko of Azerbaijan.
Miracle was a member of the 2020 U.S. Olympic Team. She was also eighth in the 2019 World Championships. She was a four-time WCWA national champion for Campbellsville University.
2019 World champion
Jacarra Winchester
placed fifth at 55 kg. She was leading Mengyu Xie of China, 12-4, when she was reversed and put on her back, with Xie securing the fall in 4:55.
Winchester came out strong, with a takedown and two big lifts and turns, each for four points. The scoreboard read 10-0, which would have been a technical fall. However, the Chinese corner challenged the call. Officials changed the scoring of one of Winchester's moves, giving four points to Xie and two to Winchester. The adjusted score was 8-4 in favor of Winchester. She thentwo more takedowns to lead 10-4. However, right after that second takedown, Winchester tried a turn and Xie was able to step over, putting Winchester onto her back for the pin.
Winchester opened the tournament with an 8-3 win over over Otgonjargal Ganbaatar of Mongolia and a 4-2 win over Roksana Zasina of Poland. 2020 Olympic champion and two-time World champion Mayu Shidochi Mukaida of Japan beat Winchester in the semifinals, 12-2.
In addition to her 2019 World Championships title, Winchester was fifth at the 1998 World Championships and fifth at the 2020 Olympic Games.
Three U.S. women go for medals on Wednesday night:
Dom Parrish
for gold at 53 kg,
Sarah Hildebrandt
for bronze at 50 kg and
Mallory Velte
for bronze at 65 kg.
The final four U.S. women wrestlers will begin competition on Wednesday: Olympic champion and three-time World champion
Helen Maroulis
at 57 kg,
Abigail Nette
at 59 kg, Olympic champion and World champion
Tamyra Mensah Stock
at 68 kg and
Amit Elor
at 72 kg.
The final two Greco-Roman weight classes were held this evening, with medals awarded at 60 kg and 130 kg. Individual Greco-Roman champions on Tuesday were Zholaman Sharshenbekov of Kyrgyzstan at 60 kg and Riza Kayaalp of Turkey at 130 kg. It was Kayaalp's fifth career World title.

Ildar Hafizov
, who had a 2-2 record at 60 kg and was beaten in Tuesday morning's repechage round, finished 10th.
Cohlton Schultz
, who was defeated in his only match on Monday, placed 15th at 130 kg.
Turkey won the Greco-Roman team title with 125 points, followed by Azerbaijan with 118 points and host Serbia with 110 points. The USA finished 21st with 14 points.
Women's freestyle continues on Wednesday, with Group 2 and Group 3 competing. The morning session begins at 10:30 a.m. Group 3 semifinals are set for 4:45 p.m., with Group 2 finals at 6:00 p.m. Belgrade is six hours ahead of U.S. Eastern time. All of the action is live on FloWrestling. https://flosports.link/3HwrYxD
WORLD WRESTLING CHAMPIONSHIPS
At Belgrade, Serbia, September 11

Women's freestyle Group 1 finals pairings
55 kg
Gold - Mayu Shidochi Mukaida (Japan)
Silver - Oleksandra Khomenets (Ukraine)
Bronze - Mengyu Xie (China)
Bronze - Karla Godinez Gonzalez (Canada)
5th - Jacarra Winchester (USA)
5th - Mariana Draguttan (Moldova)
7th - Andreea Beatrice Ana (Romania)
8th - Sushma Shokeen (India)
9th - Roksana Marta Zasina (Poland)
10th - Marina Sedneva (Kazakhstan)
Gold - Shidochi Mukaida tech. fall Khomenets, 10-0
Bronze - Xie pin Winchester, 4:55
Bronze - Godinez Gonzalez dec. Draguttan, 6-2
62 kg
Gold - Nonoka Ozaki (Japan) tech. fall Kayla Miracle (USA), 10-0
Bronze - Ilona Prokopevniuk (Ukraine) dec. Aisuluu Tynybekova (Kyrgyzstan), 8-7
Bronze - Xiaojuan Luo (China) dec. Ana Godinez Gonzalez (Canada), 4-3
7th - Tetiana Omelchenko (Azerbaijan)
8th - Sara Johanna Lindborg (Sweden)
9th - Anna Hella Szel (Hungary)
10th - Lais Nunes de Oliveira (Brazil)
Gold - Ozaki tech. fall Miracle (USA), 10-0
Bronze - Prokopevniuk dec. Tynybekova, 8-7
Bronze - Luo dec. Godinez Gonzalez, 4-3
U.S. Women's freestyle Group 1 results
55 kg: Jacarra Winchester (Colorado Springs, Colo./USOPTC/Titan Mercury WC), 5th place
WIN Otgonjargal Ganbaatar (Mongolia), 8-3
WIN Roksana Zasina (Poland), 4-2
LOSS Mayu Shidochi Mukaida (Japan), tech. fall 12-0
LOSS Mengyu Xie (China), pin 3:56
62 kg: Kayla Miracle (Tempe, Ariz./Sunkist Kids), SILVER MEDAL
WIN Xiaojuan Luo (China), 17-6
WIN Tetiana Omelchenko (Azerbaijan), 6-1
WIN Ana Godinez (Canada), pin 1:37
LOSS Nonoka Ozaki (Japan), 10-0
Greco-Roman Group 3 final results
60 kg
Gold - Zholaman Sharshenbekov (Kyrgyzstan)
Silver - Edmond Armen Nazaryan (Bulgaria)
Bronze - Aidos Sultangali (Kazakhstan)
Bronze - Kenjiro Fumita (Japan)
5th - Krisztian Kecskemeti (Hungary)
5th - dec. Murad Mammadov (Azerbaijan)
7th - Kerem Kamal (Turkey)
8th - Liguo Cao (China)
9th - Haithem Mahmoud Ahmed Fahmy Mahmoud (Egypt)
10th - Ildar Hafizov (USA)
Gold - Sharshenbekov tech. fall Nazaryan, 11-2
Bronze - Sultangali dec. Kecskemeti, 7-1
Bronze - Fumita dec. Mammadov, 5-1
130 kg
Gold - Riza Kayaalp (Turkey)
Silver - Amin Mirzazadeh (Iran)
Bronze - Mantas Knystautas (Lithuania)
Bronze - Alin Alexuc Ciurariu (Romania)
5th - Iakobi Kajaia (Georgia)
5th - Muminjon Abdullaev (Uzbekistan)
7th - Sabah Saleh Shariati (Azerbaijan)
8th - Danila Sotnikov (Italy)
9th - Dariusz Attila Vitek (Hungary)
10th - Eduard Soghomonyan (Brazil)
Gold - Kayaalp dec. Mirzazadeh, 1-1
Bronze - Knystautas dec. Kajaia, 3-1
Bronze - Ciurariu dec. Abdullaev, 5-3
,
U.S. Greco-Roman Group 3 results
60 kg: Ildar Hafizov (Colorado Springs, Colo./Army WCAP), 10th place
WIN Ditcher Toro Castaneda (Colombia), 9-6
WIN Michal Tracz (Poland), 7-1
LOSS Zholaman Sharshenbekov (Kyrgyzstan), fall 0:45
LOSS Krisztian Kecskemeti (Hungary), 9-0
130 kg: Cohlton Schultz (Parker, Colo./Sunkist Kids) – 15th place
WIN David Ovasapyan (Armenia), 1-1
LOSS Oskar Marvik (Norway), 5-0
Final Greco-Roman Team Standings
1 Turkey, 125
2 Azerbaijan, 118
3 Serbia, 110
4 Iran, 81
5 Kyrgyzstan 77
6 Georgia, 76
7 Hungary 70
8 Uzbekistan, 61
9 Armenia 58
10 Kazakhstan 51
(of 51 nations)
Note: United States placed 21st with 12 points