News
USA Wrestling
International
Women
USAW
Miracle reaches women's freestyle World finals; Winchester to go for bronze, Hafizov drawn back into Greco-Roman repechage
by Gary Abbott, USA Wrestling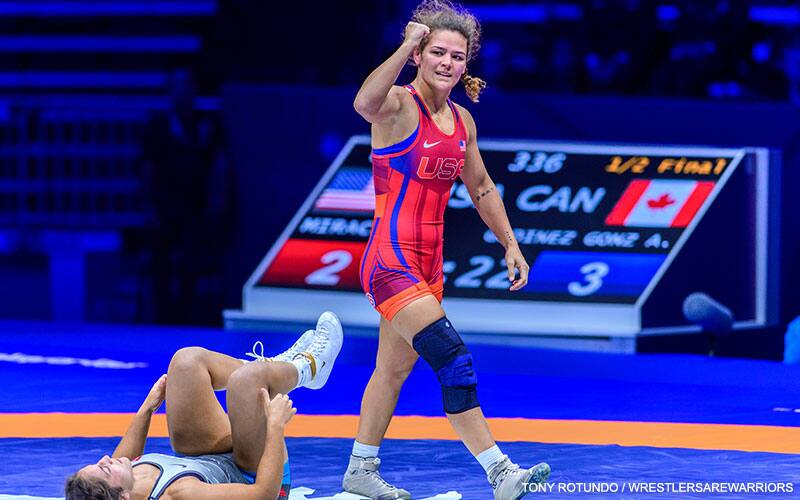 Kayla Miracle (USA) celebrates after pinning Ana Godinez (Canada) in the 62 kg semifinals. Photo by Tony Rotundo, Wrestlers Are Warriors.
BELGRADE, Serbia – Four sets of semifinals, two in women's freestyle and two in Greco-Roman, were held at Stark Arena on Monday night.
Women's freestyle
2021 World silver medalist
Kayla Miracle
scored a stunning first-period pin over 2021 U23 World champion Ana Godinez Gonzalez of Canada in 1:37.
Godinez scored first with a takedown, while Miracle still held her leg. The U.S. corner challenged and it was denied, giving Godinez a 3-0 lead. Miracle hit a fireman's carry for a takedown straight to Godinez' back and adjusted to secure the fall.
This will be the second straight World Championships in which Miracle has reached the finals. She will battle 2021 World bronze medalist Nonoka Ozaki of Japan in Tuesday's finals. Miracle becomes the first U.S. wrestler to qualify for the finals in this year's World Championships.
Miracle had previous wins over Godinez in the Bout at the Ballpark in Arlington, Texas in February, 6-5, as well as part of the FloWrestling Burroughs vs. Zahid card in November 2022, by an 8-0 margin. Godinez had an injury default win over Miracle at the 2022 Pan American Championships.
2019 World champion
Jacarra Winchester
was defeated in the 55 kg semifinals by 2020 Olympic champion and two-time World champion Mayu Shidochi Mukaida of Japan, in a 12-2 technical fall. This places Winchester into a bronze-medal match on Tuesday, against an opponent to be determined.
Winchester won a pair of bouts on Monday morning to reach the finals, stopping Otgonjargal Ganbaatar of Mongolia, 8-3 and Roksana Zasina of Poland, 4-2.
Greco-Roman
Greco-Roman Group 3 semifinals were held in two weight classes, 60 kg and 130 kg.
When No. 1 seed Zholaman Sharshenbekov of Kyrgyzstan scored an impressive 7-0 victory over Aidos Sultangali of Kazakhstan in the 60 kg semifinals,
Ildar Hafizov
of the United States was pulled back into repechage on Tuesday morning.
Hafizov has drawn Krisztian Kecskemeti of Hungary in the repechage on Tuesday morning. Keczkemeti was fifth in the 2019 U23 World Championships. If Hafizov wins, he advances to a bronze-medal match against Sultangali.
Hafizov opened with two wins, 9-6 over Ditcher Toro Castaneda of Colombia and 7-1 over Michal Tracz of Poland. He was pinned in the quarterfinals by Sharshenbekov in 45 seconds.
The other U.S. wrestler in Greco-Roman Group 3, Cohlton Schultz at 130 kg, had a 1-1 record on Monday morning and did not qualify for repechage.
The Tuesday morning session begins at 10:30 a.m. local time, with Group 2 women's freestyle through the quarterfinals. The Group 2 women's freestyle semifinals are at 4:30 p.m., followed by the Group 3 Greco-Roman and Group 1 women's freestyle finals. All of the action is live on
FloWrestling
.
WORLD WRESTLING CHAMPIONSHIPS

At Belgrade, Serbia, September 11


Women's freestyle Group 1 finals pairings
55 kg - Mayu Shidochi Mukaida (Japan) vs. Oleksandra Khomenets (Ukraine)
62 kg - Nonoka Ozaki (Japan) vs. Kayla Miracle (USA)
Women's freestyle Group 1 semifinals results
55 kg
Mayu Shidochi Mukaida (Japan) tech. fall Jacarra Winchester (USA), 12-0
Oleksandra Khomenets (Ukraine) dec. Karla Godinez Gonzalez (Canada), 5-3
62 kg
Nonoka Ozaki (Japan) dec. Aisuluu Tynybekova (Kyrgyzstan), 11-5
Kayla Miracle (USA) pin Ana Godinez Gonzalez (Canada), 1:37
Greco-Roman Group 3 finals pairings
60 kg - Zholaman Sharshenbekov (Kyrgyzstan) vs. Edmond Armen Nazaryan (Bulgaria)
130 kg - Amin Mirzazadeh (Iran) vs. Riza Kayaalp (Turkey)
Greco-Roman Group 2 semifinals results
60 kg
Zholaman Sharshenbekov (Kyrgyzstan) dec. Aidos Sultangali (Kazakhstan), 7-0
Edmond Armen Nazaryan (Bulgaria) dec. Kenjiro Fumita (Japan), 5-5
130 kg
Amin Mirzazadeh (Iran) dec. Mantas Knystautas (Lithuania), 2-1
Riza Kayaalp (Turkey) dec. Muminjon Abdullaev (Uzbekistan), 5-3
U.S. Women's freestyle Group 1 results
55 kg: Jacarra Winchester (Colorado Springs, Colo./USOPTC/Titan Mercury WC) – IN BRONZE BOUT
WIN Otgonjargal Ganbaatar (Mongolia), 8-3
WIN Roksana Zasina (Poland), 4-2
LOSS Mayu Shidochi Mukaida (Japan), tech. fall 12-0
Bronze match – Opponent to be determined in repechage
62 kg: Kayla Miracle (Tempe, Ariz./Sunkist Kids) – IN FINALS
WIN Xiaojuan Luo (China), 17-6
WIN Tetiana Omelchenko (Azerbaijan), 6-1
WIN Ana Godinez (Canada), pin 1:37
Finals – Vs. Nonoka Ozaki (Japan)
U.S. Greco-Roman Group 3 results
60 kg: Ildar Hafizov (Colorado Springs, Colo./Army WCAP) – IN REPECHAGE
WIN Ditcher Toro Castaneda (Colombia), 9-6
WIN Michal Tracz (Poland), 7-1
LOSS Zholaman Sharshenbekov (Kyrgyzstan), fall 0:45
Repechage – Vs. Krisztian Kecskemeti (Hungary)
130 kg: Cohlton Schultz (Parker, Colo./Sunkist Kids) – eliminated
WIN David Ovasapyan (Armenia), 1-1
LOSS Oskar Marvik (Norway), 5-0