News
USA Wrestling
International
Women
USAW
Miracle beats Rogers two bouts to one in Final X Special Wrestle-off to claim 62 kg berth on U.S. Senior World Team
by Gary Abbott, USA Wrestling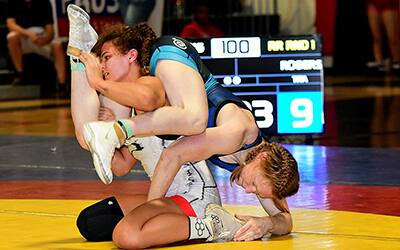 Kayla Miracle gets leg attack against Jennifer Rogers in Final X Special Wrestle-off. Photo by Bob Diller.
LANCASTER, Pa. – The final member of the 2022 U.S. Senior World Team was determined in a Final X Special Wrestle-off held at J.P. McCaskey High School on Saturday.
At 62 kg in women's freestyle, 2021 World silver medalist and 2020 Olympian Kayla Miracle of the Sunkist Kids needed to go to three matches to defeat Jennifer Rogers of the Titan Mercury WC/NLWC to win the series. Rogers won the first match, but Miracle responded with two straight wins to take the series.
Miracle will represent the United States at the 2022 Senior World Championships in Belgrade, Serbia, which will be her third U.S. Senior World Team. Miracle is scheduled to compete on September 12 and September 13 in Belgrade.
Rogers came out strong in bout one, securing a 13-2 technical fall. Rogers scored first on a counter takedown, which was answered by Miracle with a single-leg takedown for a 2-2 tie. Rogers completed a low single to lead 4-2, then forced a step out on a scramble for a 5-2 lead at the break. Rogers broke it open in the second period, with a counter takedown and a tilt for a 9-2 lead. Rogers closed it out during a scramble after a Miracle shot, launching her for four points to secure the technical fall.
In bout two, it was Miracle who had a great start, getting a takedown and turn, followed by another turn and a Rogers exposure on a reversal for a quick 6-2 lead. Another single leg takedown made it 8-2, followed by an ankle lace turn to make it 10-2. Miracle countered a Rogers arm spin with a counter takedown at the first-period buzzer for a 12-2 technical fall for Miracle to knot the series at one match each.
The deciding bout three started strong for Rogers. Miracle was put on the shot clock, and Rogers responded with an ankle pick takedown, then received the point from the shot clock, to lead 3-0, which held until the break. In the second period, Rogers was placed on the shot clock and could not score, closing the lead to 3-1. In the key exchange of the match, on the edge, Miracle was countering on a scramble and launched Rogers over the top of her back for four points and a 5-3 lead. Rogers could not score in short time, and Miracle prevailed 5-3.
Miracle was granted a delayed wrestle-off after sustaining an injury before June's Final X New York, the last step of the World Team selection process, where she was set to face World Team Trials Challenge Tournament champion Rogers.
Miracle is also a 2019 U23 World runner-up and 2016 Junior World bronze medalist. She also won a 2012 Cadet World silver medal.
Rogers is a 2013 Junior World bronze medalist and two-time Senior Pan American champion, was seeking to make her first Senior World Team.
In their most recent match, Miracle beat Rogers in the 2022 U.S. Open finals by fall. Rogers does own a win over Miracle earlier in their careers.
There was series of youth and high school boys and girls exhibition matches, held prior to the series and during the break between the matches. Results are below.
In the final match of the 11 exhibition bouts, 2022 U15 Pan American team member Taina Fernandez of Maryland was powerful in the second period to defeat Haylie Jaffe of Pennsylvania, 11-3. The first period ended with Fernandez leading 1-0, but Fernandez scored takedowns and turns in the second period to take over the bout. Jaffe was third at the 2022 16U Nationals and fifth at the 2022 Junior Nationals. Fernandez placed first at the 2022 Women's Nationals in both the U15 and 14U age-levels.
FINAL X SPECIAL WRESTLE-OFF

At Lancaster, Pa., August 13, 2022
62 kg – Kayla Miracle (Sunkist Kids) dec Jennifer Rogers (Titan Mercury WC/NLWC), two matches to one
Bout One – Rogers tech. fall Miracle, 13-2, 4:49
Bout Two – Miracle tech. fall Rogers, 12-2, 3:00
Bout Three – Miracle dec. Rogers, 5-3