News
USA Wrestling
International
Women
USAW
Velte reaches Zagreb Open women's freestyle finals, Miracle and Piearcy going for bronze
by Gary Abbott, USA Wrestling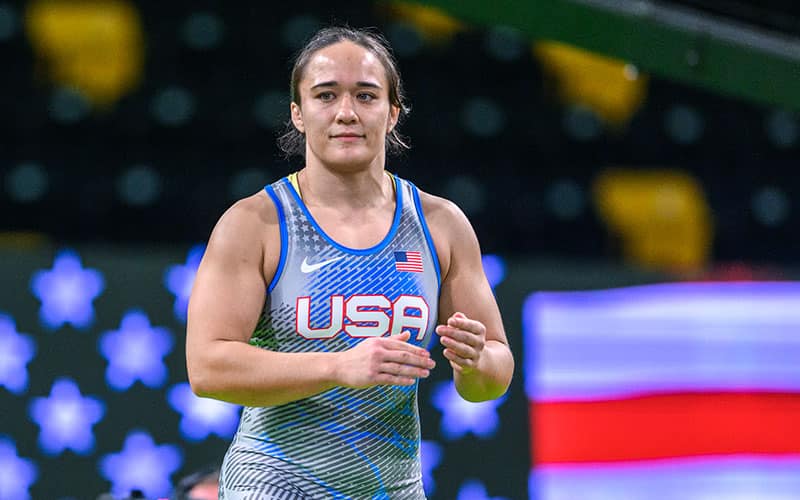 Mallory Velte competition portrait by Tony Rotundo, Wrestlers Are Warriors
ZAGREB, Croatia – On the third day of competition at the Zagreb Open Ranking Event, the U.S. women's freestyle team has put three athletes into medal matches on Friday evening.
At 65 kg, two-time World bronze medalist
Mallory Velte c
ame back from a first-round loss in her pool to qualify for the semifinals, and then earn her way to a gold-medal match.
Velte, U.S. National Team member Emma Bruntil and U20 World champion Mahiro Yoshitake of Japan were in the three-athlete Pool A. In the first bout, Yoshitake edged Velte, 6-5. Bruntil came out and defeated Yoshitake, 3-1. In the deciding third match of the pool, Velte defeated Bruntil, 4-2.
All three wrestlers had 1-1 records and had four classification points. Based upon technical points, Velte and Yoshitake advanced to the semifinals. Velte was dominant with five takedowns in her 10-0 technical fall over Iva Geric of Croatia to reach the finals. Yoshitake also won her semifinals match, setting up a rematch with Velte in the gold-medal finals.
Two-time World silver medalist
Kayla Miracle
(62 kg) and
Solin Piearcy
(68 kg) have qualified for bronze-medal matches.
Miracle opened with a 5-2 win over 2019 World bronze medalist Elis Manolova of Azerbaijan, scoring a pair of second-period takedowns. In the quarterfinals, Miracle won a tough battle with 2022 World silver medalist Jia Long of China, 6-4. Miracle had a takedown and turn in the first period and led 4-2 at the break. Long tied it up at 4-4, but Miracle forced a stepout, and got a point on a denied challenge to win the match.
In the semifinals, Miracle battled 2022 World silver medalist Grace Bullen of Norway, her former teammate at Campbellsville University. Bullen jumped to a 4-0, but Miracle scored a takedown and turn to tie it up at 4-4 and hold the criteria. Bullen forced a step out and received a caution and one-point penalty for fleeing for a 6-4 lead. When Bullen scored another step out, the USA challenged and lost, making it 8-4. A last-second Miracle takedown closed it to 8-6 but it was not enough.
Miracle will battle 2018 World champion and 2020 Olympic bronze medalist Taybe Yusein of Bulgaria in her bronze-medal bout.
Piearcy opened with a 1-1 decision over U.S. opponent Alex Glaude, scoring the last point for criteria. In the quarterfinals, Piearcy battled tough against two-time World medalist Koumba Larroque of France, losing 2-1. When Larroque won her semifinals, Piearcy was pulled back into a bronze-medal bout, where she will face 2021 World champion Irina Ringaci of Moldova.
The only U.S. women's wrestler to qualify for repechage when their opponent made the finals was Lauren Louive at 62 kg, who was beaten in the first-round of repechage and did not advance.
The U.S. Greco-Roman team had its start at the Zagreb Open, with three wrestlers today, none of which advanced to the medal round. All three were not eligible for repechage, when the opponents who beat them failed to reach the finals.
Two U.S. Greco-Roman athletes were injured in their opening bouts and could not continue.
At 77 kg, two-time Senior World Team member Kamal Bey was leading Rui Liu of China, 6-2, when he injured his leg. Bey attempted to continue, but after a few seconds of action, the UWW doctor stopped the match at 2:07 and declared an injury default.
At 87 kg, two-time Senior World Team member Alan Vera was trailing 5-0 in the second period against 2017 U23 World champion Erik Szilvassy of Hungary, when he was also treated by medical staff and could not continue at the 3:38 mark.
At 77 kg, Payton Jacobson lost his opener to Pavel Puklavec of Croatia, 3-1, with Pulavec getting a tie-breaking gut wrench turn.
The finals are set for 6:00 p.m. local time, which is 12:00 noon in U.S. Eastern time zone. The event will be broadcast live on
FloWrestling
ZAGREB OPEN RANKING EVENT

At Zagreb, Croatia,


U.S. women's freestyle results
62 kg: Kayla Miracle (Sunkist)
WIN Elis Manolova (Azerbaijan), 5-2
WIN Jia Long (China), 6-4
LOSS Grace Bullen (Norway), 8-6
Bronze Bout – Taybe Yusein (Bulgaria)
62 kg: Lauren Louvie (NYAC), eliminated
LOSS Sakura Motoki (Japan), tech fall 10-0
Loo Viktoria Vesso (Estonia), pin 1:08
65 kg: Mallory Velte (TMWC/BDRTC)
LOSS Mahiro Yoshitake (Japan), 6-5
WIN Emma Bruntil (USA), 4-2
WIN Iva Geric (Croatia), tech fall 10-0
Gold Medal Match - Mahiro Yoshitake (Japan)
65 kg: Emma Bruntil (TMWC), eliminated
WIN Mahiro Yoshitake (Japan), 3-1
LOSS Mallory Velte (USA), 4-2
68 kg: Solin Piearcy (Menlo WC)
WIN Alex Glaude (USA), 1-1
LOSS Koumba Larroque (France), 2-1
Bronze Bout - Irina Ringaci (Moldova)
68 kg: Alex Glaude (TMWC/BDRTC), eliminated
LOSS Solin Piearcy (USA), 1-1
68 kg: Marilyn Garcia (California), eliminated
LOSS Pauline LeCarpentier (France), tech. fall 10-0
U.S. Greco-Roman results
77 kg: Kamal Bey (Army WCAP), eliminated
LOSS Rui Liu (China), inj. dft., 2:07
77 kg: Payton Jacobson (Sunkist), eliminated
LOSS Pavel Puklavec (Croatia), 3-1
87 kg: Alan Vera (NYAC), eliminated
LOSS Erik Szilvassy (Hungary), inj. dft., 3:38