News
USA Wrestling
International
Women
USAW
Winchester, Page to wrestle for gold, Makoyed goes for bronze at Budapest Ranking Series event
by Gary Abbott, USA Wrestling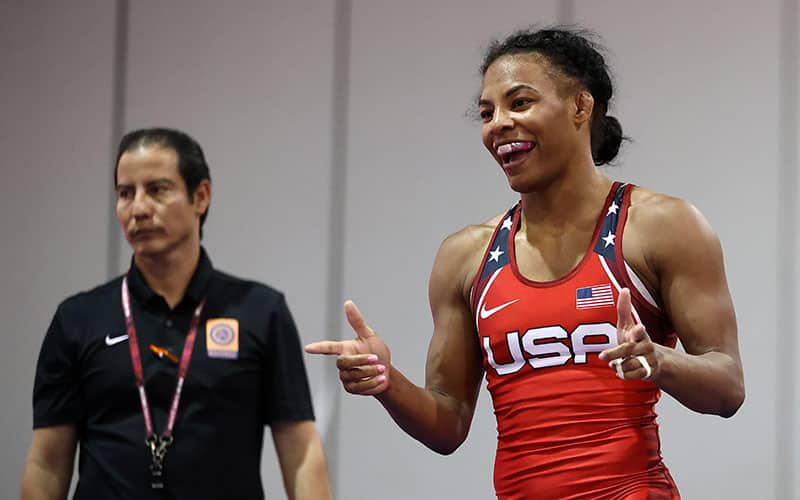 Jacarra Winchester (USA) celebrates a victory. Photo by Osvaldo Aguilar, United World Wrestling
.
BUDAPEST, Hungary — 2023 World Team members
Jacarra Winchester
(55kg) and
Jennifer Page
(59kg) secured spots in Saturday's finals of the Polyák Imre & Varga János Memorial, the fourth and final UWW Senior Ranking Series event of the year. The U.S. had 11 athletes compete in Saturday's morning session. National Team member
Yelena Makoyed
(76kg) also advanced to the medal match session, where she will wrestle for bronze.
Winchester, a 2019 World champion and 2020 Tokyo Olympian, teched her way to the finals, defeating Hungary's Erika Bognar and Moldova's Mariana Dragutan, both by scores of 11-0. Winchester will wrestle Canada's Karla Godinez Gonzalez in the finals. Godinez took bronze at the 2022 World Championships at 55kg.
Page was just as dominant as Winchester in the morning session, knocking off all three of her opponents by technical fall. She defeated India's Sangeeta and teammate Brenda Reyna in round-robin action before winning an 11-0 match against Hungary's Viktoria Borsos in the semifinals. Page will face Poland's Magdalena Glodek in the gold medal match. Glodek is a two-time age-group World medalist — she took silver at the 2022 U23 World Championships.
Makoyed dropped her second match of the day to China's Qiandegenchagan, but was pulled back into the tournament when Qiandegenchagan made the finals. In her repechage bout, Makoyed came back quickly from an early deficit and locked up a pin against Hungary's Veronika Nyikos. Makoyed will wrestle Estonia's Epp Mae, a four-time World medalist and two-time Olympian, in the bronze medal bout.
Alisha Howk (55kg), Areana Villaescusa (55kg) and Brenda Reyna (59kg) competed for the U.S. but did not get pulled back into the tournament after losses. At 76kg, Dymond Guilford dropped her first bout to eventual finalist Juan Wang of China and was pulled back into repechage. She fell to Ecuador's Genesis Reasco Valdez, 2-1.
Four Greco-Roman athletes competed for the U.S. today.
Brady Koontz
(55kg) went 1-2 in his round-robin matches, while
Dalton Roberts
(60kg) won a first-round match against Razyan Arnaut of Romania. Both Ildar Hafizov (60kg) and Xavier Johnson (63kg) competed, but did not reach the medal match round.
Finals for today's group will begin at 5 p.m. local time (11 a.m. ET).
So far, the U.S. has won ten total medals at the event. On day one of men's freestyle action, Zahid Valencia (92kg), Kyle Snyder (97kg) and Mason Parris (125) all won gold, while Nick Lee (65kg) took silver and Zane Richard (57kg) earned a bronze medal.
Yesterday, Sarah Hildebrandt (50kg) took gold, while Joey McKenna (70kg) won silver. Vitali Arujau (61kg), Chance Marsteller (79kg) and Forrest Molinari (68kg) all earned bronze medals.
The finals will be streamed live on
FloWrestling.com
for the U.S. audience where match replays will be available. Complete brackets can be found at
uww.org
.
UWW Senior Ranking Series: Polyák Imre & Varga János Memorial

At Budapest, Hungary, July 15, 2023U.S. women's freestyle results
55 kg – Jacarra Winchester (Colorado Springs, Colo./USOPTC/Titan Mercury WC)
WIN Erika Bognar (Hungary), 11-0
WIN Mariana Dragutan (Moldova), 11-0
GOLD Karla Godinez Gonzalez (Canada)
55 kg – Alisha Howk (River Falls, Wis./Sunkist Kids WC)
LOSS Erika Bognar (Hungary), 3-2
55 kg – Areana Villaescusa (Fountain, Colo./Army WCAP)
WIN Vinesh Vinesh (India), injury
LOSS Li Deng (China), 7-3
59 kg – Jennifer Page (State College, Pa./Titan Mercury WC/Nittany Lion WC)
WIN Sangeeta Sangeeta (India), 10-0
WIN Brenda Reyna (United States), 11-0
WIN Viktoria Borsos (Hungary), 11-0
GOLD Magdalena Glodek (Poland)
59 kg – Brenda Reyna (Mount Vernon, Wash./Army WCAP)
LOSS Sangeeta (India), 12-2
LOSS Jennifer Page (United States), 11-0
76 kg – Yelena Makoyed (Orangevale, Calif./Cardinal WC/Titan Mercury WC)
WIN Kamile Gaucaite (Lithuania), 10-0
LOSS Qiandegenchagan Qiandegenchagan (China), 12-1
WIN Veronika Nyikos (Hungary) fall 1:21
BRONZE Epp Mae (Estonia)
76 kg – Dymond Guilford (Lancaster, Calif./USOPTC/Titan Mercury WC)
LOSS Juan Wang (China), 1-1
LOSS Genesis Reasco Valdez (Ecuador), 2-1
U.S. Greco-Roman Results
55 kg – Brady Koontz (Dubuque, Iowa/Titan Mercury WC/Dubuque RTC)
Group A round-robin
LOSS Amangali Bekbolatov (Kazakhstan), 9-0
LOSS Yersin Abyir (Kazakhstan), 3rd in 2022 Asian U23 Championships, 5-5
WIN Mahdi Kioumars Ahadi Zenab (Iran), 4-1
60 kg – Ildar Hafizov (Colorado Springs, Colo./Army WCAP)
LOSS Erik Torba (Hungary), 3-2
60 kg – Dalton Roberts (Fountain, Colo./Army WCAP)
WIN Razvan Arnaut (Romania), 6-3
LOSS Edmond Nazaryan (Bulgaria), fall 4:39
63 kg – Xavier Johnson (Colorado Springs, Colo./Army WCAP)
LOSS Murad Mamadov (Azerbaijan), 13-3
LOSS Victor Ciobanu (Moldova), 14-4