News
USA Wrestling
International
Women
USAW
Snyder and Moore are Zagreb Open champions, Marsteller wins bronze; USA claims men's freestyle team race
by Koral Sugiyama, Special to TheMat.com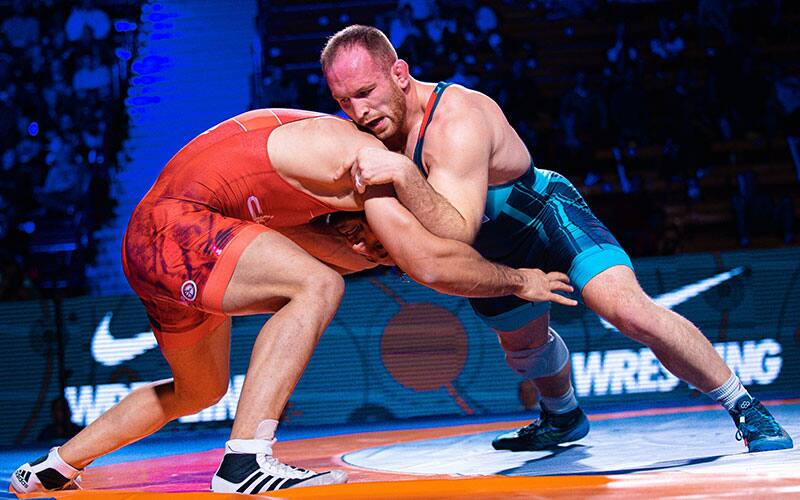 Kyle Snyder (USA) controls Amirali Azarpira (Iran) in the 97 kg finals at the Zagreb Open. Photo by Kadir Caliskan, United World Wrestling.

ZAGREB, Croatia — The first tournament of the Zagreb Open ranking series came to a close with the final men's freestyle weights crowning their champions along with two women's weights this afternoon.
Kollin Moore
(TMWC/CWC) added his name to the USA list of champions for the tournament. Moore defeated Georgia's U23 World Bronze medalist Miriani Maisuradze in a 4-3 decision during the 92 kg gold-medal bout.
Olympic and three-time World champion
Kyle Snyder
picked up the gold as well at 97 kg over Amirali Azarpira of Iran, a past U23 World champion. Snyder was awarded the first point after Azarpira didn't score during the 30-second shot clock. With no change in score a minute into the second period, Snyder himself was put on the clock. Fortunately, he secured a push out just in time to earn a point and lead 2-0.. He earned another push out point and held off all attempts from Azarpira to win the match, 3-0.
The first medal of the day came from
Chance Marsteller
(TMWC/NYCRTC) who won via forfeit over Csaba Vida of Hungary to earn the bronze medal at 79 kg.
In the 92 kg men's freestyle bronze-medal bout, Osman Nurmagomedov of Azerbaijan defeated Jay Aiello (TMWC/CWC) in a 13-2 tech-fall.
Erin Golston (NYAC) fell short in her 50 kg women's freestyle bronze medal bout. Golston put one reversal point on the board, but she could not defend China's Ziqi Fang's gut wrench and lost 12-1.
Also barely missing a bronze medal in women's freestyle was Lauren Mason (Branson UVRTC) at 55 kg. Mason went 1-3 in a five-athlete round robin. This afternoon, Mason got in on Erika Bognar of Hungary's legs most of the match, but never finished with a takedown. Bognar defeated Mason, 4-1 and Mason placed fourth.
The men's freestyle team secured the team championship with 174 points. Iran came in second with 140 points, and Azerbaijan racked up 135 points for third. In the two days, the USA won nine medals, including four golds (Snyder, Moore,
Alec Pantaleo
,
Jason Nolf)
, one silver (
Joey McKenna
) and four bronzes (Marsteller,
Evan Henderson,
Zahid Valencia
,
Mark Hall
).
In the women's freestyle team race, the United States is currently in second with 22 points. Japan is in first with 50 points. China and Moldova are tied in third place.
Action continues tomorrow morning at 10 a.m. (4 a.m. ET) with women's freestyle and day one of Greco-Roman. Watch the matches live at
FloWrestling
ZAGREB OPEN RANKING EVENT
At Zagreb, Croatia, Feb 2, 2023

MEN'S FREESTYLE RESULTS
79 kg
GOLD - Ali Savadkouhi (IRI)
SILVER - Avtandil Kentchadze (GEO)
BRONZE - Chance Marsteller (TMWC/NYCRTC)
BRONZE - Vladimeri Gamkrelidze (GERO)
92 kg
GOLD - Kollin Moore (TMWC/ORTC)
SILVER - Miriani Maisuradze (GEO)
BRONZE - Osman Nurmagomedov (AZE)
BRONZE - Gankhuyag Ganbaatar (MGL)
97 kg
GOLD - Kyle Snyder (TMWC/NLWC)
SILVER - Amirali Azarpira (IRI)
BRONZE - Awusayiman Habila (CHN)
BRONZE - Magomedkhan Magomedov (AZE)
125 kg
GOLD - Amir Zare (IRI)
SILVER - Giorgi Meshvildishvili (AZE)
BRONZE - Robert Baran (POL)
BRONZE - Daniel Ligeti (HUN)
WOMEN'S FREESTYLE RESULTS
50 kg
GOLD - Yui Susaki (JPN)
SILVER - Jiang Zhu (CHN)
BRONZE - Ziqi Fang (CHN)
BRONZE - Meng Fan (CHN)
55 kg
GOLD - Moe Kiyooka (JPN)
SILVER - Mariana Dragutan (MDA)
BRONZE - Erika Bognar (HUN)
USA MEN'S FREESTYLE PERFORMANCE
79 kg: Chance Marsteller (TMWC/NYCRTC), BRONZE
WIN Ramazan Sari (TUR), 6-4
LOSS Avtandil Kentchadze (GEO), 4-1
WIN Csaba Vida (HUN), forfeit
92 kg: Kollin Moore (TMWC/ORTC), GOLD
WIN Osman Nurmagomedov (AZE), 8-3
WIN Jay Aiello (TMWC/CWC), 6-6
WIN Miriani Maisuradze (GEO), 4-3
92 kg: Jay Aiello (TMWC/CWC), 5th
WIN Adlan Viskhanov (FRA), 10-0
LOSS Kollin Moore (TMWC/ORTC), 6-6
LOSS Osman Nurmagomedov (AZE), 13-2
97 kg: Kyle Snyder (TMWC/NLWC), GOLD
WIN Magomedkhan Magomedov (AZE), 7-4
WIN Takashi Ishiguro (JPN), 12-1
WIN Radoslaw Baran (POL), 10-0
WIN Amirali Azarpira (IRI), 3-0
97 kg: Morgan Smith (TMWC/ORTC), DNP
LOSS Awusayiman Habila (CHN), 10-0
125 kg: Hayden Zillmer (Minn. Storm), 10th
LOSS Giorgi Meshvildishvili (AZE), 5-4
LOSS Robert Baran (POL), injury default
125 kg: Ceron Francisco (TMWC/NLWC), 7th
WIN Jordan Wood (NYAC), 13-9
LOSS Georgi Ivanov (BUL), 3-3
125 kg: Jordan Wood (NYAC), 9th
LOSS Ceron Francisco (TMWC/NLWC), 13-9
USA WOMEN'S FREESTYLE PERFORMANCE
50 kg: Erin Golston (NYAC), 5th
WIN Szimonetta Szeker (HUN), 10-0
WIN Shivani Pawar (IND), 4-0
LOSS Jiang Zhu (CHN), 9-0
LOSS Ziqi Fang (CHN), 12-1
55 kg: Lauren Mason (Brunson UVRTC), 4th
WIN Laura Standlyte (LTU), 1:42
LOSS Moe Kiyooka (JPN), 10-0
LOSS Mariana Dragutan (MDA), 0:51
LOSS Erika Bognar (HUN), 4-1
MEN'S FREESTYLE FINAL TEAM STANDINGS
1. United States - 174
2. Iran - 140
3. Azerbaijan - 135
4. Georgia - 84
5. Mongolia - 70
6. Hungary - 64
7. Japan - 56
8. India - 43
9. Turkiye - 42
10. China - 41
11. France - 40
12. Poland - 33
13. Slovakia - 14
14. Bulgaria, Canada, San Marino - 10
17. Israel - 8
18. Puerto Rico - 6
19. Austria - 6
20. Argentina, Italy - 2
22. Ecuador, Egypt, Romania - 0
WOMEN'S FREESTYLE TEAM RACE after day one
1. Japan - 50
2. United States - 22
3. China, Moldova - 20
5. Hungary - 15
6. Azerbaijan, Lithuania - 10
8. Uzbekistan - 8
9. Mongolia - 6
10. Canada - 2