News
USA Wrestling
International
USAW
McKenna, Pantaleo, and Nolf in Zagreb Open Ranking Event finals; five U.S. wrestlers to battle for bronze
by Koral Sugiyama, Special to TheMat.com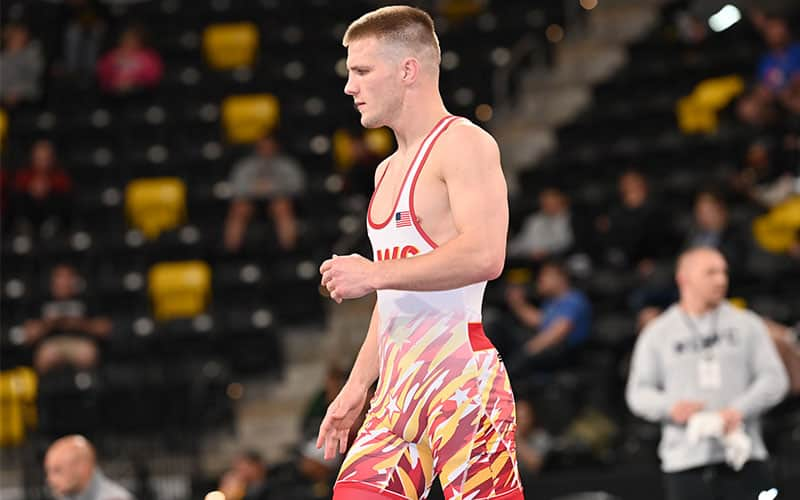 Jason Nolf (USA) competition portrait by Tony Rotundo, Wrestlers Are Warriors
ZAGREB, Croatia — Three Americans earned their spot as finalists in the first ranking series event of this year, the Zagreb Open, while five other wrestlers will be battling for bronze.
Joey McKenna (TMWC/PRTC) will face Tulga Tumur-Ochir of Mongolia in the 65 kg final bout. Tumur-Ochir is a 2021 World Bronze medalist and represented Mongolia in the 2020 Olympic Games. Tumur-Ochir also notably defeated USA favorite Yianni Diakomihalis during the World Cup in December. McKenna won three bouts, including a 4-3 semifinals win over Ryoma Anraku of Japan, 4-3.
Alec Pantaleo (TMWC/CKWC) stayed aggressive through his three wins to the finals. In the semifinals, he beat tough Khadzhimurad Gadzhiyev of Azerbaijan, 5-3. He will face Haji Aliyev of Azerbaijan in the 70 kg gold-medal bout. Aliyev is a two-time Olympic medalist and three-time World champion.
At 74 kg, Jason Nolf (TMWC/NLWC) battled his way into the finals with a technical fall and two close matches. In the semifinals, Nolf beat Murad Kuramagomedov of Hungary, 2-1. Nolf will wrestle two-time Senior World Bronze medalist Yones Emamichoghaei from Iran in the finals.
Two 86 kg USA athletes wrestled their way to the semifinals before falling short. Both Zahid Valencia (Sunkist) and Mark Hall (TMWC/PRTC) are looking to bring home a bronze medal. Hall will face Azerbaijan's World Bronze medalist Abubakr Abakarov. Valencia will wrestle Olympic Bronze medalist Myles Amine from San Marino who was also a five-time NCAA All-American for the University of Michigan.
Also wrestling for bronze is Zane Richards (TMWC/IRTC) at 57 kg, Joey Lavallee (TMWC/NLWC) at 74 kg, and Evan Henderson(TMWC/LVWC) at 65 kg
In his 57 kg repechage match, Richards teched Lehigh University NCAA champion, Darian Cruz of Puerto Rico. Lavallee also secured a technical fall in his 74 kg repechage match against Kojiro Shiga of Japan via leg lace. Henderson let the points fly in his repechage match, defeating Pan-Am bronze medalist Agustin Destribats of Argentina, 15-14.
The finals for this ranking tournament are set for 12 p.m. EST. Action can be followed on FloWrestling.
ZAGREB OPEN RANKING EVENT

At Zagreb, Croatia, Feb 1


U.S. MEN'S FREESTYLE GOLD MEDAL MATCHUPS
65 kg: Joey McKenna vs Tulga Tumur-Ochir (Mongolia)
70 kg: Alec Pantaleo vs Haji Aliyev (Azerbaijan)
74 kg: Jason Nolf vs Yones Emamichoghaei (Iran)
U.S. MEN'S FREESTYLE BRONZE MEDAL MATCHUPS
57 kg: Zane Richards vs Aman Aman (India)
65 kg: Evan Henderson vs Ismail Muskukaev (Hungary)
74 kg: Joey Lavallee vs Fazli Eryilmaz (Turkey)
86 kg: Zahid Valencia vs Myles Amine (San Marino)
86 kg: Mark Hall vs Abubakr Abakarov (Azerbaijan)
U.S. MEN'S FREESTYLE RESULTS
57 kg: Zane Richards (TMWC/IRTC)
WIN Rikuto Arai (Japan), 6-6
LOSS Yuto Nishiuchi (Japan), 6-4
WIN Darian Cruz (Puerto Rico), 12-2
61 kg: Daniel DeShazer (Minn.Storm)
LOSS Gamzatgadzhi Khalidov (Hungary), 2-1
65 kg: Evan Henderson (TMWC/LVWC)
WIN Shaohua Yuan (China), 4:49
LOSS Tula Tumur-Ochir (Mongolia), 12-1
WIN Agustin Destribats (Argentina), 15-14.
65 kg: Nick Lee (TMWC/NLWC)
WIN Sebastian Rivera (Puerto Rico), 13-2
LOSS Ismail Musukaev (Hungary), 11-1
65 kg: Joey McKenna (TMWC/PRTC)
WIN Joshua Finesilver (Israel), 10-0
WIN Ali Rahimzada (Azerbaijan), 1:11
WIN Ryoma Anraku (Japan), 4-3
70 kg: Alec Pantaleo (TMWC/CKWC)
WIN Vishal Kaliramana (India), 10-0
WIN Agudamu Agudamu (China), 10-0
WIN Khadzhimurad Gadzhiyev (Azerbaijan), 5-3
70 kg: Tyler Berger (Sunkist/PRTC)
WIN Benedikt Huber (Austria), 10-0
LOSS Temuulen Enkhtuya (Mongolia), 7-8
70 kg: Hayden Hidlay (TMWC/WWC)
LOSS Khadzhimurad Gadzhiyev (Azerbaijan), 8-4
74 kg: Joey Lavallee (TMWC/NLWC)
WIN Kamil Rybicki (Poland), 12-0
WIN Emmanuel Olufemi OLAPADE (CAN), 10-0
LOSS Yones Allakbar Emamichoghaei (Iran), 7-3
WIN Kojiro Shiga (Japan), 10-0
74 kg: Jason Nolf (TMWC/NLWC)
WIN Patrik Leder (Canada), 11-0
WIN Dzhabrail Gadzhiev (Azerbaijan), 5-3
WIN Murad Kuramagomedov (Hungary), 2-1
74 kg: Tommy Gantt (TMWC/WWC)
LOSS Fazli Erilmaz (Turkey), 3-1
86 kg: Zahid Valencia (Sunkist)
WIN Benjamin Greil (Austria), 10-0
WIN Lin Zushen (China), 10-9
LOSS Hayato Ishiguro (Japan), 11-0
86 kg: Mark Hall (TMWC/PRTC)
WIN Ruslan Valiev (France), 5-3
WIN Boris Makoev (Slovakia), 7-2
LOSS Hassan Aliazam Yazdanicharati (Iran), 10-0