News
USA Wrestling
International
USAW
Pantaleo and Nolf earn gold, USA wins six men's freestyle medals at Zagreb Open
by Koral Sugiyama, Special to TheMat.com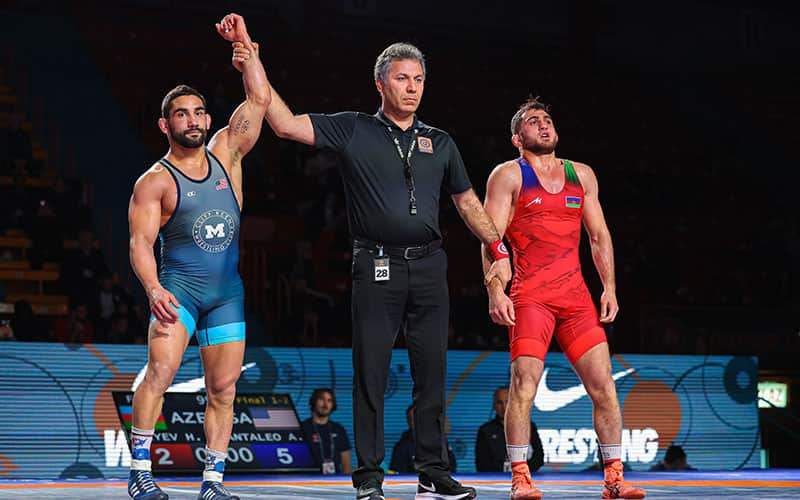 Alec Pantaleo (USA) defeats Haji Aliev (Azerbaijan) at the Zagreb Open. Photo by Kadir Caliskan, United World Wrestling
ZAGREB, Croatia — The first set of medalists were determined today at the Zagreb Open with USA winning six of eight medal match bouts.
Alec Pantaleo
(70 kg) and
Jason Nolf
(74 kg) earned a gold medal while
Joey McKenna
(65 kg) will bring home silver.
Evan Henderson
(65 kg),
Zahid Valencia
(84 kg) and
Mark Hall
(84 kg) all won their bronze medal matches as well.
Along with their win, each medalist received cash prizes of 1500 Swiss Francs ($1640) for gold medalists, 750 Swiss Francs ($820) for silver, and 500 Swiss Francs ($547) for bronze.
Alec Pantaleo battled in a tight match,, earning USA's first gold medal of the day with a 5-2 victory over Azerbaijan's World champion Haji Aliyev. Pantaleo added another big win against one of the world's top wrestlers to continue his rise on the international level..
Jason Nolf had a tight 3-3 criteria win over Yones Emamichoghaei's of Iran. A minute into the match with the scoreboard reflecting 0-0, Nolf was put on the shot-clock. He attacked the ankle and although he wasn't able to get the takedown, the one-point push-out saved him before his 30 seconds were up. Nolf got his first takedown to put him in a 3-0 lead. Emamichoghaei scored two pushouts on Nolf, and with seconds left on the clock, Emamichoghaei was awarded one more point for Nolf keeping his distance. Nolf's two-point takedown gave him criteria..
Joey McKenna lost to Mongolia's World medalist Tulga Tumur-Ochir. McKenna kept his attack on with fakes and movement, but Tumur-Ochir controlled the pace and the score. McKenna was unable to defend two of Tumur-Ochir's leg attacks and trailed 4-0. McKenna was able to have solid contact on his final shot, but it wasn't enough with a final score of 4-1.
Evan Henderson secured USA's first medal for the tournament with his bronze at 65 kg.. Henderson kept Hungary's Ismail Muskukaev on his toes from the first whistle and scored a quick double early in the match, but Henderson didn't keep his lead for long. With Henderson down 14-6 in the second period, he won a scramble and turned Muskukaev before throwing both legs in to get the pin.
At 86 kg, both Zahid Valencia and Mark Hall stayed ahead in their bronze medal matches. Valencia defeated Olympic bronze medalist Myles Amine of San Marino, 6-0. Mark Hall won his match over Abubakr Abakarov of Azerbaijan, 7-3.
Zane Richards at 57 kg and Joey Lavallee at 74 kg also wrestled in a bronze-medal match but fell short to place fifth. Richards lost 10-4 to Aman Aman of India and Lavallee lost 6-4 to Fazli Eryilmaz of Turkey.
USA is currently in the lead for the team race with 101 points while Azerbaijan is trailing behind with 85 points and Iran with 70 points.
Day two for the ranking series begins at 10 a.m. local time (4 a.m. ET). Men's freestyle will finish up by wrestling their remaining weights while two of the women's freestyle weights, 50 kg and 55 kg, begin their journey through the Zagreb Open. Live action can be followed along with FloWrestling.
ZAGREB OPEN RANKING EVENT
At Zagreb, Croatia, Feb 1, 2023

FINAL MEN'S FREESTYLE RESULTS
57 kg
GOLD - Aliabbas Rzazade (AZE)
SILVER - Yuto Nishiuchi (JPN)
BRONZE - Aman Aman (IND)
BRONZE - Beka Bujiashvili (GEO)
61 kg
GOLD - Reza Ahmadali Atrinagharchi (IRI)
SILVER - Narankhuu Narmandakh (MGL)
BRONZE - Emrah Ormanoglu (TUR)
BRONZE - Gamzatgadzhi Khalidov (HUN)
65 kg
GOLD - Tulga Tumur-Ochir (Mongolia)
SILVER - Joey McKenna ( TMWC/PRTC)
BRONZE - Evan Henderson (TMWC/LVWC)
BRONZE - Ali Rahimzada (AZE)
70 kg
GOLD - Alec Pantaleo ( TMWC/CKWC)
SILVER - Haji Aliyev (AZE)
BRONZE - Khadzhimurad Gadzhiyev (AZE)
BRONZE - Giorgi Elbakidze (GEO)
74 kg
GOLD - Jason Nolf (TMWC/NLWC)
SILVER - Yones Emamichoghae (IRI)
BRONZE - Fazli Eryilmaz (Turkiye)
BRONZE - Dzhabrail Gadzhiev (AZE)
86 kg
GOLD - Hassan Yazdanicharati (IRI)
SILVER - Hayato Ishiguru (JPN)
BRONZE - Zahid Valencia (Sunkist)
BRONZE - Mark Hall (TMWC/NLWC)
USA MEN'S FREESTYLE PERFORMANCE
57 kg: Zane Richards (TMWC/IRTC), 5th
WIN Rikuto Arai (Japan), 6-6
LOSS Yuto Nishiuchi (Japan), 6-4
WIN Darian Cruz (Puerto Rico), 12-2
LOSS Aman Aman (India), 10-4
61 kg: Daniel DeShazer (Minn.Storm), 8th
LOSS Gamzatgadzhi Khalidov (Hungary), 2-1
65 kg: Evan Henderson (TMWC/LVWC), BRONZE
WIN Shaohua Yuan (China), 4:49
LOSS Tula Tumur-Ochir (Mongolia), 12-1
WIN Agustin Destribats (Argentina), 15-14
WIN Ismail Musukaev (Hungary), 10-0
65 kg: Nick Lee (TMWC/NLWC), 7th
WIN Sebastian Rivera (Puerto Rico), 13-2
LOSS Ismail Musukaev (Hungary), 11-1
65 kg: Joey McKenna (TMWC/PRTC), SILVER
WIN Joshua Finesilver (Israel), 10-0
WIN Ali Rahimzada (Azerbaijan), 1:11
WIN Ryoma Anraku (Japan), 4-3
LOSS Tulga Tumur-Ochir (Mongolia), 4-1
70 kg: Alec Pantaleo (TMWC/CKWC), GOLD
WIN Vishal Kaliramana (India), 10-0
WIN Agudamu Agudamu (China), 10-0
WIN Khadzhimurad Gadzhiyev (Azerbaijan), 5-3
WIN Haji Aliyev (Azerbaijan), 5-2
70 kg: Tyler Berger (Sunkist/PRTC), 7th
WIN Benedikt Huber (Austria), 10-0
LOSS Temuulen Enkhtuya (Mongolia), 7-8
70 kg: Hayden Hidlay (TMWC/WWC), 8th
LOSS Khadzhimurad Gadzhiyev (Azerbaijan), 8-4
74 kg: Joey Lavallee (TMWC/NLWC), 5th
WIN Kamil Rybicki (Poland), 12-0
WIN Emmanuel Olufemi OLAPADE (CAN), 10-0
LOSS Yones Allakbar Emamichoghaei (Iran), 7-3
WIN Kojiro Shiga (Japan), 10-0
LOSS Fazli Eryilmaz (Turkiye), 6-4
74 kg: Jason Nolf (TMWC/NLWC), GOLD
WIN Patrik Leder (Canada), 11-0
WIN Dzhabrail Gadzhiev (Azerbaijan), 5-3
WIN Murad Kuramagomedov (Hungary), 2-1
WIN Yones Emamichoghaei (Iran), 3-3
74 kg: Tommy Gantt (TMWC/WWC), DNP
LOSS Fazli Erilmaz (Turkey), 3-1
86 kg: Zahid Valencia (Sunkist), BRONZE
WIN Benjamin Greil (Austria), 10-0
WIN Lin Zushen (China), 10-9
LOSS Hayato Ishiguro (Japan), 11-0
WIN Myles Amine (San Marino), 6-0
86 kg: Mark Hall (TMWC/PRTC), BRONZE
WIN Ruslan Valiev (France), 5-3
WIN Boris Makoev (Slovakia), 7-2
LOSS Hassan Aliazam Yazdanicharati (Iran), 10-0
WIN Abubakr Abakarov (Azerbaijan), 7-3
MEN'S FREESTYLE TEAM RACE after day one
1 - United States (101)
2 - Azerbaijan (85)
3 - Iran (70)
4 - Japan (56)
5 - Mongolia (55)
6 - Georgia (44)
7 - Hungary (35)
8 - India (33)
9 - Turkiye (30)
10 - France (24)