News
USA Wrestling
High School & Youth
USAW
Kenny & Blaze win gold, Mantanona & Ryder win bronze, USA in first place in men's freestyle at U17 Worlds
by Gary Abbott, USA Wrestling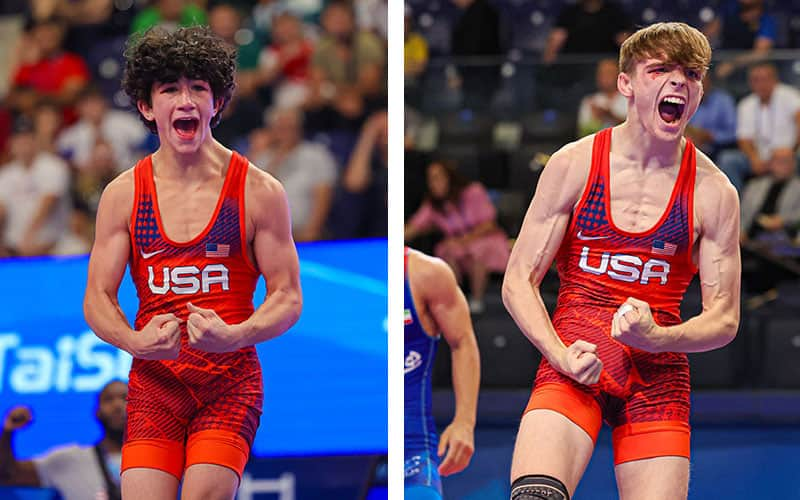 Paul Kenny and Marcus Blaze of the USA celebrate at the U17 World Championships in Istanbul. Photos by Kadir Caliskan, United World Wrestling
.
ISTANBUL, Turkey – The United States crowned two World champions and a total of four medalists on the first day of men's freestyle finals at the 2023 U17 World Championships on Saturday.
Claiming gold medals for the United States were
Paul Kenny
of New Jersey (48 kg) and
Marcus Blaze
of Ohio (55 kg).
Winning bronze medals were
Brock Mantanona
of California at 65 kg and
Zack Ryder
of New York at 80 kg.
The United States led the team race after the first five weight classes were completed with 80 points, followed by Iran in second with 66 points and Azerbaijan in third with 49 points.
Kenny won a razor-tight 1-1 criteria decision over 2022 Asian U15 champion Yamato Furusawa of Japan in the finals. Neither wrestler scored a point with technique, with both points coming from athletes being unable to score on the shot clock. Kenny was put on the shot clock in the first period, with Furusawa leading 1-0 after the 30-second activity period. Furusawa was put on the shot clock in the second period, with the point going to Kenny after the activity period. Furusawa could not score late, and Kenny won the tiebreaker by scoring the last point.
Blaze also won a tight match, edging 2023 Asian U17 champion Ankush of India in the finals, 4-3. Blaze opened the scoring with a takedown, but Ankush came back with a step out to make it 2-1. In the second period, Blaze was the aggressor, getting two more step outs to lead 4-1. Ankush scored a late takedown to lose the gap to one point, but it was not enough.
The USA went four-for-four in its Saturday night medal matches, when Mantanona and Ryder followed with victories in their bronze-medal rounds.
Mantanona came out strong with a 6-0 lead over Khizir Daciev of France on two-points for a takedown, a gut wrench and a crotch life in the first period. Daciev tightened things up with a second-period four-point move, but never scored again, giving Mantanona a 6-4 victory.
Ryder, who was also a 2022 U17 World bronze medalist in men's freestyle, came out with passion against Ismayil Asadli of Azerbaijan. Ryder scored on a counter exposure to lead 2-0 but Azerbaijan challenged. When the jury reviewed the situation, they gave Ryder an exposure, an additional point for a step out and one point for the failed challenge. The rest of the match was all Ryder, who added four more points in the first period to lead 8-2. In the second period, Ryder hit a blast double leg, getting four points and putting Asadli directly to his back, where Ryder pinned him.
The other U.S. athlete in Group One, Sampson Stillwell of Missouri, was eliminated when the athlete who defeated him, Henrik Haykyan of Armenia, was defeated in the semifinals. Only losers to finalists can advance to repechage.
The USA is the defending team champion in men's freestyle at the U17 World Championships.
All of the action is
live on FloWrestling
.
U17 WORLD CHAMPIONSHIPS
At Istanbul, Turkey,

Men's Freestyle Group One Finals pairings
48 kg
Gold - Paul Kenny (USA)
Silver - Yamato Furusawa (Japan)
Bronze - Joseph Ivan Bachmann (Puerto Richo)
Bronze - Sam Sayar (Iran)
5th - Marian Rusu (Romania)
5th - Azymberdi Ashygulyyev (Turkmenistan)
7th - Enkhkhuslen Tushigbayar (Mongolia)
8th - Ali Sultanov (Individual Neutral Athlete)
9th - Yeraly Zhetpissov (Kazakhstan)
10th - Rupesh (India)
Gold – Kenny dec. Furusawa, 1-1
Bronze – Bachmann tech fall Rusu, 15-5
Bronze – Sayar tech fall Ashyrgulyyev, 10-0
55 kg
Gold - Marcus Blaze (USA)
Silver - Ankush (India)
Bronze - Akhmad Musakhadziev (Individual Neutral Athlete)
Bronze - Samvel Gevorgyan (Armenia)
5th - Arshak Lulukyan (Georiga)
5th - Amirreza Ali Teymorizad (Iran)
7th - Victor Dragoman (Moldova)
8th - Ali Tural Aliyev (Azerbaijan)
9th - Aktilek Zholdoshbek (Kyrgyzstan)
10th - Danoush Jowkar (Great Britain)
Gold – Blaze dec. Ankush, 4-3
Bronze – Musakhadzhiev tech fall Luluyan, 12-2
Bronze – Gevorgyan dec. Teymorizad, 4-4
65 kg
Gold - Sina Mahdi Khalili (Iran)
Silver - Magomed Alibakharchiev (Individual Neutral Athlete)
Bronze - Brock Mantonona (USA)
Bronze- Manuel Wagin (Germany)
5th - Khizir Dasiyev (France)
5th - Vladimir Azaryan (Armenia)
7th- Mirzaagha Akhundov (Azerbaijan)
8th - Keyvan Gharehdaghi (Japan)
9th - Zafarbek Kamolov (Uzbekistan)
10th - Nursadyk Nurdinov (Kyrgyzstan)
Gold – Khalili tech fall Alibakharchiev, 10-0
Bronze – Mantanona dec. Dasiyev, 6-5
Bronze – Wagin dec. Azaryan, 13-13
80 kg
Gold - Magomed Idrisov (Individual Neutral Athlete)
Silver -Alexandru Bors (Mondova)
3 USA Zackary D Ryder (USA)
3 GEO Konstantine Petriashvili (Georgia)
5 AZE Ismayil Asadli (Azerbaijan)
5 TKM Dovletgeldi Myradoved (Turkmenistan)
7 IRI Abolfazl Yaser Rahmani Firouznei (Iran)
8 IND Saurabh Yada (India)
9 HUN Adam Mizsei (Hungary)
10 ARM Razmik Yepremyan (Armenia)
Gold – Idrisov dec. Bors, 2-0
Bronze – Ryder pin Asadli, 2:54
Bronze – Petriashvili dec. Myradov, 6-4
110 kg
Gold - Yusif Dursunov (Azerbaijan)
Silver - Yedige Kassimbek (Kazakhkstan)
Bronze - Rakhman Malakhmedov (Individual Neutral Athlete)
Bronze - Henrik Hayakyan (Armeina)
5th - Balazs Csipkes (Romania)
5th - Aleksander Abramishvili (Georgia)
7th - Abolfazl Mohammad Mohammad Nezhad (1ran)
8th - Hosei Fujita (Japan)
9th - Yaraslau Kokhan (Individual Neutral Athlete)
10th - Eldorbek Khasanov (Uzbekistan)
Gold – Dursunov dec. Kassimbek, 4-2
Bronze – Haykyan tech fall Abramishvili, 11-0
Bronze – Malakhmedov tech fall Csipkes, 10-0
U.S. Men's Freestyle Group One results
48 kg: Paul Kenny, Bayville, New Jersey, Gold medal
WIN Oliwier Orzechowski (Poland), tech fall 11-0
WIN Azymberdi Ashyrgulyyev (Turkmenistan), 4-2
WIN Yeraly Zhetpissov (Kazakhstan), pin 3:38
WIN Sam Reza Sayar (Iran),8-8
WIN Yamato Furusawa (Japan), 1-1
55 kg: Marcus Blaze, Perrysburg, Ohio (Perrysburg WC), Gold medal
WIN Amirreza Ali Teymorizad (Iran), 2-1
WIN Azatberdi Ashyrgulyyev (Turkmenistan), tech fall 12-1
WIN Oubayda Itaev (France), tech fall 10-0
WIN Samvel Gevorgyan (Armenia), tech fall 10-0
WIN Ankush (India), 4-3
65 kg: Brock Mantanona, Bermuda Dunes, California (Coachella Valley WC), Bronze medal
WIN Almas Sabyr (Kazakhstan), 14-6
WIN Ankh Erdene Altangerel (Mongolia), tech fall 16-5
WIN Zafarbek Kamalov (Uzbekistan), tech fall 12-2
LOSS Magomed Alibakharchiev (Individual Neutral Athlete), tech fall 14-2
WIN Khizir Daciev (France), 6-4
80 kg: Zack Ryder, Westtown, New York (M2 Training Center), Bronze Medal
WIN Askhab Khajiyev (Kazakhstan), 2-1
WIN Saurabh Yadav (India), pin 0:59
LOSS Alexandru Borz (Moldova), 4-1
WIN Ismayil Asadli (Azerbaijan), pin 2:54
110 kg: Sampson Stillwell, Centerview, Missouri (Kobra Kai Training), dnp/11th
LOSS Henrik Haykyan (Armenia), tech fall 13-3
Team Standings after five weight classes
1 United States 80
2 Iran 66
3 Azerbaijan 49
4 Armenia 42
5 Georgia 35
6 Japan 32
7 (tie) Moldova and India 28
9 Kazakhstan 24
10 (tie) Romania and Turkmenistan 20
</imgalt="paul>