News
USA Wrestling
High School & Youth
USAW
Lilledahl tops Volk in battle of World champs highlighting U20 freestyle finals
by Richard Immel, USA Wrestling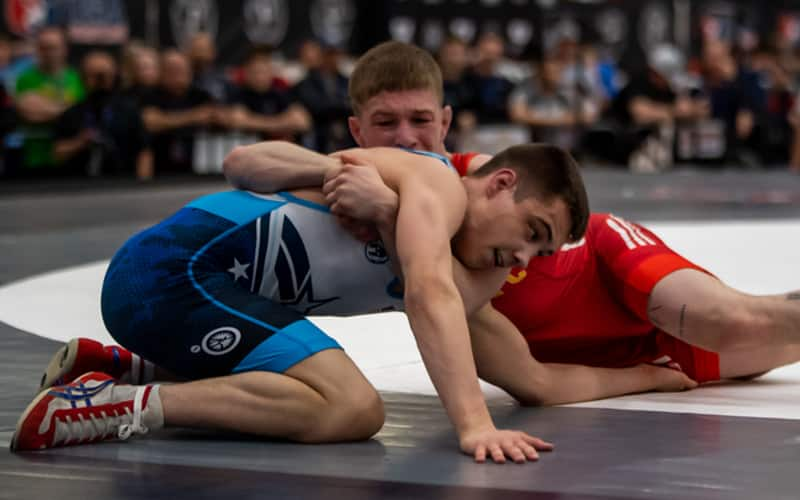 Photo: Luke Lilledahl (blue) and Jore Volk (red) scramble on the edge in the 57 kg finals. Photo: Robbert Wijtman, CSC Photography.

LAS VEGAS – Fans in attendance at South Point Arena were treated to a pair of World champions tangoing, five World medalists getting their hands raised, and the Cowboy pistols firing as the U20 Men's Freestyle Nationals concluded on Sunday evening.
The headliner 57 kg contest between 2022 age-group World champions
Luke Lilledahl
and
Jore Volk
lived up to its marquee billing. Lilledahl proved himself the better man with dynamic, precise attacks throughout, putting 10 points on the board to Volk's four. He was named Outstanding Wrestler of the tournament for his efforts.
Lilledahl opened the scoring midway through the first period with a filthy, David Taylor-esque ankle pick, taking a 2-0 lead to the break. He took full control of the bout with a crafty Iranian single leg finish that netted four points 45-seconds into the second frame. Volk picked up the pace late in the bout, attempting several chest wraps seeking neutral exposures, but it wouldn't be enough to complete the comeback.
No. 10 seed
Antrell Taylor
came out sharp against 2021 U17 World champion
Meyer Shapiro
, snagging the first takedown, but it was all Shapiro after that. The Cornell commit iced the 70 kg title with a crafty cradle attempt with 30 seconds remaining that nearly earned him the pin.
Age group World silver medalists
Tyler Kasak
and
Mitchell Mesenbrink
let the offense flow in their respective finals bouts. Kasak wrestled with some punishing, physical force in a 15-7 win over two-time Junior Nationals champion
Kannon Webster
at 61 kg. Mesenbrink utilized a stellar top game, trapped-arm guts in particular, to put up a total of 17 points on U20 National Team member
Hunter Garvin
at 74 kg.
Reigning U20 World silver medalist
Bennett Berge
had his hands full with 2022 U17 World bronze medalist and old Minnesota rival
Max McEnelly
at 86 kg. Berge blasted to an early 6-0 lead and staved off McEnelly, who scored two second period takedowns, to claim gold.
Similar to Berge, U20 World Team member and Pan-American champion
Nic Bouzakis
got off to a hot start and fended off the major comeback bid from No. 6 seed
Kale Petersen
. Bouzakis appeared destined for a technical fall before Petersen took the momentum with a vicious four-point double leg with 52-seconds remaining. However, the Petersen comeback bid fell short, 11-8.
U20 Pan-American champion and Junior freestyle finalist
Rocco Welsh
was upended by 2021 16U freestyle national champion
Gabriel Arnold
on criteria, 2-2, in a match that was decided at the buzzer.
The heavyweight field was dominated by Oklahoma State commit
Christian Carroll
, who was a U20 World Team member in Greco-Roman last year. Carroll moved impressively quick for a big man, cementing his 12-2 win over 2022 Junior freestyle national champion
Bradley Hill
with a head pinch plus three gut wrench sequence. He was sure to let the crowd know what school he'd be representing in the fall as the O-S-U and pistols firing took center stage.
The fastest match of the evening came at 97 kg with Nebraska commit
Camden McDaniel
wasting no time in an 11-0, 57-second technical fall. He got the crowd to its feet with a mammoth feet-to-back toss to end the bout.
No. 3 seed
Jack Darrah
, who finished with silver in the U20 Greco-Roman tournament earlier this week, found his way to the top of the 92 kg podium with a tight 4-3 decision over two-time USA Wrestling Preseason Nationals champion
Stephen Little
.
All the archived matches and complete brackets from the U20 Freestyle Nationals can be found at
FloWrestling.com
.
2023 Pritchard Companies U.S. Open Championships presented by FloWrestling
At South Point Arena, Las Vegas, Nev., April 26-30

U20 Men's Freestyle Results
57 kg

1st – Luke Lilledahl (X-Calibur Athletics WC) dec. Jore Volk (Wyoming Wrestling RTC), 10-4
3rd – Nicolar Rivera (Wisconsin RTC) tech. fall Brendan Mccrone (Ohio), 10-0 2:32
5th – Adrian Meza (Arizona) inj. def Cael Nasdeo (Central Pennsylvania RTC)
7th – Dominic Mendez (Righetti High School Wrestling) dec. Troy Hohman (Wolfpack WC), 12-6
61 kg

1st – Nic Bouzakis (Pennsylvania) dec. Kale Peterson (Sebolt Wrestling Academy), 11-8
3rd – Emilio Ysaguirre, Jr. (Arizona) dec. Markel Baker (George Mason), 8-0
5th – Jace Rhodes (Hawkeye WC) inj. def. Nasir Bailey (Harvey Twisters WC)
7th – Fernando Barreto (Pounders WX) inj. def. Cael Hughes OK (Cowboy WC)
65 kg

1st – Tyler Kasak (Pennsylvania) dec. Kannon Webster (Illinois), 15-7
3rd – Jesse Mendez (Titan Mercury WC) tech. fall Cole Brooks (OkTTC), 12-0 2:35
5th – Vince Cornella (Spartan Combat RTC) dec. Pierson Manville (M2 Training Center), 14-4 3:46
7th – Dylan Chappell (Buffalo Valley RTC) inj. def. Jayden Scott (New York)
70 kg

1st – Meyer Shapiro (Spartan Combat RTC) dec. Antrell Taylor (MWC Wrestling Academy), 7-2
3rd – Paniro Johnson (Pennsylvania) dec. Daniel Cardenas (Colorado), 5-0
5th – John Wiley (Oklahoma RTC) tech. fall Ryder Downey (Panther WC RTC), 12-1 2:22
7th – Jackson Arrington (Wolfpack WC) forfeit Nicco Ruiz (Sunkist Kids/Monster Garage)
74 kg

1st – Mitchell Mesenbrink (Askren Wrestling Academy) tech. fall Hunter Garvin (Iowa), 17-6
3rd – Joseph Sealey (Pennsylvania) tech. fall Nick Fea (New York), 14-4 4:27
5th – Aiden Riggins (Iowa) dec. Matthew Bianchi (Arkansas RTC), 8-4
7th – Kyle Dutton (Arkansas RTC) dec. Kamdyn Munro (Regional Training Center South), 14-7
79 kg

1st – Gabriel Arnold (Level Up Wrestling Center) dec. Rocco Welsh (Young Guns WC), 2-2
3rd – Luca Augustine (Pittsburgh WC) dec. Lucas Condon (Poway High School Wrestling), 8-2
5th – Joshua Barr (Team Donahoe Wrestling Club) dec. Noah Mulvaney (Askren Wrestling Academy), 16-10
7th – Jared Simma (Panther Wrestling Club RTC) tech. fall Ethan Riddle (Askren Wrestling Academy), 12-1 1:35
86 kg

1st – Bennett Berge (Jackrabbit WC) dec. Max McEnelly (Waconia WC), 7-4
3rd – Brayden Thompson (Cowboy RTC) dec. Wyatt Voelker (Panther WC RTC), 3-2
5th – Connor Mirasola (Askren Wrestling Academy) dec. Clayton Whiting (Tiger Style WC), 9-2
7th – Tate Naaktgeboren (Big Game Wrestling Club) fall Justin Rademacher (All-Phase Wrestling Club), 5:36
92 kg

1st – Jack Darrah (Missouri) dec. Stephen Little (Arkansas RTC), 4-3
3rd – Mac Stout (Pittsburgh Wrestling Club) tech. fall Gavin Nelson (Minnesota), 13-2
5th – Cole Mirasola (Askren Wrestling Academy) dec. Gabe Sollars (Indiana RTC), 11-9
7th – Jack Wehmeyer (New York City RTC) dec. Carson Floyd (Boone RTC), 8-1
97 kg

1st – Camden McDaniel (Ohio) tech. fall Joey Braunagel (Illinois RTC/Illini WC), 11-0
3rd – Sawyer Bartelt (Gladiator Wrestling) dec. Colden Dorfman (Cavalier Wrestling Club), 8-8
5th – Steven Burrell Jr. (New York) dec. Ben Kawczynski (Askren Wrestling Academy), 10-7
7th – Max Ramberg (Viking RTC) inj. def. Liam Heikkila (Colorado Mesa Wrestling Club)
125 kg

1st – Christian Carroll (Cowboy RTC) tech. fall Bradley Hill (Hawkeye WC), 12-2
3rd – Carter Neves (Ohio) dec. Juan Mora (Bison Wrestling Club), 6-2
5th – Nathan Taylor (Lehigh Valley Wrestling Club) forfeit Harley Andrews (Tuttle Wrestling Club), 0-0
7th – Chase Horne (Wolfpack Wrestling Club) tech. fall Ethan Vergara (Florida), 12-2