News
USA Wrestling
High School & Youth
USAW
Cardenas seeks another national title as finals set in upset-filled U15 Freestyle Nationals
by Adam Engel, Special to TheMat.com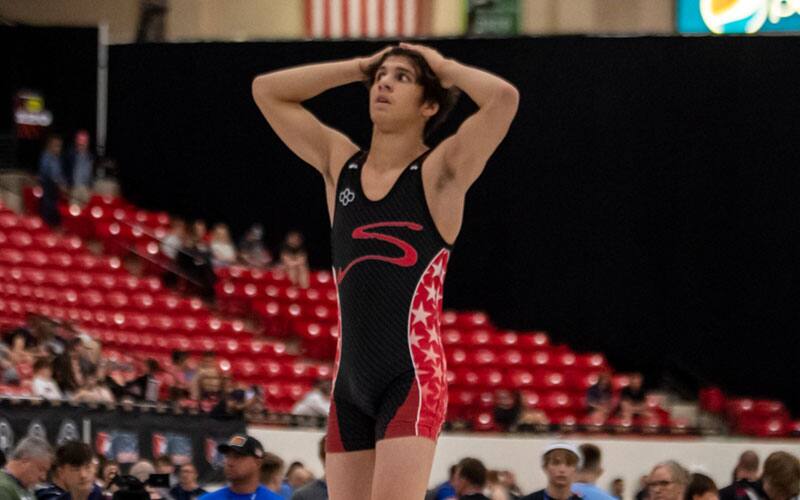 Travis Cardenas at the U15 National Championships. Photo by Robbert Wijtman
.
Travis Cardenas
remains on the path to become a national champion at the U15 level, after capturing a national title at the U14 level last year.
He pinned fellow 2022 14U Freestyle Nationals champion Braylon Reynolds of Red Cobra Wrestling Academy at 3:16 in the semifinals at 57 kg to become the only 14U champion in the U15 Freestyle Nationals finals at the 2023 Pritchard Companies U.S. Open, presented by FloWrestling on Saturday in Las Vegas.
Reynolds also won a 14U Freestyle Nationals title.
Ashton Besmer
of Dethrone Wrestling Club will try to top Cardenas in the finals.
Seeding never seemed to matter in this bracket as
Cooper Rowe
of Pinnacle Wrestling Club at 68 became the only No. 1 seed in the finals. He beat No. 12 Zack Aquila 6-3, in the semifinals and will scrap with No. 6
Mario Hutcherson
of Young Guns Wrestling Club.
At 85 kg, No. 4
Brayden Koester
of Big Game Wrestling Club clipped No. 1 seed David Calkins of Delta Wrestling Club, the only other No. 1 seed in the semifinals, 15-14. Calkins also won a 2022 14U Nationals title.
The guys showcased their offensive abilities with a back-and-forth battle full of throws. Calkins led 12-10 with 22 seconds left before Koester launched Calkins for four. A scramble ensued but Calkins' throw made the difference.
Koester draws No. 3
Maximus Konopka
of Connecticut in the finals.
Two other 14U Freestyle Nationals champions advanced to the semifinals but lost. At 52 kg, No. 6
Grayson Fuchs
of Perrysburg Wrestling Club defeated No. 2 Dawson Youngblut of Immortal Athletics WC, 5-1. Fuchs contained offensive attacks from Youngblut, a 2022 14U Freestyle champion. Fuchs scored a first-period takedown before he added to his lead. Fuchs will take on
Dale Gant III
of Michigan.
No. 5 seed
Chase Karenbauer
of Bad Karma Wrestling Club became the day's first finalist when he flattened Wyatt Stauffer of Pennsylvania in 2:56 at 38 kg. No. 6
Cohen Reer
of Burnett Trained will challenge Karenbauer on Saturday night.
At 41 kg, No. 8
Brayden Wenrich
of Pennsylvania secured a finals spot with a 52 second technical fall over Loc Webber of Beast Mode Wrestling. Wenrich found success with his leg lace and looks to clinch a national title against No. 2
Samuel Sanchez
of California.
Brothers seek titles at 44 and 48 kg. No. 8
Brandon Bickerton
of Seasons Freestyle Club will see No. 2
Nico DeSalvo
of Immortal Athletics WC at 44 while
Austin Bickerton
of Seasons Freestyle Club gets
Grayson Eggum
of MN Elite Wrestling Club at 48 kg. Eggum is the son of Minnesota head wrestling coach Brandon Eggum,
Austin Bickerton
of Seasons Freestyle Club never stopped his attack at 48 kg. He threw No. 13 Alexander Pierce of Big Game Wrestling Club for four with two seconds left to win, 7-6. Pierce led 4-2 at the break before Bickerton adjusted.
Las Vegas native
Brenden Jorden Agcaoili
of Gold Rush Wrestling could secure a title at 62 kg with a win over No. 15 Quinten Cassiday of Michigan on Saturday night.
At 75 kg, No. 8
Brodey Collins Hendricks
of Team Valley Wrestling Club rolled to the finals with two pins and two tech falls. He will wrestle No. 10
Isai Fernandez
of Titan Mercury Wrestling Club in the finals.
The finals begin at 4 p.m. View each bout live on FloWrestling.
2023 U15 Freestyle Nationals
Las Vegas, Nev. — April 29

Final pairings
38 kg: No. 5 Chase Karenbauer (Bad Karma Wrestling Club) vs No. 6 Cohen Reer (Burnett Trained)
41 kg: No. 8 Brayden Wenrich (Pennsylvania) vs No. 2 Samuel Sanchez (California)
44 kg: No. 8 Brandon Bickerton (Seasons Freestyle Club) vs. No. 2 Nico DeSalvo (Immortal Athletics WC)
48 kg: Austin Bickerton (Seasons Freestyle Club) vs Grayson Eggum (MN Elite Wrestling Club)
52 kg: Dale Gant III (Michigan) vs No. 6 Grayson Fuchs (Perrysburg Wrestling Club)
57 kg: Ashton Besmer (Dethrone Wrestling Club) vs No. 11 Travis Cardenas (Grindhouse Wrestling Club)
62 kg: Brenden Jorden Agcaoili (Gold Rush Wrestling) vs No. 15 Quinten Cassiday (Michigan)
68 kg: No. 1 Cooper Rowe (Pinnacle Wrestling Club) vs No. 6 Mario Hutcherson (Young Guns Wrestling Club)
75 kg: No. 8 Broedy Collins Hendricks (Team Valley Wrestling Club) vs No. 10 Isai Fernandez (Titan Mercury Wrestling Club)
85 kg: No. 4 Brayden Koester (Big Game Wrestling Club) vs No. 3 Maximus Konopka (Connecticut)
Semifinal results
:
38 kg
No. 5 Chase Karenbauer PA (Bad Karma Wrestling Club) fall Wyatt Stauffer PA (Pennsylvania), 2:56
No. 6 Cohen Reer OH (Burnett Trained) dec. Brand'n Edstrom ID (Team Idaho Wrestling Club), 8-2
41 kg
No. 8 Brayden Wenrich PA (Pennsylvania) tech fall Loc Webber OH (Beast Mode Wrestling), 10-0, 0:52
No. 2 Samuel Sanchez CA (California) dec. No. 6 Jojo Burke NJ (New Jersey), 8-2
44 kg
No. 8 Brandon Bickerton OH (Seasons Freestyle Club) dec. No. 4 Arseni Kikiniou CA (Poway Wrestling), 4-1
No. 2 Nico DeSalvo IA (Immortal Athletics WC) dec. No. 14 Aaron Meza CA (Sunkist Kids/Monster Garage), 6-2
48 kg
Austin Bickerton OH (Seasons Freestyle Club) dec. No. 13 Alexander Pierce IA (Big Game Wrestling Club), 7-6
Grayson Eggum MN (MN Elite Wrestling Club) dec. No. 11 Michael Batista NJ (New Jersey), 11-5
52 kg
Dale Gant III MI (Michigan) dec. No. 4 Czar Quintanilla WA (Inland Northwest Wrestling Training Center), 6-5
No. 6 Grayson Fuchs MI (Perrysburg Wrestling Club) dec. No. 2 Dawson Youngblut (Immortal Athletics WC)
57 kg
Ashton Besmer CA (Dethrone Wrestling Club) dec. Stephen Myers (West Virginia), 14-6
No. 11 Travis Cardenas AZ (Grindhouse Wrestling Club) fall No. 2 Braylon Reynolds IN (Red Cobra Wrestling Academy), 3:16
62 kg
Brenden Jorden Agcaoili NV (Gold Rush Wrestling) dec. Maximus Dhabolt IA (Sebolt Wrestling Academy), 6-3
No. 15 Quinten Cassiday MI (Michigan) tech fall No. 6 Asher Bacon PA (X-Calibur Athletics Wrestling Club), 12-2, 4:00
68 kg
No. 1 Cooper Rowe MN (Pinnacle Wrestling Club) dec. No. 12 Zack Aquila OH (Arsenal Wrestling Club), 6-3
No. 6 Mario Hutcherson PA (Young Guns Wrestling Club) dec. No. 2 Victor MarksJenkins Maryland (Punisher Wrestling Club, Inc.), 4-4
75 kg
No. 8 Broedy Collins Hendricks (Team Valley Wrestling Club) fall No. 5 Daniel Patrick (Mat Sense Wrestling), 2:43
No. 10 Isai Fernandez CA (Titan Mercury Wrestling Club (TMWC) tech fall Eli Esguerra OH (Ohio), 14-3 2:18
85 kg
No. 4 Brayden Koester IA (Big Game Wrestling Club) dec. No. 1 David Calkins CA (Delta Wrestling Club), 15-14
No. 3 Maximus Konopka CT (Connecticut) dec. No. 2 Danny Zmorowski OH (Arsenal Wrestling Club), 6-5