News
USA Wrestling
High School & Youth
USAW
World medalists Adams, Attao, plus four defending champs advance to Junior Greco-Roman quarterfinals set for Saturday in Fargo, N.D.
by Richard Immel, USA Wrestling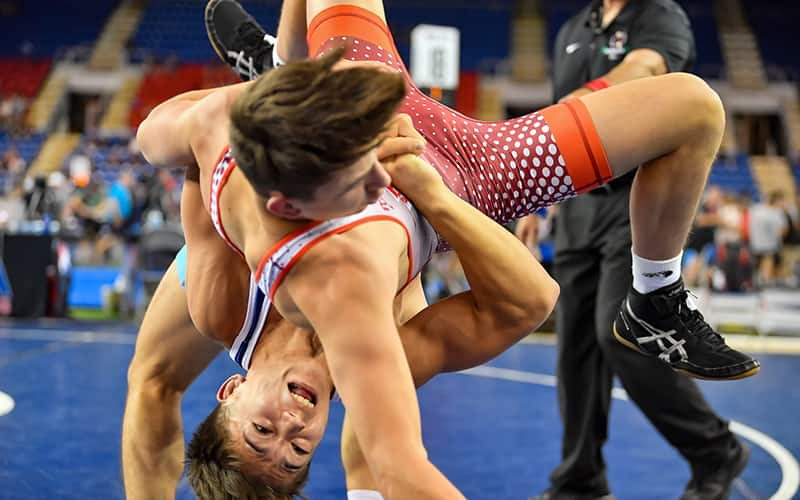 Photo: U17 World champion Joel Adams showcased his big-move potential during the opening session of Junior Greco-Roman Nationals in Fargo, N.D. (Ty Lundquist, MatFocus.com)
FARGO, N.D. – The first day of Greco-Roman wrestling has wrapped at the Fargodome for those in the Junior division. 1145 athletes from 45 states battled through the round-of-16 in each weight class, setting the stage for a climactic final day of wrestling on Saturday.
Five defending champions at the USMC Junior Greco-Roman Nationals took the mats on Friday morning—Mack Mauger of Idaho (113), Anthony Ruzic of Illinois (120), Otto Black of Colorado (132), Kannon Webster of Illinois (145) and Aden Attao of Idaho (285). Four of the five navigated to the quarterfinals, keeping hopes of back-to-back Fargo crowns intact.
Mauger, who won Folkstyle Nationals in Cedar Falls, Iowa, the first leg of the USA Wrestling Triple Crown award, and took third in Junior freestyle on Wednesday, was dominant in two of his three wins. He posted two 8-0 technical falls and squeaked by Alabama's Caleb Wright, 8-7, in one of the highlight matches of the day.
His Gem State teammate Adan Attao rebounded nicely from a heartbreaking loss in the freestyle finals and looks primed for a repeat bid at heavyweight. He picked up a 38-second pin, 30-second technical fall and an 8-1 decision over Ohio's Mustafa Woodi to clear the day one hurdle. Attao is a U20 World bronze medalist in Greco-Roman and will return to the U20 Worlds this year. He is fresh off a gold medal win at the U20 Pan-American Championships held in Santiago, Chile, last week.
It was a breeze of a morning for Black, who outscored his three opponents by a combined 25-0 tally. All told, the Colorado product was on the mat for one minute and 50 seconds on Friday. His fastest technical fall came in the round-of-32 over Massachusetts' Miles Darling in 16 seconds. Black was a U17 World Team member in 2021, where he finished in fifth place on the World level.
After a stellar run to the 145-pound Junior freestyle title earlier this week, Webster remains in the hunt for his fourth Fargo championship over the past three years. He qualified for the quarters with two shutout technical falls followed by a 3-1 decision win over Florida's Anderson Heap. Webster has made the Junior national finals four times. He won top prize in freestyle in 2021 and 2023 and did the same on the Greco-Roman front in 2022.
The lone defending champion to be dethroned was Ruzic, who dropped a vintage, 18-13, Greco-Roman shootout to Arizona's Giovanni Martinez Chavez in the round of 16.
Iowa powerhouse Tate Naaktgeboren joined Webster as the only two Junior freestyle champions entered in the Greco-Roman field. He reeled off four-straight technical falls at 182 pounds, throwing up 40 points in the process. Naaktgeboren was runner-up at the U20 Greco-Roman World Team Trials this year.
In addition to Attao, two competitors who finished as freestyle runners-up have advanced to the Greco-Roman quarterfinals—Kiyan Simon of Alabama (106) and Daniel Zepeda of California (145).
Four U20 Greco-Roman World Team members who will compete at the World Championships in Amman, Jordan, next month cruised to the quarters—Landon Drury of Colorado (138), Joel Adams of Nebraska (152), Sawyer Bartelt of Florida (220) and Attao. The quartet picked up bonus point wins in 11-of-13 contested bouts. The only competitive bout of the bunch was a 3-1 win for Bartelt over Montana's Mason Christian in the round-of-16.
Adams is the most credentialed athlete in the Greco-Roman field in Fargo having won a U17 Greco-Roman World title last summer in Rome, Italy. Drury was a recent U20 Pan-American gold medalist alongside Attao, while Bartelt earned a silver at the event. Also earning gold at U20 Pan-Am's last week was Jadon Skellenger of Idaho, who is a returning Junior Greco-Roman finalist and in the quarterfinals at 152.
South Carolina's Zao Estrada, who finished as runner-up at 112 pounds in the Junior women's freestyle division earlier this week, ended the first day with a 3-1 record and is still in the hunt for All-America status at 113 pounds.
California has the most athletes alive on the championship side of the brackets with 12. Iowa is the only other state with double digit wrestlers in the title hunt at 10. Illinois has 33 wrestlers remaining in the competition, the most of any state.
There will not be a USA Wrestling Triple Crown winner in the Junior division this year. Heading into the Greco-Roman leg, Wisconsin's Koy Hopke was the only athlete eligible for the award. He elected not to enter the Greco-Roman field this weekend.
The USMC Junior Greco-Roman National Championships will continue tomorrow at 9 a.m. (CT), starting with the quarterfinal round. The semifinals will immediately follow the quarters. The championship finals are set for 6 p.m.
A live broadcast of the event and archived matches can be found on FloWrestling.com. A FloWrestling subscription is required to watch the event. Brackets and up-to-date results are available on FloArena.
2023 USMC Junior Greco-Roman Nationals
At Fargo, N.D., July 21-22
Quarterfinal Matchups
100 pounds
Caden Smith (Virginia) vs, Caden Correll (Illinois)
Kaison Schreier (Missouri) vs. Brady Byrd (Indiana)
Hunter Anderson (Idaho) vs. Alexander Diaz (Pennsylvania)
Damian Trujillo (New Mexico) vs. Mason Brayfield (Missouri)
106 pounds
Cadyn Coyle (Nebraska) vs. Taye Jordan (Iowa)
Kiyan Simon (Alabama) vs. Hunter Sanchez (Utah)
Ezekiel Witt (Kansas) vs. Malachi Ortiz (Florida)
Erik Egstad (Missouri) vs. Isaac Stewart (Montana)
113 pounds
Mack Mauger (Idaho) vs. Revin Dickman (Indiana)
Lawson Eller (Minnesota) vs. Lander Bosh (Utah)
Davis Motyka (Pennsylvania) vs. Kody Tanimoto (Texas)
Nathan Rioux (Indiana) vs. Brayten Casey (Wisconsin)
120 pounds
Giovanni Martinez Chavez (Arizona) vs. Musa Tamaradze (Massachusetts)
Elyle Francisco (Alaska) vs. Robert Jones (California)
Isaac Hampton (Oregon) vs. Weston Pisarchick (Pennsylvania)
Ryker Graff (Iowa) vs. Charles Meudt (Wisconsin)
126 pounds
Kolter Burton (Idaho) vs. Isaiah Cortez (California)
Miles Anderson (Nebraska) vs. Massey Odiotti (Illinois)
Layne Kleimann (Utah) vs. Hoyt Hvass (Idaho)
Billy Townson (California) vs. Rhett Peak (Oklahoma)
132 pounds
Otto Black (Colorado) vs. Elijah Cortez (California)
Carter Nogle (Maryland) vs. Gable Porter (Iowa)
Matthew Beem (Iowa) vs. Elias Navida (California)
Dmytro Chubenko (Ohio) vs. Zan Fugitt (Missouri)
138 pounds
Landon Drury (Colorado) vs. Maddox Khalimsky (Illinois)
Paul Kelly (California) vs. Maksym Chubenko (Ohio)
Charles Curtis (Ohio) vs. Kane Naaktgeboren (Iowa)
Tanner Frothinger (Idaho) vs. Isaiah Powe (Alabama)
145 pounds
Noah Manuel Tapia (Illinois) vs. Kannon Webster (Illinois)
Brady Collins (Colorado) vs. Daniel Zepeda (California)
Gabriel Bouyssou (Rhode Island) vs. Pierson Manville (Pennsylvania)
Garrett Reece (Colorado) vs. Ayson Rice (South Dakota)
152 pounds
Jadon Skellenger (Idaho) vs. Laird Root (California)
Owen Hicks (New York) vs. TJ Schierl (Wisconsin)
Aliaksandr Kikiniou (California) vs. Kellen Smith (Iowa)
Casper Stewart (New York) vs. Joel Adams (Nebraska)
160 pounds
Patrick Brackett (Colorado) vs. Benjamin Smith (Maryland)
Thor Michaelson (Washington) vs. Ashton Miess (Wisconsin)
Kale Roth (Wisconsin) vs. Leandro (LJ) Araujo (North Dakota)
Brett Back (Wisconsin) vs. Tristin Greene (Ohio)
170 pounds
Caden Young (Wisconsin) vs. Deontre Buttram (Oklahoma)
Gavin Ricketts (Kentucky) vs. Tyler Secoy (Georgia)
Nicholas Fox (Iowa) vs. Dominic Bambinelli (Georgia)
Angelo Posada (California) vs. Adam Waters (Pennsylvania)
182 pounds
Brayden Gautreau (Michigan) vs. Tate Naaktgeboren (Iowa)
Aidan Squier (New Jersey) vs. Cole Han-Lindemyer (Minnesota)
Franklin Ordonez-Fernandez (Florida) vs. Isaiah Twait (Idaho)
De'alcapon Veazy (Indiana) vs. Thomas Sandoval (California)
195 pounds
Hunter Sonnenberg (Washington) vs. Joey Novak (Minnesota)
Aiden Hight (Pennsylvania) vs. Kingsley Menifee (Virginia)
Cittadino Tuttle (Minnesota) vs. Sean Carroll (Kansas)
Karson Tompkins (Texas) vs. Quinlan Morgan (Minnesota)
220 pounds
Sawyer Bartelt (Florida) vs. Nick Nosler (Illinois)
Jared Thiry (Iowa) vs. Brennan Carey (Missouri)
Oscar Williams (Oklahoma) vs. Noah Wenzel (Illinois)
Bronx Wood (Kansas) vs. Coby Merrill (California)
285 pounds
Aden Attao (Idaho) vs. Richard Thomas (Oklahoma)
Connor Aney (Washington) vs. Cameron Groncki (New York)
Shilo Jones (Idaho) vs. Wyatt Schmitt (Illinois)
Cameron Geuther (Iowa) vs. Navarro Schunke (South Dakota)