News
USA Wrestling
High School & Youth
Women
USAW
Exciting Girls National Recruiting Showcase semifinals held, with 18 different states represented in finals
by Gary Abbott, USA Wrestling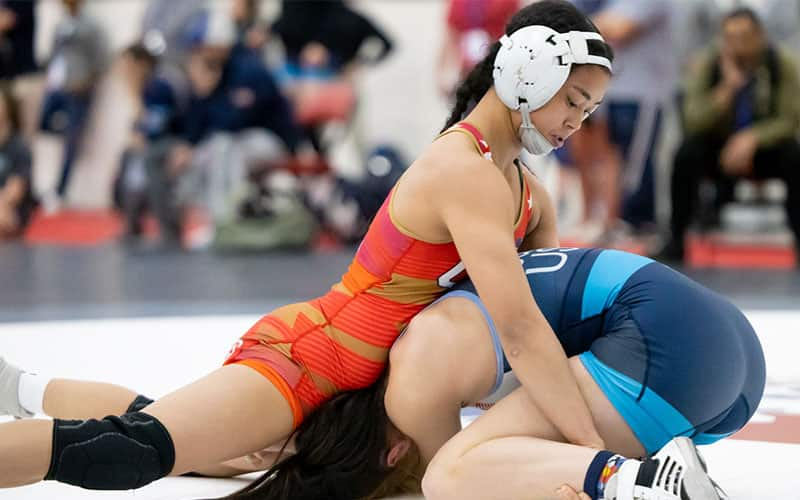 Semifinal action at the 2023 Girls National High School Recruiting Showcase. Photo by Sandy Slater
.
LAS VEGAS, Nev. – One of the elite showcases for high school girls in wrestling is the annual National High School Recruiting Showcase, which had a spectacular semifinals round on Friday evening at the South Point Arena.
Athletes from 18 different states reached the finals, which will be held alongside the U.S. Senior Women's Nationals on the raised stage Saturday night.
There were over 100 state champions from across the nation registered for this event, and tons of nationally ranked athletes in each weight class.
Among the finalists are returning Showcase champions Zao Estrada of South Carolina (112), Karlee Brooks of Arizona (117) and Persaeus Gomez of Colorado (122).
Estrada will face unseeded Lorianna Piestewa of New Mexico in the finals
Brooks has a big-time showdown in the finals with California star Isabella Marie Gonzales of California, two of the nation's top ranked wrestlers in their weight class.
Gomez, seeded No. 2, will also have a tough test in the finals against California's Carissa Qureshi, who came in as the top seed in the weight class.
The Showcase is always a great event for wrestlers to make a splash on the national level. At 138 pounds, unseeded Gretchen Donally of Montana will have a chance to show her stuff against Washington star Alondra Morales.
The top two ranked wrestlers in the nation will battle at 100 pounds, when national No. 1 Morgan Turner of Illinois battles No. Caley Graber of Minnesota.
Another nationally ranked No. 1 star in the finals is Kiara Ganey of Illinois, who will battle Tilisa Matakaiongo of Utah in the 200-pound finals.
GIRLS NATIONAL HIGH SCHOOL RECRUITING SHOWCASE

At Las Vegas, Nev., April 29


Final pairings
100 — Caley Graber MN (Summit Wrestling Academy) vs Morgan Turner IL (Sunkist Kids Wrestling Club)
106 — Alexsys Jacquez CO (Betterman Elite Wrestling) vs Clare Booe FL (Wyoming Seminary Wrestling Club)
112 — Lorianna Piestewa NM (Stars and Stripes Wrestling Club) vs Zao Estrada SC (Daughters Of Zion Wrestling)
117 — Isabella marie Gonzales CA (Wolf Den Wrestling Club) vs Karlee Brooks AZ (Arizona Girls Wrestling)
122 — Carissa Qureshi CA (Orange County RTC) vs Persaeus Gomez CO (Pomona Elite (PWCC)
127 — Karianne Baldwin WA (Ascend Wrestling Academy) vs Aubrianna Smith OK (Oklahoma)
132 — Estella Gutches OR (Legacy Elite Wrestling Club) vs Isis France AZ (Wyoming Seminary Wrestling Club)
138 — Alondra Morales WA (Ascend Wrestling Academy) vs Gretchen Donally MT (Montana)
144 — Ryen Hickey CO (Colorado) vs Amelia Fawcett AK (Pioneer Grappling Academy)
152 — Skylar Slade IA (Moen Wrestling Academy) vs Eduarda Rodrigues CA (Team Thunder Wrestling Club)
164 — Abena Adu CA (Quartz Hill High School Wrestling) vs Alexandria Alli OH (Wyoming Seminary Wrestling Club)
180 — Kassidee Savaria MT (Montana) vs Sophie Pollack NY (Rochester Rumble Wrestling Club)
200 — Kiara Ganey IL (Illinois) vs Tilisa Matakaiongo UT (Utah)
225 — Erica Cobos TX (El Paso Supers Wrestling Club) vs Leilani Sanchez TX (Texas)
Semifinal results
100
Caley Graber MN (Summit Wrestling Academy) tech fall Mia Zuniga WA (Ascend Wrestling Academy), 10-0 2:34
Morgan Turner IL (Sunkist Kids Wrestling Club) tech fall Katey Valdez CO (Betterman Elite Wrestling), 10-0 2:35
106
Alexsys Jacquez CO (Betterman Elite Wrestling) dec. Ana Malovich PA (Team Pennsylvania), 6-0
Clare Booe FL (Wyoming Seminary Wrestling Club) tech fall Kayla Batres CT (South Side Wrestling Club), 10-0 3:46
112
Lorianna Piestewa NM (Stars and Stripes Wrestling Club) dec. Janessa George CO (Chatfield Wrestling Club), 7-7
Zao Estrada SC (Daughters Of Zion Wrestling) pin Emma Albanese NV (Legends of Gold Las Vegas), 8-0 1:20
117
Isabella marie Gonzales CA (Wolf Den Wrestling Club) tech fall Mia Hargrove CO (Betterman Elite Wrestling), 12-2 2:34
Karlee Brooks AZ (Arizona Girls Wrestling) dec. Angelina Vargas MO (Greater Heights Wrestling), 10-2
122
Carissa Qureshi CA (Orange County RTC) tech fall Alejandra Valdiviezo CA (Poway High School Wrestling), 12-1 3:23
Persaeus Gomez CO (Pomona Elite (PWCC)) tech fall Olivia Moreno TX (3F Wrestling), 14-2 4:49
127
Karianne Baldwin WA (Ascend Wrestling Academy) dec. Jamie Laswell AZ (Arizona Girls Wrestling), 10-4
Aubrianna Smith OK (Oklahoma) pin Bailey Chafin OR (Sweet Home High School Wrestling), 8-2 1:14
132
Estella Gutches OR (Legacy Elite Wrestling Club) dec. Ciara Riner WV (West Virginia), 8-2
Isis France AZ (Wyoming Seminary Wrestling Club) pin Morgan Edwards PA (Blairstown Wrestling Club), 10-0 2:38
138
Alondra Morales WA (Ascend Wrestling Academy) tech fall Bridgette Sotomayor AZ (Arizona Girls Wrestling), 10-0 3:54
Gretchen Donally MT (Montana) pin Belicia Manuel MI (Michigan Revolution Wrestling Club), 10-1 5:49
144
Ryen Hickey CO (Colorado) dec. Elly Janovsky IN (Indiana Girls Wrestling IGNITES), 9-2
Amelia Fawcett AK (Pioneer Grappling Academy) pin Sandilynn Tuinei NV (Nevada), 8-6 2:57
152
Skylar Slade IA (Moen Wrestling Academy) pin Trinity Bouchal AZ (Arizona Girls Wrestling), 13-12 1:39
Eduarda Rodrigues CA (Team Thunder Wrestling Club) pin Sarah Henckel CT (Connecticut), 4-0 0:31
164
Abena Adu CA (Quartz Hill High School Wrestling) pin Alyssa Favara PA (Bishop McCort High School Wrestling), 4-0 0:38
Alexandria Alli OH (Wyoming Seminary Wrestling Club) tech fall Kylee Lindsley MT (Bozeman Wrestling Club), 10-0 2:00
180
Kassidee Savaria MT (Montana) tech fall Katianna Martinez CA (Evergreen Valley Wrestling Club), 10-0 2:16
Sophie Pollack NY (Rochester Rumble Wrestling Club) pin Saiheron Preciado CA (Orange County RTC), 8-1 2:02
200
Kiara Ganey IL (Illinois) pin Maggie Smith WY (Top Of The Rock Wrestling Club), 4-0 0:23
Tilisa Matakaiongo UT (Utah) pin Destiny Marquez CA (Orange County RTC), 6-4 2:55
225
Erica Cobos TX (El Paso Supers Wrestling Club) dec. Gemma Templeman CA (Swamp Monsters Wrestling Club), 15-6
Leilani Sanchez TX (Texas) pin Angie Aguilar UT (Stallions Wrestling Club), 5-0 2:48