News
USA Wrestling
International
High School & Youth
College
USAW
Four wrestlers seek to repeat by reaching finals at U20 Greco-Roman Nationals
by Adam Engel, Special to TheMat.com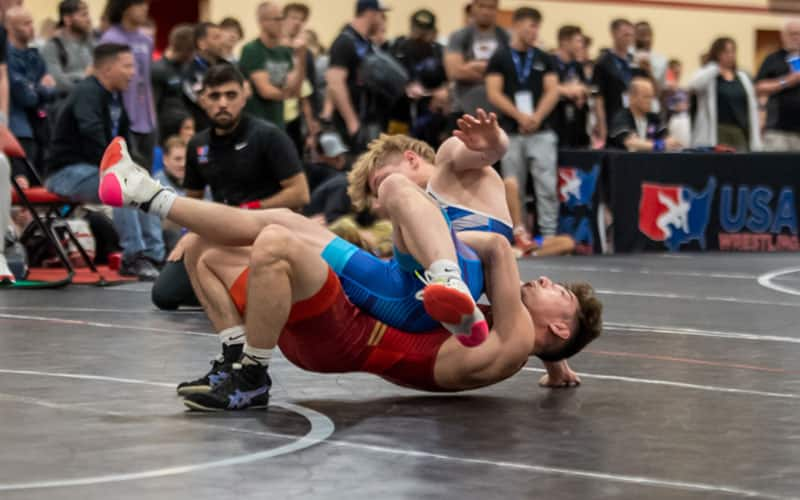 Max Black of NMU-NTS turns an opponent at 60 kg. Photo by Robbert Wijtman, CSC Photography.

LAS VEGAS, Nev. — One win away.
Four wrestlers can repeat as national champions in the
U20 Greco-Roman Nationals
at the
2023 Pritchard Companies U.S. Open, presented by FloWrestling
on Friday in Las Vegas.
Three of those also represented the USA at the 2020 U20 World Championships — No. 3 seed
Max Black
of NMU-National Training Center at 60 kg, No. 2 seed
Richard Fedalen
of New York City RTC at 72 kg and No. 1 seed
Aden Attao
of Suples Wrestling Club at 130 kg.
No. 2 seed
Michael Altomer
at 82 kg of NMU— National Training Center also looks to repeat after a U20 Greco-Roman title in Las Vegas last year.
Experience became the difference in a clash of Age-Group World Teamers at 60 kg. Black finished No. 2 Zan Fugitt of Nixa High School Wrestling, 8-0, in 49 seconds in the semifinals. Black stormed to the finals with four technical falls, none of which lasted longer than 90 seconds. Fugitt made the 2022 U17 Greco-Roman World Team and claimed gold at the U17 Pan-American Championships.
No. 1 seed
Cory Land
of Panther Wrestling Club RTC will meet Black in the finals. Land won Greco-Roman silver at the 2021 U17 World Championships. He also became one of seven No. 1 seeds in the finals.
Fedalen earned four technical falls and will see No. 1
Brendon Abdon
of Florida in the finals. Abdon won a 2022 Junior Nationals Greco-Roman title.
Attao won USA Wrestling's Junior Triple Crown last year which consists of a national title in freestyle, folkstyle and Greco-Roman.
Two more 2022 Junior Nationals Greco-Roman champions will scrap for a title Friday night. Altomer continued that trend in an 82 kg bracket in which No. 1 Jared Stricker of Wisconsin lost in the first round. Altomer will battle No. 5 Darion Johnson of Mustang Wrestling Club.
Fellow Fargo champion
Jack Darrah
of Missouri draws No. 1 Wyatt Voelker of Panther Wrestling Club RTC in the 87 kg finals. Darrah advanced to the finals when he stopped No. 2 Tate Naaktgeboren of Big Game Wrestling Club, 9-5.
At 63 kg, No. 1 seed
Pierson Manville
of M2 Training Center seeks a title. He will clash with
Landon Drury
of Betterman Elite Wrestling. Drury conquered three seeded wrestlers to reach the finals.
A weight later at 67 kg, No. 1 seed
Jadon Skellenger
of Team Idaho Wrestling Club sped to the finals after he outscored five opponents, 45-4. None of his opponents made it to the second period. No. 6 Ivan Morris of Black Fox Wrestling Academy will try to stop Skellenger's momentum in the final.
No. 1 seed
Sawyer Bartelt
of Gladiator Wrestling reached the 97 kg finals with his high-scoring offense. He gets Joey Braunagel of Illinois RTC and Illinois WC in the finals.
Upsets imploded the 55 and 77 kg brackets.
No. 8
Robert Estrada
of Western Colorado Wrestling Club seeks a title over No. 6
Kenneth Crosby
of NMU — National Training Center at 55 kg. Estrada defeated No. 1 Sefton Douglass of Mustang Wrestling Club in the quarterfinals and clipped No. 5 Anthony Ruzic of Illinois, 7-5, in the semifinals. Ruzic won a 2022 Junior Nationals Greco-Roman stop sign. Crosby reached the finals after an 8-0 tech fall over No. 2 Davis Motyka of XCalibur Athletics. Motyka made the 2022 U17 Greco-Roman World Team.
At 77 kg, No. 4
Derek Matthews
of Northern Colorado Wrestling Club wrestles teammate No. 7
Aydin Rix McElhinney
in the final. Matthews teched No. 1 Hunter Garvin 14-5 in the semifinals.
The finals begin at 6 p.m. and each bout can be streamed live on FloWrestling.
The winner of each weight qualifies for the U20 World Team Trials, which will be held in Geneva, Ohio, June 2-4. The winner of that tournament will represent the USA at the U20 World Championships
U20 Greco-Roman Nationals
At Las Vegas, Nev., April 28

Final pairings, with seeds
55 kg — No. 8 Roberto Estrada (Western Colorado Wrestling Club) vs. No. 6 Kenneth Crosby (NMU — National Training Center)
60 kg — No. 1 Cory Land (Panther Wrestling Club RTC) vs No. 3 Max Black (NMU — National Training Center)
63 kg — No. 1 Pierson Manville PA (M2 Training Center) vs Landon Drury (Betterman Elite Wrestling)
67 kg — No. 1 Jadon Skellenger (Team Idaho Wrestling Club) vs. No. 6 Ivan Morris (Black Fox Wrestling Academy)
72 kg — No. 1 Brendon Abdon (Florida) vs No. 2 Richard Fedalen (New York City RTC)
77 kg — No. 4 Derek Matthews (Northern Colorado Wrestling Club) vs No. 7 Aydin Rix McElhinney (Northern Colorado Wrestling Club)
82 kg — No. 5 Darion Johnson (Mustang Wrestling Club) vs No. 2 Michael Altomer (NMU — National Training Center)
87 kg — No. 1 Wyatt Voelker IA (Panther Wrestling Club RTC) vs No. 3 Jack Darrah MO (Missouri)
97 kg — No. 1 Sawyer Bartelt (Gladiator Wrestling) vs Joey Braunagel (Illinois RTC/Illinois WC)
130 kg — No. 1 Aden Attao (Suples Wrestling Club) vs No. 2 Ryan Boersma (Tiger Style Wrestling Club)
Semifinal results
55 kg
No. 8 Roberto Estrada CO (Western Colorado Wrestling Club) dec. No. 5 Anthony Ruzic IL (Illinois), 7-5
No. 6 Kenneth Crosby CO (NMU-National Training Center) tech fall No. 2 Davis Motyka PA (XCalibur Athletics), 8-0 1:22
60 kg
No. 1 Cory Land AL (Panther Wrestling Club RTC) dec. No 4 Teegan Vasquez MT (Kalispell Wrestling Club), 7-2
No. 3 Max Black CO (NMU-National Training Center) tech No. 2 Zan Fugitt MO (Nixa High School Wrestling), 8-0 0:49
63 kg
No. 1 Pierson Manville PA (M2 Training Center) fall No. 5 Ayson Rice SD (Legends of Gold), 6-1 2:00
Landon Drury CO (Betterman Elite Wrestling) dec. No. 7 Paul Kelly CA (Poway High School Wrestling), 3-3
67 kg
No. 1 Jadon Skellenger ID (Team Idaho Wrestling Club) fall No. 4 Gunnar Hamre WI (Combat W.C. School of Wrestling), 6-4 1:22
No. 6 Ivan Morris CO (Black Fox Wrestling Academy) tech fall Charlie Dill NY (Curby 3 Style Wrestling Club), 11-2 2:37
72 kg
No. 1 Brendon Abdon FL (Florida) tech fall No. 4 Jeremy Paradice GA (The Storm Wrestling Center), 9-0 2:29
No. 2 Richard Fedalen MD (New York City RTC) tech fall No. 3 Tyler Antoniak NE (MWC Wrestling Academy), 10-1 4:33
77 kg
No. 4 Derek Matthews ID (Northern Colorado Wrestling Club) tech fall No. 1 Hunter Garvin IA (Iowa), 14-5 3:39
No. 7 Aydin Rix McElhinney ME (Northern Colorado Wrestling Club) tech fall No.6 Jake Prudek CA (California), 11-2 3:49
82 kg
No. 5 Darion Johnson WA (Mustang Wrestling Club) dec. Franklin Ordonez-Fernandez FL (Southwest Miami High School Wrestling), 5-5
No. 2 Michael Altomer NY (NMU-National Training Center) dec. No. 6 Codei Khawaja MI (Michigan), 14-11
87 kg
No. 1 Wyatt Voelker IA (Panther Wrestling Club RTC) tech fall No. 4 Jarrett Stoner TX (Rockwall Training Center), 13-4 3:09
No. 3 Jack Darrah MO (Missouri) dec. No. 2 Tate Naaktgeboren IA (Big Game Wrestling Club), 9-5
97 kg
No. 1 Sawyer Bartelt FL (Gladiator Wrestling) tech fall No. 5 Asher Ruchti OR (Beaver Dam Wrestling RTC), 9-0 2:34
Joey Braunagel IL (Illinois RTC/Illini WC) dec. No. 6 Damion Schunke SD (Legends of Gold), 10-4
130 kg
No. 1 Aden Attao ID (Suples Wrestling Club) tech fall Soren Pirhoun VA (Virginia), 8-0 2:15
No. 2 Ryan Boersma IL (Tiger Style Wrestling Club) dec. No. 6 Keith Miley AR (Arkansas RTC), 5-3