News
USA Wrestling
International
College
High School & Youth
Women
Grappling
Beach
USAW
USA Wrestling kicks off Giving Tuesday campaign early, building on momentum of historic year
by Stephanie Jezwinski, USA Wrestling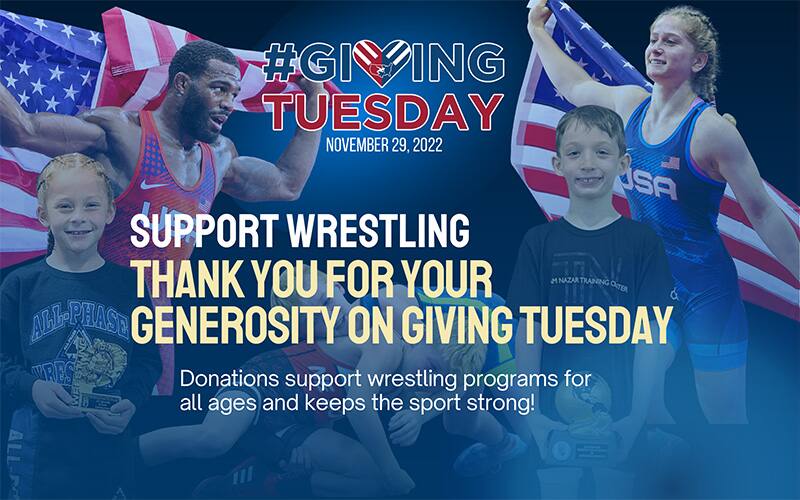 USA Wrestling
announces its
2022 GivingTuesday Campaign
.
GivingTuesday
is an annual celebration of generosity to bring charities, companies and individuals together to rally for their favorite causes.
November 29, 2022
is this year's official GivingTuesday, but we are kicking it off early. You can donate starting today.
We seek to build on the momentum of Team USA's historic performances at the Tokyo Olympic Games and World Championships.
Your support is helping to grow programming at all levels across the USA, which develops strong leadership and character traits among the youth who take part.
Much of the Senior-level success is due to investments being made at the developmental age groups, 5-18 years old. Being funded adequately in both the Senior and developmental age groups is what we are striving for. More funds equate to better results and greater development. That's how you are making an impact!
We are grateful and ask you to
consider an end of the year tax-deductible donation
on
USA Wrestling's GiveDirect page
. All proceeds go to helping USA Wrestling develop and prepare our athletes for international competition and success.
Thank you for your generosity. Your support will continue Team USA's quest for excellence at the Olympic Games and World level!
For questions, contact Stephanie Jezwinski at 719-598-8181 or Sjezwinski@usawrestling.org