News
USA Wrestling
Beach
International
College
High School & Youth
Women
USAW
Seven cool new things at the USMC Beach Nationals in Carolina Beach, N.C., May 20
by Gary Abbott, USA Wrestling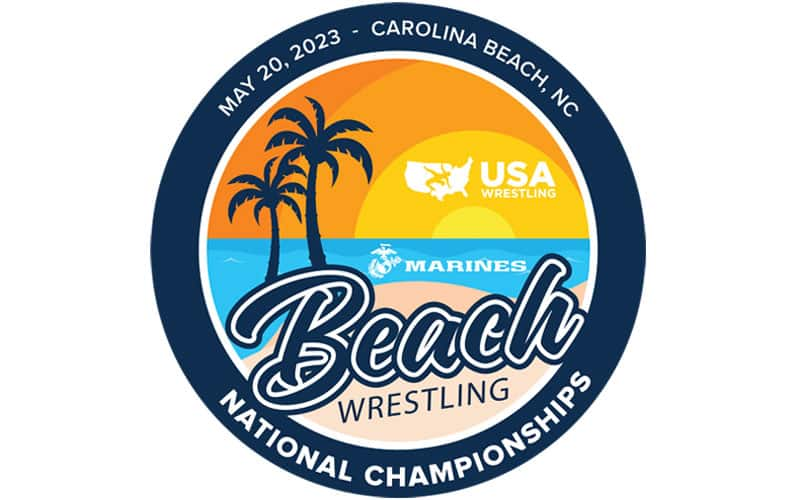 We are a week away from the
2023 U.S. Marine Corps Beach Wrestling National Championships
are held at the popular public beach right next to the boardwalk in Carolina Beach, N.C. on May 20.
Athletes will compete for national titles and All-American honors in 10 age divisions, with berths on U.S. international teams up for grabs at the Senior, U20 and U17 levels.
Anybody who has ever attended a USMC Beach Nationals understands that this a very competitive event held in a fun environment.
Who would not enjoy a great day at the beach, while participating in a great wrestling tournament?
There will be some new cool things going on that we want people to know about before heading to Carolina Beach next weekend.
1. U.S. Marine Corps Coaches Social on May 19
– USA Wrestling is blessed to have a new sponsor for the U.S. Beach Nationals, the United States Marine Corps. As part of its support for the competition, there will be a USMC Coaches Social on Friday, May 19 at the Lazy Pirate Sports Bar and Grill from 7:00 p.m. – 9:00 p.m. There will be U.S. Marines present at the social to interact with coaches and other USA Wrestling members, with some branded product give-aways. The social is being held as part of the optional weigh-ins at the Lazy Pirate, which is traditionally a great kick off to the weekend.
2. Ultimate X International Duals at the Lazy Pirate on May 19
– In addition to the optional weigh-in and the USMC Coaches Social at the Lazy Pirate on Friday May 19, a group of international beach wrestlers from Barbados and Jamaica are coming to Carolina Beach this year. The Ultimate X International Duals, held on the beach volleyball courts at the Lazy Pirate, will feature matches between the international guests and U.S. athletes. It will include bouts for men and women, and could be at a variety of age levels. There will be 2-of-3 series, thus the X reference. Wrestlers, coaches, families and fans can see some great beach wrestling bouts, while enjoy the food and beverages that makes the Lazy Pirate such a fun place for wrestling folks to hang out.
3. Second Chance Challenge Tournament featuring international athletes
– While international athletes are welcome at the U.S. Beach Nationals, they will not be able to compete at the Senior, U20 and U17 levels, because those are World Team Trials events and are for U.S. citizens only. However, a special Second Chance Challenge Tournament will be offered for Senior athletes to get additional matches with our foreign guests. The U20 and U17 athletes may also be able to join in the Second Chance competition.
4. U17 and U20 divisions added as World Team qualifiers
– The United States has sent teams to the U17 and U20 Beach World Championships the last two years. The results from the U.S. Beach Nationals were helpful in putting together teams, but the age divisions at the event (Junior, 16U, Senior) did not match up with the international age levels. By adding the U17 and U20 divisions for men and women, the results will be used to determine the USA team at the World Championships, especially if more than three athletes in one weight class want to go to the Worlds. These divisions were added, so now there are more options for athletes at the events.
5. More options to double-bracket with the increase in age groups
– Adding new age divisions open up opportunities for more wrestlers to compete in more than one tournament. This is because there are some cross-overs between the age divisions. Consider some of these possibilities:
• 16U wrestlers could also compete in the U17 division, and if they are in high school, also the Junior division
• Many U17 wrestlers could also wrestle in the Junior division.
• Junior wrestlers could compete in either the U17 division or the U20 division (depending on their age). Some Junior wrestlers might also be eligible for the Senior division.
• U20 wrestlers could also compete in the Senior division.
• Masters wrestlers could also compete in the Senior division.
• Senior wrestlers could add some international bouts by entering the Second Chance Tournament.
Did we forget any? The great part is that if you did not initially register for more than one division, you can decide to do that at registration and weigh-ins
6. More wrestlers, more rings, more fun
– As the USMC Beach Nationals has continued to grow, the event has needed to expand the number of competition rings on the beach. This year, depending upon turnout, there are plans to have as many as eight beach wrestling rings ready for action on Carolina Beach. Initial plans are for Rings 1 and 2, right in the middle of the beach, to be used for the Senior, U17, U20 and Masters wrestlers, with other age groups assigned to different rings. Of course, there has often been rings assigned for exhibition matches between athletes who seek some additional time in the sand.
7. Beach Nationals is just the start of the expanded Beach Tour of America
– Wrestlers who enjoy Beach Wrestling can compete at the national level in Carolina Beach, then compete in numerous other competitions as part of the Beach Tour of America. Warm weather will be with us for a number of months, at the Beach Tour of America continues to expand to new places around the nation for some good, fun Beach Wrestling. States on the 2023 Tour of America series include Virginia, Tennessee, Iowa, Kentucky, Oregon, Washington, North Dakota, Missouri, Ohio, Mississippi and California. Athletes score points in the Beach Tour of America Series standings. Want more information? Visit
Have we convinced you yet to make plans to come to Carolina Beach? There is still time to organize your travel and to
register for the USMC Beach Nationals.
See you on the Beach.
2023 U.S. MARINE CORPS BEACH WRESTLING NATIONAL CHAMPIONSHIPS

At Carolina Beach, N.C., May 19-20


Event Schedule
Friday, May 19
6:30 p.m. – 8:30 p.m. – Optional registration and weigh-in for all divisions except Senior, U17 and U20 at the Lazy Pirate
7:00 p.m. – 9:00 p.m. – USMC Coaches Social at the Lazy Pirate
7:00 p.m. – 9:00 p.m. - Ultimate X International Duals at the Lazy Pirate
Saturday, May 20
9:00 a.m. – 9:30 a.m. – Senior Men's and Women's, U17 Boys and Girls, U20 Boys and Girls weigh-in at Carolina Beach Boardwalk Stage
9:00 a.m. – 9:30 a.m. – Registration and weigh in for all other divisions at Carolina Beach Boardwalk Stage
11:00 a.m. – conclusion – Beach Wrestling Championships
6:00 p.m. – Post Tournament Social at 811 Harper Ave., Carolina Beach NC 28428