News
USA Wrestling
High School & Youth
Women
USAW
MGW Brawlers edge Wyoming Seminary, 41-38 to win elite division at Ultimate Club Spring Girls Duals
by Gary Abbott, USA Wrestling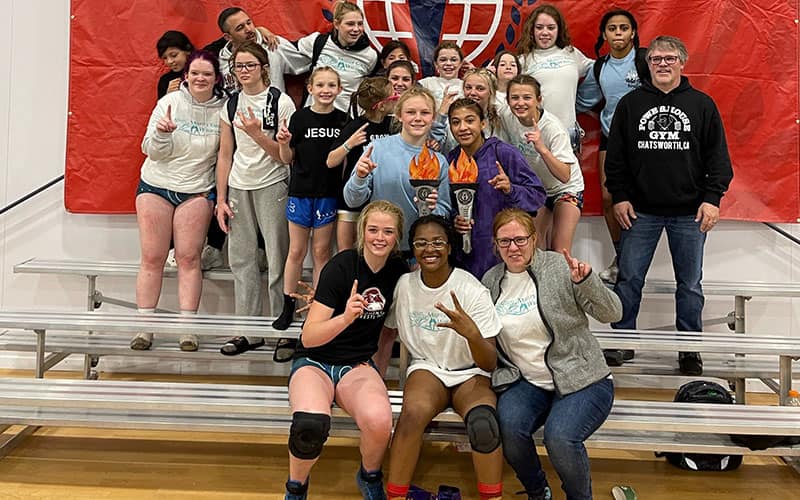 MGW Brawlers, the 2023 Ultimate Club Spring Girls Duals elite champions. Photo courtesy of Curt Krazer.
.
STATE COLLEGE, Pa. – Led by success among the lightest athletes and a strong run among the high school athletes, the
MGW Brawlers
defeated Wyoming Seminary, 41-38 to win the elite division at the Ultimate Club Spring Girls Duals on Sunday. There were 17 nationally ranked high school girls in this championship dual meet.
This event is unique, with opportunity for girls of many ages to wrestle, as the dual meets start at 24 kg and run up to 113 kg.
MGW Brawlers came out with four straight victories in the light weights, including a forfeit, for an 18-0 lead. Winning the early matches contested on the mat were
Muirenn Bagnell
(24 kg),
Mia Emili
(26 kg) and
London Powell
(29 kg).
Wyoming Seminary cam back with four wins of its own, from
Riley Karwowski
(35 kg),
Emma Grimes
(39 kg), No. 29
Jaclyn Bouzakis
(43 kg) and No. 4
Erica Pastoriza
(47 kg). Bouzakis recently earned a spot on the U17 World team, while Pastoriza is a two-time U17 World medalist.
The teams traded wins in the next two matches. No. 26
Julia Horger
of MGW Brawlers won a wild 15-15 match over No. 21 Amelia Murphy of Wyoming Seminary at 49 kg, a key match in the dual meet. No. 10
Clare Booe
of Wyoming Seminary responded with a pin at 54 kg.
The next four victories by MGW Brawlers proved to be the difference in the match. No. 9
Aubre Krazer
of MGW Brawlers defeated 14U national champion Ava Guilmette, 4-0 at 56 kg. No. 5
Taina Fernandez
of MGW Brawlers scored an impressive 10-0 technical fall over No. 3 Virginia Foard at 58 kg. Fernandez won 14U and U15 national titles last week, while Foard was second at the U20 Nationals.
No. 6
Taina McGowan
of MGW Brawlers added a technical fall at 60 kg, then No. 18
Haylie Jaffe
of MGW Brawlers beat No. 13 Isis France by a 10-0 technical fall at 63 kg.
Wyoming Seminary won the final three matches, with pins from No. 1
Valerie Hamilton
at 68 kg and No. 20
Emily Brown
at 113 kg, and a decision by No. 25
Alex Alli
at 77 kg, but it was not enough to close the gap.
Young Guns was dominant in its 61-22 victory for third place. Ranked winners for Young Guns in the dual meet were No. 25 Katie Biscoglia (43 kg), No. 4 Sierra Cheisa (54 kg), No. 16 Alyssa Favara (77 kg) and No. 11 Chloe Hoselton (113 kg), while Virginia Blue was led by No. 22 Charlize Schuler (52 kg) and No. 24 May Cuyler (68 kg).
The MGW Rebels defeated Michigan Revolution Blue, 56-26 to secure fifth place. MGW Rebels were led by ranked stars No. 8 Lexia Schechterly (52 kg), No. 12 Ava Rose (54 kg) and No. 26 Alyssa Mahan (56 kg).
The results of the competition can be found
on FloArena
.
ULTIMATE CLUB SPRING GIRLS DUALS
At State College, Pa., April 22-23

Gold Pool (Places 1-6)
1 MGW Brawlers
2 Wyoming Seminary
3 Young Guns
4 Virginia Blue
5 MGW Rebels
6 Michigan Revolution Blue
1st Place - MGW Brawlers 41, Wyoming Seminary 38
24 kg - Muirenn Bagnell (MGW Brawlers) pin Journey Strittmatter (Wyoming Seminary), 1:00
26 kg - Mia Emili (MGW Brawlers) tech fall Kayleigh Vest (Wyoming Seminary), 10-0 0:47
29 kg - London Powell (MGW Brawlers) tech fall Kelly Zacherl (Wyoming Seminary), 10-0 2:16
32 kg - Abigail Guzzo (MGW Brawlers) won by forfeit
35 kg - Riley Karwowski (Wyoming Seminary) pin Brooke Dixon (MGW Brawlers), 1:52
39 kg - Emma Grimes (Wyoming Seminary) tech fall Natalie Andrade (MGW Brawlers), 10-0 0:59
43 kg – No. 29 Jaclyn Bouzakis (Wyoming Seminary) tech fall Morgan Hyland (MGW Brawlers), 10-0 0:58
47 kg – No. 4 Erica Pastoriza (Wyoming Seminary) pin Juliette Trout (MGW Brawlers), 0:45
49 kg – No. 26 Julia Horger (MGW Brawlers) dec. No. 21 Amelia Murphy (Wyoming Seminary), 15-15
54 kg – No. 10 Clare Booe (Wyoming Seminary) pin Jenny Gautreau (MGW Brawlers), 1:21
56 kg – No. 9 Aubre Krazer (MGW Brawlers) dec. Ava Guilmette (Wyoming Seminary), 4-0
58 kg – No. 5 Taina Fernandez (MGW Brawlers) tech fall No. 3 Virginia Foard (Wyoming Seminary), 10-0 2:49
60 kg – No. 6 Taina Mcgowan (MGW Brawlers) tech fall Savannah Arroyo (Wyoming Seminary), 11-1 1:47
63 kg – No. 18 Haylie Jaffe (MGW Brawlers) tech fall No. 13 Isis France (Wyoming Seminary), 10-0 2:46
68 kg – No. 1 Valerie Hamilton (Wyoming Seminary) pin No. 25 Gabby Reid (MGW Brawlers), 1:15
77 kg – No. 25 Alex Alli (Wyoming Seminary) dec. No. 28 Kaylie Hall (MGW Brawlers), 5-0
113 kg – No. 20 Emily Brown (Wyoming Seminary) pin Lily Decker (MGW Brawlers), 4-0 0:48
3rd Place - Young Guns 61, Virginia Blue 22
24 kg - Sarah Dickman (Young Guns) pin Brook Rankin (Virginia Blue), 6-0 1:24
26 kg - Marley Dixon (Young Guns) tech fall Piper Durant (Virginia Blue), 10-0 0:52
29 kg - Addison Rankin (Virginia Blue) dec. Aubrey Kokinda (Young Guns), 10-9
32 kg - Savannah Phelan (Virginia Blue) tech fall Aunnika Imler (Young Guns), 10-0 1:40
35 kg - Brooklyn Henry (Young Guns) tech fall Lottie Durant (Virginia Blue), 10-0 1:40
39 kg - Isla Silva (Young Guns) pin Amber Stoneman (Virginia Blue), 1:24
43 kg – No. 25 Katie Biscoglia (Young Guns) dec. Sydney Branch (Virginia Blue), 11-4
47 kg - Alexis Lauta (Young Guns) tech fall Madelyn Little (Virginia Blue), 10-0 1:30
49 kg - Ana Malovich (Young Guns) pin Sarissa Tucker (Virginia Blue), 1:49
52 kg – No. 22 Charlize Shuler (Virginia Blue) dec. Lane Fordyce (Young Guns), 8-4
54 kg – No. 4 Sierra Cheisa (Young Guns) tech fall Linda Goodwin (Virginia Blue), 11-1 3:00
56 kg - Abigail Meyrer (Young Guns) pin Alexis Stroud (Virginia Blue), 5:19
58 kg - Joelle Scott (Young Guns) pin Sophia Slaughter (Virginia Blue), 2:48
60 kg - Kassey Daugherty (Virginia Blue) by forfiet
63 kg - Josephine Dollman (Young Guns) pin Alyssa Landrum (Virginia Blue), 2:54
68 kg – No. 24 May Cuyler (Virginia Blue) pin Grace O`korn (Young Guns), 10-0 2:53
77 kg – No. 16 Alyssa Favara (Young Guns) by forfeit
113 kg -No. 11 Chloe Hoselton (Young Guns) pin Makayla Allen (Virginia Blue), 1:32
5th Place - MGW Rebels 56, Michigan Revolution Blue 26
24 kg - Maya Grimes (MGW Rebels) by forfeit
26 kg - Nour Almohri (Michigan Rev Blue) tech fall Allison Krantz (MGW Rebels), 10-0 5:45
29 kg - Aria Bushaw (MGW Rebels) by forfeit
32 kg - Mckenzie Astorino (MGW Rebels) tech fall Averie Griffin (Michigan Rev Blue), 14-4 1:35
35 kg - Payton George (MGW Rebels) by forfeit
39 kg - Layla Namerow (MGW Rebels) pin Harper Kalo (Michigan Rev Blue), 1:57
43 kg - Payton Hinkle (MGW Rebels) pin Haley Stenz (Michigan Rev Blue), 1:21
47 kg - Mackenzie Burger (Michigan Rev Blue) pin Olivia Boyle (MGW Rebels), 1:36
49 kg - Lillian Rumsey (MGW Rebels) tech fall Emily Alaimo (Michigan Rev Blue), 10-0 2:29
52 kg – No. 8 Lexia Schechterly (MGW Rebels) tech fall Dannielle Christian Sterling (Michigan Rev Blue), 10-0 2:27
54 kg – No. 12 Ava Rose (MGW Rebels) tech fall Savannah Winkleblack (Michigan Rev Blue), 10-0 2:14
56 kg – No. 26 Alyssa Mahan (MGW Rebels) tech fall Isabella Cepak (Michigan Rev Blue), 10-0 2:47
58 kg - Julie Ortiz (MGW Rebels) dec. Cambrie Lawrence (Michigan Rev Blue), 8-2
60 kg - Angelina Pena (Michigan Rev Blue) pin Olivia Palmer (MGW Rebels), 2:12
63 kg - Alahna Morris (MGW Rebels) pin Kennedi Wahmhoff (Michigan Rev Blue), 2:32
68 kg - Jameson Strickland (MGW Rebels) dec. Mackenna Webster (Michigan Rev Blue), 7-2
77 kg – No. 12 Maddie Hayden (Michigan Rev Blue) tech fall Sierra Ripka Glen (MGW Rebels), 10-0 2:41
113 kg - Lillianna Garcia (Michigan Rev Blue) pin Elizabeth Davidson (MGW Rebels), 2:41
Silver Pool (places 7-12)
7th - Razor Red
8th - Jersey United Pink
9th - Jersey United Purple
10th - MGW Vanquishers
11th - Buckeye Girls National Team
12th - Team Rhode Island
Silver Pool Duals
Finals - Razor Red 50, Jersey United Pink 35
3rd Place - Jersey United Purple 52, MGW Vanquishers 31
5th Place - Buckey Girls National Team 51, Team Rhode Island 29
Semifinals - Razor Red 64, MGW Vanquishers 13
Semifinals - Jersey United Pink 45, Jersey United Purple 39
Quarterfinals - MGW Vanquishers 54, Team Rhode Island 29
Quarterfinals - Jersey United Purple 44, Buckeye Girls National Team 40