News
USA Wrestling
International
USAW
U.S. Open Masters Nationals preview & entries: 2022 World champions Yi, Bellamy, Pine, Anderson among top stars
by Gary Abbott, USA Wrestling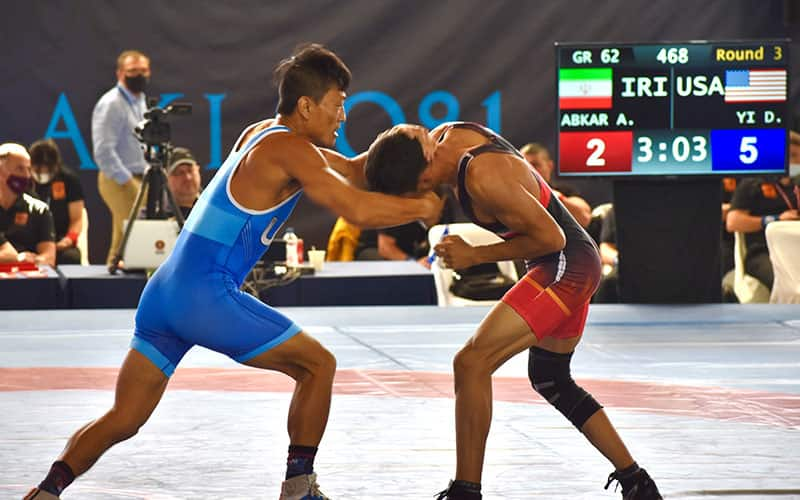 David Yi (USA) competing at the Veterans World Championships. USA Wrestling file photo
.
Adult wrestlers from across the United States will compete in the Olympic styles of freestyle and Greco-Roman at the
2023 Masters National Championships
at the South Point Hotel and Arena in Las Vegas, Nev.
The Masters Greco-Roman Nationals will be held Wednesday, April 26 and the Masters Freestyle Nationals will be held Thursday, April 27. It is one of the major events within the
2023 Pritchard Companies U.S. Open, presented by FloWrestling
.
Seven 2022 Masters double champions, winners in both the freestyle and Greco-Roman divisions, are registered to return. They include (with current age group and weight class):
James Medeiros
of California (100 kg, Div. B),
Ben VomBaur
of BCWC (62 kg, Div. C),
David Yi
of Mad Cow WC (62 kg, Div. C),
Jeff Bartkowiak
of Arizona (70 kg, Div. D),
Kevin Pine
of Grays Harbor WC (88 kg, Div. D),
Bruce Moe
of Bison WC (70 kg, Div. E),
Charles Jones
of Nevada (100 kg, Div. E),
Steve Contarino
of Florida (88 kg, Div. F) and
Peter Haag
of the Chicago WC (78 kg, Div. F).
Jones, an NCAA champion for Purdue, made his Masters debut last year, and has registered to compete again.
This event is not a qualifier for the U.S. team which will compete in the 2023 Veterans World Championships. However, many of the athletes in the 2023 Masters National were members of last year's Veterans World Team, or have competed in previous Veterans World Championships.
Yi won the 2022 Veterans World Championships in both styles, while Pine won a 2022 Veterans World gold medal in freestyle. Two other 2022 Veterans World champions are registered to compete in Las Vegas, Veterans World Greco-Roman champions
Octavius Bellamy
of the Chicago WC (88 kg, Div. C) and
Jeff Anderson
of the Chicago WC (100 kg, Div. D).
The United States is a world power in Veterans wrestling, having won 37 medals at Veterans World Championships last year and winning the team title in both freestyle and Greco-Roman.
Among the past Veterans World champion wrestlers registered to compete at the Masters Nationals are
Shirzad Ahmadi
of Connecticut (62 kg, Div. F),
Brad Swartz
of Washington (78 kg, Div. E),
Jon Banko
of All-American WC (78 kg, Div. D),
Rob Prebish
of the Richmond Wrestling Club (62 kg, Div. D) and
Petros Petrosyan
of Orange County Grappling (88 kg, Div. E).
As of April 22, there were 388 entries in the Masters Nationals in Las Vegas. Traditionally, international wrestlers have been welcome at this event, and there is a team from Canada currently registered to compete.
It seems every year there are a few prominent wrestlers from the past who enter and give Masters wrestling a try. This year, 1988 Olympian and Penn State alum
Ken Chertow
is registered in both styles in Div. D at 78 kg. Another is former Senior National Team member
Eric Mittlestead
at 130 kg in Div. E.
2023 Masters Nationals entries (as of April 22)
MASTERS NATIONAL CHAMPIONSHIPS
At Las Vegas, Nev., April 28, 2022

Event Schedule
Wednesday, April 26
10:00 a.m. – 2:30 p.m. – Preliminaries to Medal Matches
4:00 p.m. – 5:30 p.m. - Preliminaries to Medal Matches (if necessary)
Thursday, April 27
10:00 a.m. – 3:00 p.m. – Preliminaries
6:00 p.m. – 8:30 p.m. – Preliminaries to Medal Matches
2022 Masters Freestyle champions
Div. A
58 kg- Foster Griffin (Texas)
62 kg -Tyler Thompson (Kobra Kai Training)
70 kg - Daniel Gaylor (Manu Wrestling Club)
78 kg - Cedric Gibson (Sarbacker Wrestling Academy)
88 kg- Cory Graham (LOG)
100 kg - Logan Barrett (Minnesota)
130 kg - Nigel Burnett (CHI)
Div. B
58 kg- Daniel Coyne (IN)
62 kg- Ben VomBaur (BCWC)
70 kg - Mark Dickman (American Wrestling Club)
78 kg - Matthew Reinke (MWC Wrestling Academy)
88 kg - Donovan Mcmahill (Western Colorado Wrestling Club)
100 kg - James Medeiros (California)
130 kg- Daniel Erekson (AAWC)
Div. C
58 kg- Carson Gainey (MDCW)
62 kg - David Yi CA (Mad Cow Wrestling Club)
70 kg - Glenn Garrison (Western Colorado Wrestling Club)
78 kg - Adrian Garcia (Mad Cow Wrestling Club)
88 kg - Gerald Harris (Hurricane Wrestling Academy)
100 kg - Joshua Nacey (Mustang Wrestling Club)
130 kg - Gabe Beauperthuy (CMNT)
Div. D
58 kg- Bryan Spielvogel (Stamford Jr. Wrestling Club, Inc.)
62 kg- Jeff Bartkowiak (AZ)
70 kg - Chad Otterness (Mat Rats Wrestling Club)
78 kg - Jon Banko (All-American Wrestling Club)
88 kg - Kevin Pine (Grays Harbor Wrestling Club)
100 kg - Jeff Anderson (Chicago Wrestling Club)
130 kg - Tyrone Abercrombie (AZ)
Div. E
58 kg- Zhora Hovhannisyan (CA)
62 kg- Mark LeVasseur (STRM)
70 kg- Bruce Moe (BISN)
78 kg - Brad Swartz (Fitness Quest Wrestling Club)
88 kg - Petros Petrosyan (Los Alamitos WC)
130 kg- Charles Jones (NV)
Div. F
62 kg- Shirzad Ahmadi (CT)
70 kg - Gaetano DiZebba (MD)
78 kg - Peter Haag (CHI)
88 kg- Steve Contarino (FL)
130 kg - Martin Rowley (OR)
2022 Masters Greco-Roman champions
Division A
58 kg- Randy Jones (Las Vegas WC)
62 kg- Taylor Ticknor (Stars WC)
70 kg- Jared Ragan (Carbondale WC)
78 kg- Charles McLaughlin (Valhalla Wrestling Club)
88 kg- Michael Lopez (Elite Panthers Wrestling Club)
100 kg- Kyle Deberry (Arizona)
130 kg- Ryan Bascue (Spartan Mat Club)
Division B
58 kg- Daniel Coyne (Indiana)
62 kg- Ben VomBaur (Bear Cave Wrestling Club)
70 kg- Jordin Humphrey (Titan Mercury Wrestling Club)
78 kg- Andrei Stashonak (New York)
88 kg- Michael Burke (Yorktown Wrestling Club)
100 kg- James Medeiros CA (California)
130 kg- James Baker (Minnesota)
Division C
58 kg- Jesse West (Mat Pack Wrestling Club)
62 kg- David Yi (Mad Cow Wrestling Club)
70 kg- Glenn Garrison (Western Colorado Wrestling Club)
78 kg- Joseph Uccellini (Curby 3 Style Wrestling Club)
88 kg- Gerald Harris (Hurricane Wrestling Academy)
100 kg- William Carr (Minnesota Storm)
130 kg- Travis Wiuff (Minnesota)
Division D
58 kg- Dan Verr (Chicago WC)
62 kg- Jeff Bartkowiak (Arizona)
70 kg- Steve Horton (NB Elite Wrestling Club)
78 kg- Ernesto Alarcon (Paradigm Wrestling)
88 kg- Kevin Pine (Las Vegas Wrestling Club)
100 kg- Gelu Bors (Las Vegas Wrestling Club)
130 kg- Tyrone Abercrombie (Arizona)
Division E
58 kg- Daniel Cota (Nor Cal Wrestling Academy)
62 kg- Mark LeVasseur (Minnesota Storm)
70 kg- Bruce Moe (Bison WC)
78 kg- William Newton (California)
88 kg- Kevin Kares (Las Vegas Wrestling Club)
100 kg- Joseph Cattan (Derby City Legends, LLC)
130 kg- Charles Jones (Nevada)
Division F
70 kg- Steve Ferguson (Nebraska)
78 kg- Peter Haag (Chicago Wrestling Club)
88 kg- Steve Contarino (Florida)
130 kg- Jack Schwartz (California)