News
USA Wrestling
High School & Youth
USAW
Age-group National champions crowned at 8U, 10U and 12U division at USMC Women's Nationals
by Gary Abbott, USA Wrestling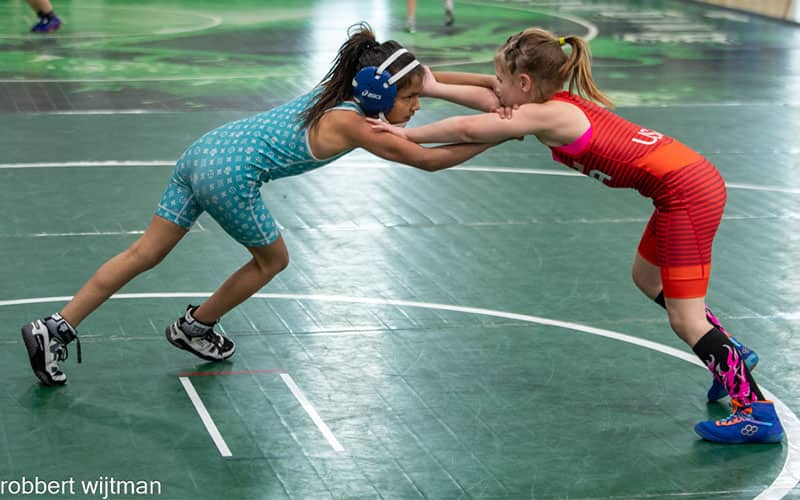 Girls action image by Robbert Wijtman, CSC Photography
SPOKANE, Wash. – Champions were crowned in three youth wrestling divisions at the 2023 USMC Women's Nationals on Sunday, 8U, 10U and 12U.
There were no repeat champions from last year's event, which was held in Fort Worth, Texas.
There were champions from 12 different states: Alaska, Arizona, California, Idaho, Iowa, Montana, Nevada, New Jersey, Oregon, Texas, Utah, Washington.
2023 USMC WOMEN'S NATIONALS
At Spokane, Wash., April 16

8U Girls
50
1st Place - Kleonna Block of MT
2nd Place - Isabelle Harvey of ID
3rd Place - Davina Chavez of NV
Kleonna Block (MT) won by fall over Davina Chavez (NV) (Fall 1:36)
Isabelle Harvey (ID) won by fall over Davina Chavez (NV) (Fall 3:40)
Kleonna Block (MT) won by tech fall over Isabelle Harvey (ID) (TF 13-0)
55-60
1st Place - Lilly Rollans of NV
2nd Place - Sadie Sweat of MT
3rd Place - Adeliah Gaerlan of WA
Sadie Sweat (MT) won by tech fall over Adeliah Gaerlan (WA) (TF 10-0)
Lilly Rollans (NV) won by fall over Sadie Sweat (MT) (Fall 1:47)
Lilly Rollans (NV) won by fall over Adeliah Gaerlan (WA) (Fall 0:07)
70
1st Place - Carly Cogger of ID
2nd Place - Emma Yamamoto of HI
3rd Place - Kamila Morales of NV
Carly Cogger (ID) won by decision over Kamila Morales (NV) (Dec 5-1)
Emma Yamamoto (HI) won by decision over Kamila Morales (NV) (Dec 6-1)
Carly Cogger (ID) won by fall over Emma Yamamoto (HI) (Fall 2:00)
10U Girls
50
1st Place - Boheme Parr-Coffin of WA
2nd Place - Kinley Leonard of ID
3rd Place - Payton Soto of WA
4th Place - Neala Block of MT
Payton Soto (WA) won by tech fall over Neala Block (MT) (TF 10-0)
Boheme Parr-Coffin (WA) won by decision over Kinley Leonard (ID) (Dec 10-3)
Kinley Leonard (ID) won by tech fall over Payton Soto (WA) (TF 10-0)
Boheme Parr-Coffin (WA) won by tech fall over Neala Block (MT) (TF 10-0)
Boheme Parr-Coffin (WA) won by tech fall over Payton Soto (WA) (TF 14-3)
Kinley Leonard (ID) won by tech fall over Neala Block (MT) (TF 10-0)
55
1st Place Match - Isabella Graham (AK) won by decision over Savina Burgo (CA) (Dec 9-8)
3rd Place Match - Hartleigh Block (MT) won by fall over Emma Schnell (CO) (Fall 0:24)
5th Place Match - Haidyn Williams (OR) won by tech fall over Madison Betterman (CO) (TF 11-0)
60
1st Place - Maddison Brown of MT
2nd Place - Makenzi Boss of NV
3rd Place - Elizabeth Agajanian of IL
4th Place - Rion Nelson of AZ
Makenzi Boss (NV) won by tech fall over Elizabeth Agajanian (IL) (TF 10-0)
Maddison Brown (MT) won by decision over Rion Nelson (AZ) (Dec 14-6)
Maddison Brown (MT) won by tech fall over Elizabeth Agajanian (IL) (TF 10-0)
Makenzi Boss (NV) won by decision over Rion Nelson (AZ) (Dec 12-6)
Elizabeth Agajanian (IL) won by decision over Rion Nelson (AZ) (Dec 6-6)
Maddison Brown (MT) won by decision over Makenzi Boss (NV) (Dec 12-10)
65
1st Place - Anaya Patacsil of WA
2nd Place - Elionna Flanigan of IL
3rd Place - Penelope Humphrey of AK
Anaya Patacsil (WA) won by tech fall over Elionna Flanigan (IL) (TF 12-2)
Elionna Flanigan (IL) won by fall over Penelope Humphrey (AK) (Fall 0:53)
Anaya Patacsil (WA) won by tech fall over Penelope Humphrey (AK) (TF 12-0)
70
1st Place - Kynlee Douglas of UT
2nd Place - Tasi Boots of OR
3rd Place - Elia Torres of WA
4th Place - Daisy Miller of AK
5th Place - Harper Greer of CO
Kynlee Douglas (UT) won by fall over Tasi Boots (OR) (Fall 0:27)
Daisy Miller (AK) won by tech fall over Harper Greer (CO) (TF 10-0)
Elia Torres (WA) won by tech fall over Harper Greer (CO) (TF 10-0)
Kynlee Douglas (UT) won by fall over Daisy Miller (AK) (Fall 0:34)
Elia Torres (WA) won by decision over Daisy Miller (AK) (Dec 8-5)
Tasi Boots (OR) won by tech fall over Harper Greer (CO) (TF 10-0)
Tasi Boots (OR) won by fall over Elia Torres (WA) (Fall 3:35)
Kynlee Douglas (UT) won by tech fall over Harper Greer (CO) (TF 10-0)
Kynlee Douglas (UT) won by tech fall over Elia Torres (WA) (TF 10-0)
Tasi Boots (OR) won by tech fall over Daisy Miller (AK) (TF 10-0)
75
1st Place - Lauren Lopez of CA
2nd Place - Alexi Carrasco of IL
3rd Place - Ali Plato of ID
Lauren Lopez (CA) won by fall over Alexi Carrasco (IL) (Fall 0:24)
Alexi Carrasco (IL) won by fall over Ali Plato (ID) (Fall 0:30)
Lauren Lopez (CA) won by fall over Ali Plato (ID) (Fall 0:28)
80
1st Place - Hope Johnson of OR
2nd Place - Chancee Hatch of UT
Hope Johnson (OR) won by fall over Chancee Hatch (UT) (Fall 1:51)
Hope Johnson (OR) won by fall over Chancee Hatch (UT) (Fall 1:08)
90-96
1st Place - Venice Perez of WA
2nd Place - Elianah Ruiz of NV
3rd Place - Olivia Ontiveros of NV
4th Place - Hannah Hocker of NV
Elianah Ruiz (NV) won by fall over Hannah Hocker (NV) (Fall 0:18)
Venice Perez (WA) won by tech fall over Olivia Ontiveros (NV) (TF 12-2)
Venice Perez (WA) won by fall over Hannah Hocker (NV) (Fall 0:48)
Elianah Ruiz (NV) won by decision over Olivia Ontiveros (NV) (Dec 8-7)
Olivia Ontiveros (NV) won by fall over Hannah Hocker (NV) (Fall 3:34)
Venice Perez (WA) won by fall over Elianah Ruiz (NV) (Fall 1:19)
12U Girls
65
1st Place Match - Jasmine Buck (AZ) won by fall over Jaelyn Anderson (NE) (Fall 3:14)
3rd Place Match - Regan Kinneman (AZ) won by tech fall over Julianna LaSavage (WI) (TF 18-5)
5th Place Match - Faylinn Smith (WA) won by fall over Sophia Valdez (CO) (Fall 0:31)
7th Place Match - Kelly Zacherl (PA) won by fall over Vayda Chavez (NV) (Fall 0:52)
70
1st Place - Abigail Peterson of IA
2nd Place - Hazel Rodarte of WA
3rd Place - Ella Heyne of MT
Hazel Rodarte (WA) won by tech fall over Ella Heyne (MT) (TF 10-0)
Abigail Peterson (IA) won by tech fall over Ella Heyne (MT) (TF 10-0)
Abigail Peterson (IA) won by decision over Hazel Rodarte (WA) (Dec 6-0)
75
1st - Olivia Hernandez (OR) won by fall over Vanessa Torres (WA) (Fall 1:22)
3rd - Paloma Parr-Coffin (WA) won by decision over Mackenzie Dolan (ID) (Dec 5-2)
5th - Samantha Jordan (NV) won by fall over Piper Weaver (MO) (Fall 2:44)
7th - Brielle Childs (UT) won by tech fall over Hailey Henry (OR) (TF 10-0)
80
1st - Mylah Henebry (ID) won by fall over Briella Portrey (WA) (Fall 1:41)
3rd - Kamryn Brumley (CO) won by decision over Hadley McCleery (WA) (Dec 9-8)
5th - Olivia Tinnell (NV) won by tech fall over Charlotte Zimmerer (CO) (TF 13-2)
7th - Addison Neufeld (WA)
85
1st - Bella Manno (NJ) won by tech fall over Sophia Lazaro (CA) (TF 10-0)
3rd - Maya Rodriguez (AZ) won by decision over Marina Wince (CO) (Dec 12-8)
5th - Carleigh Clark (OK) won by tech fall over Dalila Tovar (WA) (TF 16-6)
7th - Julieanna Imke (WA) won by decision over Micaiah Cortez (CA) (Dec 5-1)
90
1st - Payten Van Pelt (MT) won by tech fall over Arianna Antillon (CO) (TF 10-0)
3rd - Bella Yamamoto (HI) won by decision over Daniella Vazquez (CA) (Dec 4-2)
5th - Sophia Garza (WA) won by fall over Esabella Arvelo (AK) (Fall 2:21)
7th - Emily Sahlin (WA) won by tech fall over Kylie OBrien (WA) (TF 10-0)
95
1st - Leilani Nanquilada (WA) won by fall over Sage Wierzbicki (MT) (Fall 0:46)
3rd - Adelina Hernandez (CA) won by decision over Harlin Swartsel (WA) (Dec 11-2)
5th - Kailey Graham (AK) won by fall over Bella Hoff (WA) (Fall 2:35)
100
1st - Zaylyn Woods (TX) won by injury default over Kaydence Golding (ND) (Inj. 1:28)
3rd - Kara-Lynn Dover (GA) won by tech fall over Jazlyn Hartle (WA) (TF 10-0)
5th - Breonna Apodaca (ID) won by fall over Venyss Steingruber (MT) (Fall 2:59)
7th - Sarah Barajas (NV) won by fall over Lily Miller (AK) (Fall 1:58)
110
1st - Hailey Worden (NV) won by decision over KiMorah Cathey (OK) (Dec 11-4)
3rd - Mercedes Carrasco (IL) won by fall over Zoe Greer (CO) (Fall 0:10)
5th - Thaliyah Nimmers (IL) won by tech fall over Kira Wicklund (WA) (TF 10-0)
7th - Peyton Hall (WA)
120
1st Place - Taylynn Stratton of OR
2nd Place - Freya Schwabenbauer of WA
Taylynn Stratton (OR) won by fall over Freya Schwabenbauer (WA) (Fall 1:21)
Taylynn Stratton (OR) won by fall over Freya Schwabenbauer (WA) (Fall 2:00)