News
USA Wrestling
Women
High School & Youth
USAW
Returning U17 champion Robinson, plus four 2022 U15 champs reach finals at USMC Women's U17 Nationals in Spokane
by Gary Abbott, USA Wrestling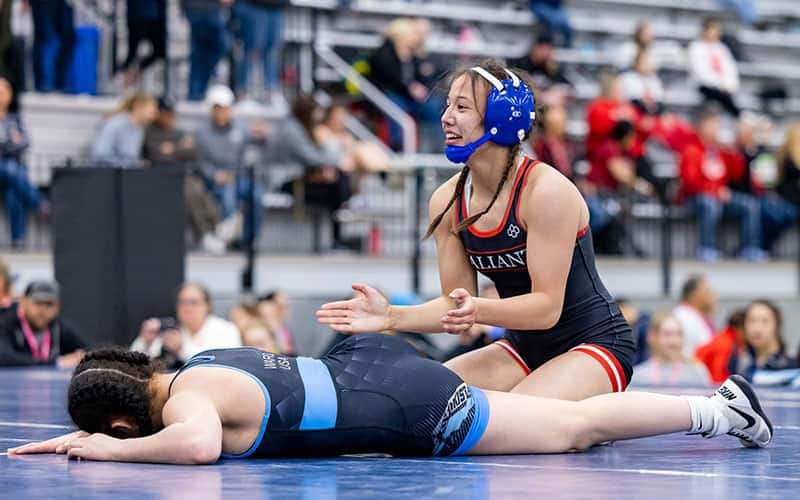 Karlee Brooks (AZ) celebrates her 53 kg semifinals win over Ava Ward (MO). Photo by AJ Grieves, Mat Focus.
SPOKANE, Wash. – Many of the nation's best high school girls wrestlers won their semifinals matches and have reached the championship series at the
USMC Women's U17 Nationals
at The Podium in Spokane, Wash.,
Semifinal winners earned a place in Saturday's best-of-three championship series, which determines who will represent the United States at the U17 World Championships in Istanbul, Turkey, July 31 – August 6.
Among the wrestlers reaching the U17 finals was returning champion
Jasmine Robinson of Texas
(69 kg).
Robinson, ranked No. 2 in the National High School rankings, scored a 12-0 technical fall over No. 14 Millie Azlin of Oklahoma, and will face No. 10 ranked Sarah Henckel of Connecticut in the finals. Henckel was a 2022 U15 Nationals champion.
Two athletes who are ranked No. 1 in the nation in high school in their weight class advanced to the finals,
Morgan Turner
of Illinois at 46 kg and
Cadence Diduch
of Illinois at 61 kg.
Turner will face No. 7 Katey Valdez of Colorado in the finals. Turner was a U15 nationals champion last year.
Diduch defeated No. 2 ranked Lauren Walton of Kentucky in the semifinals in a 12-1 technical fall, and draws No. 18 Haylie Jaffe of Pennsylvania in the finals.
Along with Turner and Henckel, two other 2022 U15 Nationals champions reached the 2023 U17 National finals:
Jaclyn Bouzakis
of Pennsylvania (40 kg) and I
sabella Marie Gonzales
of California (53 kg).
Gonzales, who is ranked No. 2 nationally, will face No. 5 Karlee Brooks of Arizona in the finals. Brooks won a highly anticipated semifinals, securing an 11-0 technical fall over No. 3 Ava Ward of Missouri.
Bouzakis went 3-0 in her round robin, and needs one more win to secure the title on Saturday.
Another high-level semifinals came at 57 kg, when No. 2 nationally ranked Everest Leydecker of Arizona scored a 10-0 technical fall over No. 3 Persaeus Gomez of Colorado. Leydecker faces No. 5 ranked Carley Ceshker of Wisconsin in the finals.
The 65 kg bracket was blown to bits in the semifinals. No. 25 ranked May Prado of Georgia upset No. 2 Sydney Perry of Illinois, 12-5. In the other semifinals, unranked freshman Belicia Manuel of Michigan upset No. 3 Skylar Little Soldier of Minnesota, 10-2.
The other finals pairings, with their national high school rankings, include No. 2 Caley Graber of Minnesota against No. 6 Rianne Murphy of Indiana at 46 kg, plus No. 6 Heather Crull of Indiana against No. 20 Harlee Hiller of Illinois at 49 kg
as well as No. 2 Piper Fowler of Tennessee against No. 3 Mishell Rebisch of Michigan at 73 kg
.
USMC U17 WOMEN'S NATIONALS

At Spokane, Wash., April 14


Championship finals pairings

(with national high school rankings)
43 kg - No. 1 Morgan Turner (IL) vs. No. 7 Katey Valdez (CO)
46 kg - No. 2 Caley Graber (MN) vs. No. 6 Rianne Murphy (IN)
49 kg - No. 6 Heather Crull (IN) vs. No. 20 Harlee Hiller (IL)
53 kg - No. 2 Isabella Marie Gonzales (CA) vs. No. 5 Karlee Brooks (AZ)
57 kg - No 5 Carley Ceshker (WI) vs. No. 2 Everest Leydecker (AZ)
61 kg - No. 18 Haylie Jaffe (PA) vs. No. 1 Cadence Diduch (IL)
65 kg - No. 25 May Prado (GA) vs. Belicia Manuel (MI)
69 kg - No. 2 Jasmine Robinson (TX) vs. No. 10 Sarah Henckel (CT)
73 kg - No. 2 Piper Fowler (TN) vs. No. 3 Mishell Rebisch (MI)
U17 Semifinals results

(with national high school ranking
)
40 kg
Round Robin (so far)
Francesca Gusfa (NJ) won by injury default over Annalise Maralit (SC) Inj. 0:49
Abigail Mendoza (TX) won by decision over Sophie Booe (Tea Titans) Dec 13-9
Jaclyn Bouzakis (PA) won by fall over Abigail Mendoza (TX) Fall 0:29
Sophie Booe (Tea Titans) won by forfeit over Annalise Maralit (SC) FF
Jaclyn Bouzakis (PA) won by tech fall over Sophie Booe (Tea Titans) TF 10-0
Francesca Gusfa (NJ) won by tech fall over Abigail Mendoza (TX) TF 10-0
Jaclyn Bouzakis (PA) won by fall over Francesca Gusfa (NJ) Fall 2:39
Abigail Mendoza (TX) won by forfeit over Annalise Maralit (SC) FF
43 kg
No. 1 Morgan Turner (IL) won by fall over No. 25 Katie Biscoglia (IA) 1:34
No. 7 Katey Valdez (CO) won by decision over Kendall Moe (IN) 5-2
46 kg
No. 2 Caley Graber (MN) won by decision over Nakayla Dawson (MI) 8-2
No. 6 Rianne Murphy (IN) won by decision over Charlie Wylie (NJ) 8-2
49 kg
No. 6 Heather Crull (IN) won by tech fall over No. 9 Libby Roberts (WA) 10-0
No. 20 Harlee Hiller (IL) won by decision over Kayla Batres (CT) 11-3
53 kg
No. 2 Isabella Marie Gonzales (CA) won by decision over No. 8 Angelina Vargas (MO) 10-5
No. 5 Karlee Brooks (AZ) won by tech fall over No. 3 Ava Ward (MO) 11-0
57 kg
No 5 Carley Ceshker (WI) won by fall over No. 18 Samantha Sachs (CA) 2:26
No. 2 Everest Leydecker (AZ) won by tech fall over No. 3 Persaeus Gomez (CO) 10-0
61 kg
No. 18 Haylie Jaffe (PA) won by decision over No. 6 Alicen Dillard (TX) Dec 8-1
No. 1 Cadence Diduch (IL) won by tech fall over No. 2 Lauren Walton (KY) TF 12-1
65 kg
No. 25 May Prado (GA) won by decision over No. 2 Sydney Perry (IL) 12-5
Belicia Manuel (MI) won by decision over No. 3 Skylar Little Soldier (MN) 10-2
69 kg
No. 2 Jasmine Robinson (TX) won by tech fall over No. 14 Millie Azlin (OK) TF 12-0
No. 10 Sarah Henckel (CT) won by tech fall over Jahzara O`Neil (AK) TF 10-0
73 kg
No. 2 Piper Fowler (TN) inj. dft. Emma Villa (WA), 3:26
No. 3 Mishell Rebisch (MI) won by decision over No. 8 Genevieve An (GA), 11-3