News
USA Wrestling
High School & Youth
USAW
Journeymen World Classic, a great international event for boys, has spots available, April 8 in Schenectady, N.Y.
by Gary Abbott, USA Wrestling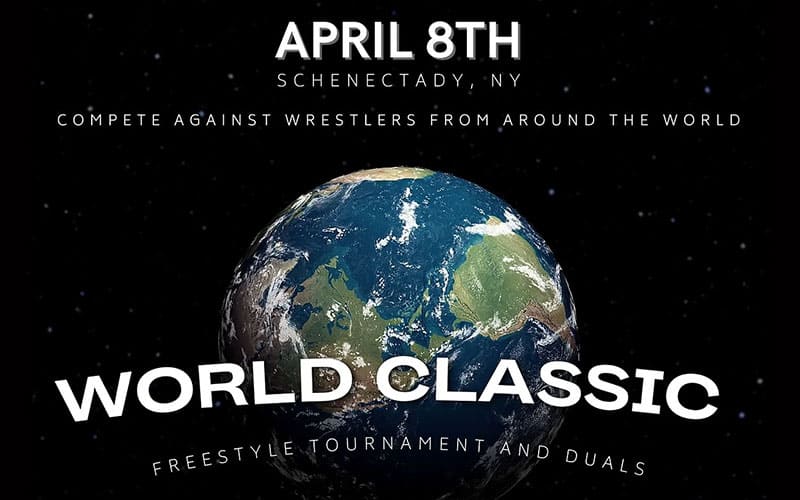 The
2023 Journeymen World Classic
, set for Schenectady, N.Y., April 8, is once again shaping up as a great international competition for Junior and Cadet boys in freestyle.
This unique event, which uses a round-robin format, features many top U.S. athletes and numerous foreign competitors. There are spots available to a limited number of talented wrestlers who wish to challenge themselves.
The competition will be held at the
Union College Fieldhouse in Schenectady, N.Y
.
International competitors from the following nations are ready to battle against American boys: Armenia, Finland, France, Georgia, Italy, Kazakhstan, Kyrgyzstan, New Zealand, Peru and Uzbekistan
For the U.S. boys and the foreign boys, there is a variety of talent levels, from World and Continental medalists as well as those with fewer achievements and less experience. Athletes will be placed with competitors with like skill levels.
Wrestlers rarely get an opportunity to compete against international competitors, and all of these foreign athletes are coming here to the USA to compete against you. This event will get you ready for the major national tournaments the rest of the spring and summer, especially for those who intend to try out for a U.S. age-group World Team or come home with hardware from Fargo.
Spots are still available, but you should immediately email Frank@journeymenwrestling.com.
Even in a difficult time for international travel, large delegations from Armenia, Kazakhstan and Uzbekistan were able to get visa to compete against U.S. athletes.
A sample of some of the international stars expected to compete
• Ramzik Yepremyan (Armenia), U17 World bronze medalist, 182 lbs.
• Bilol Sharip Uulu (Kyrgyzstan), U17 World silver medalist, 138 lbs.
• Nurdanat AItanov (Kazakhstan), U17 World bronze medalist, 126 lbs.
• Dachi Papianashvili (Georgia), U15 European champion, 220 lbs.
• Armando Herrera (Peru), U20 Pan American silver medalist, 132 lbs.
• Varuzhai Hovannisyan (Armenia), 5th in U17 World Championships, 220 lbs.
• Konstantine Petriashvili (Georgia), U15 European champion, 182 lbs.
• Yohao Huarcaya (Peru), U15 Pan American silver medalist, 106 lbs.
Saturday, April 8 is the individual tournament, with wrestling starting at 9:30 a.m, with weigh-ins on Friday, April 7 from 4:00 p.m.-5:30 p.m.
There is also a Middle School (14U) division included as part of this unique competition.
Last year, there was also a girls division at the Journeymen Classic. However, with the USMC Women's Nationals coming up the next weekend, which is the World Team qualifier for a number of age-group USA teams, the timing was not ideal. However, the Journeymen WC plans to host a similar international competition for girls this coming fall, with more details to come.
Normally, a U.S. athlete has to purchase a UWW license for international competition, which costs $100 or more. However, United World Wrestling has waived the UWW license fee for U.S. wrestlers to compete in this event. All you need is a current USA Wrestling membership and pay the entry fee, and you can test yourself against top U.S. athletes as well as talented international opponents.
The World Classic will be broadcast
live on FloWrestling
. The individual tournament is part of a full week of activities, which also includes a dual meet event and an international training camp.
Still interested? Check out the
Journeymen World Classic Website
for information.