News
USA Wrestling
College
Women
USAW
NAIA William Woods University in Missouri adds men's and women's wrestling
by William Woods Athletics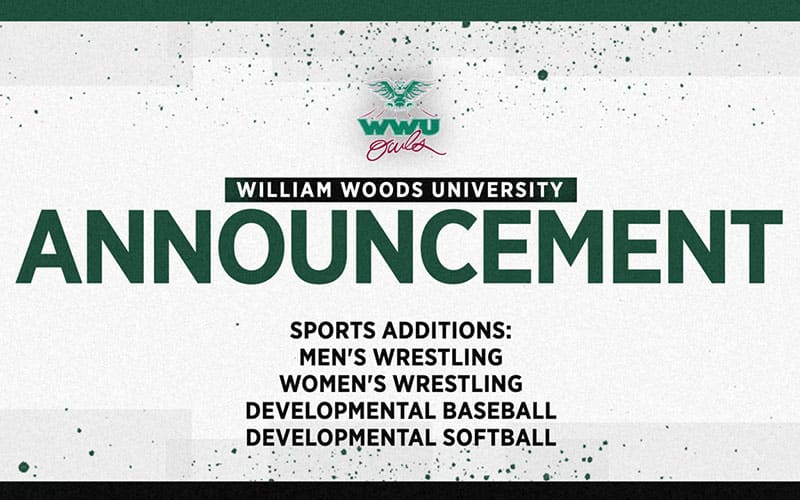 FULTON, Mo. – For the second time in 2022, William Woods University (WWU) is adding new intercollegiate sports to its roster of athletic opportunities for student-athletes. Athletics will be adding men's and women's wrestling as well as developmental baseball and softball beginning fall of 2023, Director of Intercollegiate Athletics Jason Vittone announced today. With the new sport additions, the Owls will also be growing the sport staff.
The additions of wrestling and developmental baseball and softball are the second major expansion announced by WWU Athletics this calendar year. In January, the University added intercollegiate Men's and Women's Bowling and Outdoor Life Sports, which are both in their inaugural seasons.
Alongside the hiring of the wrestling coach, the Owls will also be hiring a full-time assistant baseball coach, a full-time softball coach, an additional Assistant Director of Eligibility, Compliance and Game Management, an Assistant Athletic Trainer, an Assistant Strength and Conditioning Coach, a Strength and Conditioning Graduate Assistant, a Sports Information Graduate Assistant and two Wrestling Graduate Assistants. The department will be advertising for the positions in the coming months.
"William Woods Athletics is in an expansion mode, and we're looking forward to this next round of additions to our department," Vittone stated. "As we continue to look for opportunities to grow and market our university, athletics will continue to play an important role. Adding wrestling and expanding our baseball and softball offerings will position us for future growth as well. This is the next step in continuing to grow our athletics department."
Men's and women's wrestling will compete as NAIA Championship sports in the winter of 2023-24. Men's wrestling became a NAIA Championship sport back in 1958 while women's wrestling just became a NAIA sponsored sport in 2020-21.
The City of Fulton Legends Rec-Plex will be the home practice and lifting facility for the two teams. The Legends Rec-Plex was just opened in May 2021 and is located at 808 State Street, Fulton, MO 65251. See more about the Rec-Plex here.
"I'd also like to thank the City of Fulton for once again partnering with us," Vittone added. "They have been a great partner over the years and we look forward to working with them on future projects."
The two teams will hold an estimated roster size of 15-20 student-athletes.
The search for the new positions has begun. Click on the position below that you are interested in for more information and how to apply.
Men's and Women's Wrestling Coach