News
USA Wrestling
International
Women
College
USAW
World medalists Gray, Lampe, Molinari reach U.S. Senior Women's Open finals, after wild semifinal round
by Gary Abbott, USA Wrestling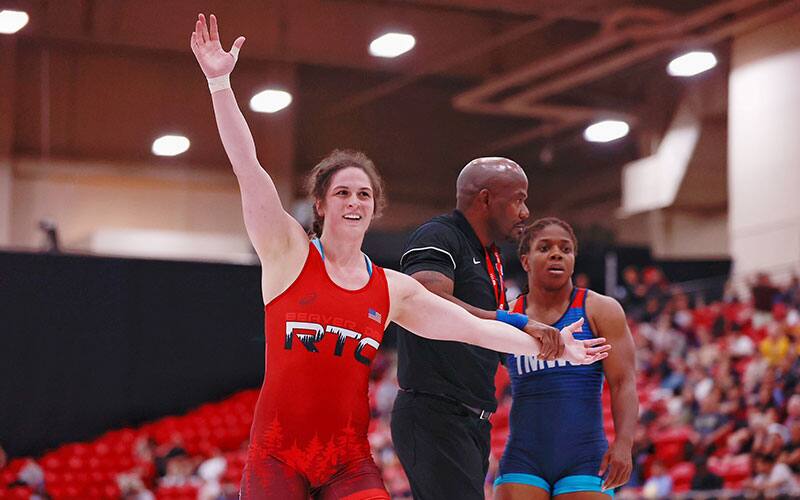 Adeline Gray waves to the crowd after her U.S. Open semifinals win. Photo by Chris Mora
LAS VEGAS, Nev. – A wild semifinals round with a strong showing by emerging young stars has determined the finalists in the U.S. Senior Women's Open on Friday night.
Three past Senior World medalists, Adeline Gray of New York AC at 76 kg, Alyssa Lampe of Sunkist Kids at 50 kg and Forrest Molinari of Sunkist Kids at 68 kg, were among the veteran stars to make the finals.
Gray, a six-time World champion returning after a year off from wrestling, won a controversial semifinal match over 2022 World Team member Dymond Guilford of Titan Mercury WC by disqualification. Gray was being handled by Guilford for most of the match, falling behind 8-0. Guilford hit a four-point takedown and added a number of step outs to extend the lead. In the second half of the second period, Gray took command. Three times in a row, Gray received a step out point and a caution and one point for fleeing. The third time came with 38 seconds left, disqualifying Guilford with three cautions.
Gray, the No. 1 seed, will battle No. 2 seed Kennedy Blades of the Sunkist Kids, who pinned No. 3 seed Yelena Makoyed of TMWC/Cardinal WC. Blades was a 2020 Olympic Trials runner-up and 2021 U20 World champion, while Makoyed was the 2023 Women's College Wrestler of the Year.
Lampe, a two-time World bronze medalist, pinned Sage Mortimer of the Titan Mercury WC in her semifinals.
Lampe was taken down at the start of the match, but she came back with a four-point throw, then powered Mortimer to her back for the fall in 1:50. She draws No. 3 seed and high school star Audrey Jimenez of Sunkist Kids, a U20 World silver medalist last year.
Molinari opened up her offense in a 14-4 technical fall over NCWWC national champion Katerina Lange of Minnesota Gold/Storm. Her finals opponent is No. 3 seed and past U23 World medalist Alexandria Glaude of the Beaver Dam RTC/TMWC.
It was a day in which many of the emerging young stars from the age-group levels made a statement.
Joining Jimenez as a high school athlete in the finals was No. 4 seed Rose Cassioppi, who is an Elite Accelerator Pro gram athlete at the U.S. Olympic & Paralympic Training Center, who made the 72 kg finals, where she will face No. 2 seed Joye Levendusky of New York. Levendusky was an NAIA runner-up this year at Southern Oregon.
The 53 kg weight class got blown up, with young stars taking over.
In the wildest match of the semifinals, No. 5 Samara Chavez (Team Tornado WC) knocked off top seed Amy Fearnside (USOPTC / TMWC), 18-17 at 53 kg. Chavez had a healthy lead early in the second period, but Fearnside tied it at 17-17. A late step out point forced by Chavez proved to be the difference. She will face past U17 World champion and No. 3 seed Katie Gomez of Sunkist Kids, who is in her first year as an Arizona State student athlete.
A crazy finish came in a semifinals at 55 kg, where No. 1 seed Lauren Mason fell behind 8-0 to Arena Villaescusa of Army WCAP. Villaescusa led 12-2 when Mason challenged a call, which was changed to 12-4. Mason scored a big throw and finished with a pin with just 36 seconds left in the match. She will battle U23 World medalist Alisha Howk of the Sunkist Kids, who scored a takedown with nine seconds left in the bout to beat No. 2 seed and NCWWC national champion Marissa Gallegos of Titan Mercury WC, 8-6.
The championship finals of the U.S. Senior Open will be at 6:00 p.m. on Saturday night, live on FloWrestling.
U.S SENIOR WOMEN'S OPEN

At Las Vegas, Nev., April 28


Senior Women's finals pairings (with seeds)
50 kg - No. 1 Alyssa Lampe (Sunkist Kids) vs. No. 3 Audrey Jimenez (Sunkist Kids)
53 kg - No. 3 Katie Gomez (Sunkist Kids) vs. No. 5 Samara Chavez (Team Tornado WC)
55 kg - No. 1 Lauren Mason (UVRTC / TMWC) vs. No. 3 Alisha Howk (Sunkist Kids)
57 kg - No. 1 Alexandra Hedrick (USOPTC / TMWC) vs. No. 3 Xochitl Mota-Pettis (Rise RTC)
59 kg - No. 1 Maya Nelson (Sunkist Kids) vs. No. 3 Michaela Beck (Sunkist Kids)
62 kg - No. 1 Jennifer Page (Nittany Lion WC/ TMWC) vs. No. 2 Adaugo Nwachukwu (Titan Mercury WC)
65 kg - No. 1 Macey Kilty (Sunkist Kids) vs. No. 2 Emma Bruntil (USOPTC / TMWC)
68 kg - No. 1 Forrest Molinari (Sunkist Kids) vs. No. 3 Alexandria Glaude (Beaver Dam RTC/TMWC)
72 kg - No. 2 Joye Levendusky (New York) vs. No. 4 Rose Cassioppi (New York AC)
76 kg - No. 1 Adeline Gray (New York AC) vs. No. 2 Kennedy Blades (Sunkist Kids)
Senior Women's Semifinals results
50 kg
No. 1 Alyssa Lampe (Sunkist Kids) pin No. 4 Sage Mortimer (Titan Mercury WC), 1:50
No. 3 Audrey Jimenez (Sunkist Kids) tech. fall No. 2 Erin Golston (New York AC), 13-2 4:56
53 kg
No. 5 Samara Chavez (Team Tornado WC) dec. No. 1 Amy Fearnside (USOPTC / TMWC), 18-17
No. 3 Katie Gomez (Sunkist Kids) dec. No. 2 Felicity Taylor (Iowa Womens WC/TMWC), 7-2
55 kg
No. 1 Lauren Mason (UVRTC / TMWC) pin No. 4 Areana Villaescusa (Army WCAP), 5:24
No. 3 Alisha Howk (Sunkist Kids) dec. No. 2 Marissa Gallegos (Titan Mercury WC), 8-6
57 kg
No. 1 Alexandra Hedrick (USOPTC / TMWC) tech fall No. 4 Shelby Moore (White River Hornets WC), 11-0
No. 3 Xochitl Mota-Pettis (Rise RTC) dec. No. 2 Amanda Martinez (TMWC/Cardinal WC), 12-10
59 kg
No. 1 Maya Nelson (Sunkist Kids) dec. No. 4 Brenda Reyna (Army WCAP), 7-5
No. 3 Michaela Beck (Sunkist Kids) dec. No. 2 Abigail Nette (Army (WCAP), 4-4
62 kg
No. 1 Jennifer Page (Nittany Lion WC/ TMWC) tech fall No. 4 Savannah Cosme (Sunkist Kids), 13-2
No. 2 Adaugo Nwachukwu (Titan Mercury WC) tech fall No. 6 Bridgette Duty (Army WCAP), 16-1
65 kg
No. 1 Macey Kilty (Sunkist Kids) tech fall unseeded Aine Drury (California), 11-0
No. 2 Emma Bruntil (USOPTC / TMWC) pin No. 6 Maya Letona (New York City RTC), 1:36
68 kg
No. 1 Forrest Molinari (Sunkist Kids) tech. fall No. 5 Katerina Lange (Minnesota Gold / Storm), 14-4
No. 3 Alexandria Glaude (Beaver Dam RTC/TMWC) tech. fall No. 2 Solin Piearcy (Menlo WC), 11-0
72 kg
No. 4 Rose Cassioppi (New York AC) pin Unseeded Kaylynn Albrecht (Wildcat Elite), 1:37
No. 2 Joye Levendusky (New York) pin No. 3 Nahiela Magee (Army WCAP), 4:06
76 kg
No. 1 Adeline Gray (New York AC) disq. No. 4 Dymond Guilford (USOPTC/TMWC), 3 cautions, 5:22
No. 2 Kennedy Blades (Sunkist Kids) pin No. 3 Yelena Makoyed (Cardinal WC/TMWC), 3:57