News
USA Wrestling
International
USAW
USA Greco-Roman group two eliminated from World Championships
by Taylor Gregorio, USA Wrestling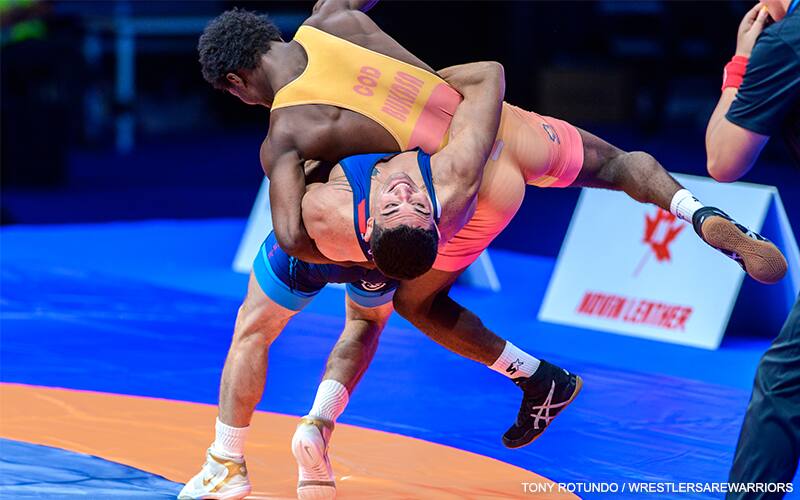 Photo of Alex Sancho by Tony Rotundo, WrestlersAreWarriors.com
BELGRADE, Serbia – The second group of U.S. Greco-Roman athletes lost in Sunday's morning session and were eventually eliminated from the 2022 Senior World Championships in Belgrade, Serbia.
Making their Senior World debuts, Alex Sancho and Braxton Amos recorded wins before falling the round of 16.
2020 Olympian Alex Sancho came out with a bang at 67 kg, defeating Norva Bukasa from Congo with two massive four-point throws for a 9-0 win. In his second match, Sancho lost a tough 5-0 bout to Olympic silver medalist Parviz Nasibov of Ukraine. Nasibov lost to U23 World silver Gurami Khetsuriani of Georgia, 7-0, in the quarterfinals.
2021 U20 freestyle World champion and Greco-Roman bronze medalist Braxton Amos, who earned the nod to represent the USA just over a month ago, picked up an impressive first-round 12-6 win over two-time age-group World champion and 2022 Senior European bronze medalist Vladlen Kozliuk of Ukraine with multiple throws. In the next round, Amos lost to 2021 Asian bronze medalist Beksultan Makhmudov from Kyrgyzstan, 5-2. Makhmudov eventually lost to 2016 Olympic champion Artur Aleksanyan of Armenia, who has two other Olympic medals, which eliminated Amos from the tournament.
At 63 kg, Sam Jones wrapped up his second Senior World Championships appearance. He fell to No. 7 and 2022 Asian bronze medalist Neeraj of India, 4-0, in his first match. In the next round, Neeraj lost to 2020 Olympic champion Luis Orta Sanchez of Cuba, 9-0, eliminating Jones from the tournament.
Spencer Woods was eliminated at 82 kg. He lost his first bout by pin to Chengwu Wang of China. Woods was leading 13-10 at the time of the fall. Wang eventually lost in the round of 16 to Jalgasbay Berdimuratov of Uzbekistan, 8-4.
Later today, Max Nowry, who advanced to the semifinals at 55 kg yesterday, will wrestle for bronze against two-time Asian champion Yu Shiotani of Japan.
Semifinals begins at 4:45 p.m. local time (10:45 a.m. ET) followed by medal matches at 6 p.m. (noon ET) live on FloWrestling. Follow along for live updates on Twitter @USAWrestling.
For more information on the 2022 Senior World Championships, visit USA Wrestling's Special Section.
SENIOR WORLD CHAMPIONSHIPS

Sept. 10-18, 2022 | Belgrade, Serbia
U.S. Greco-Roman results (Tuesday)
63 kg: Sam Jones (Rockford, Mich./New York AC) – eliminated

LOSS No. 7 Neeraj Neeraj (India), 4-0
67 kg: Alex Sancho (Colorado Springs, Colo./Army WCAP) – eliminated

WIN Norva Bukasa (Congo), 9-0

LOSS Parviz Nasibov (Ukraine), 5-0
82 kg: Spencer Woods (Colorado Springs, Colo./Army WCAP) – eliminated

LOSS Chengwu Wang (China), fall 4:01
97 kg: Braxton Amos (Mineral Wells, W.V./Badger RTC/Sunkist Kids) – eliminated

WIN Vladlen Kozliuk (Ukraine), 12-6

LOSS Beksultan Makhmudov (Kyrgyzstan), 5-2
U.S. Greco-Roman results (Monday)
55 kg - Max Nowry (Colorado Springs, Colo./Army WCAP) – bronze match

WIN Arjun Halakurki (India), pin 5:02

WIN Fabian Schmitt (Germany), 4:58

LOSS Eldaniz Azizli (Azerbaijan), tech. fall 9-0, 1:44

Bronze medal bout – vs. Yu Shiotani (Japan)
72 kg - Benji Peak (Marquette, Mich./MNU-OTS/Sunkist Kids) – eliminated

LOSS No. 8 Robert Fritsch (Hungary), 3-1
77 kg - Kamal Bey (Colorado Springs, Colo./Army WCAP) – eliminated

LOSS No. 4Viktor Nemes (Serbia), 4-0
87 kg - Alan Vera (New York, N.Y./NYC RTC/New York AC) – eliminated

LOSS Haitao Qian (China), 5-3
Schedule (local time is 6 hours ahead of U.S. ET)
Sunday, Sept. 11
10:30 a.m. – Qualification rounds (GR 63, 67, 82, 97 kg)

10:30 a.m. – Repechage (GR 55, 72, 77, 87 kg)

4 p.m. – Opening ceremony

4:45 p.m. – Semifinals (GR 63, 67, 82, 97 kg)

6 p.m. – Finals (GR 55, 72, 77, 87 kg)
Monday, Sept. 12
10:30 a.m. – Qualification rounds (GR 60, 130 kg; WFS 55, 62 kg)

10:30 a.m. – Repechage (GR 63, 67, 82, 97 kg)

4:45 p.m. – Semifinals (GR 60, 130 kg; WFS 55, 62 kg)

6 p.m. – Finals (GR 63, 67, 82, 97 kg)
Tuesday, Sept. 13
10:30 a.m. – Qualification rounds (WFS 50, 53, 65, 76 kg)

10:30 a.m. – Repechage (GR 60, 130 kg; WFS 55, 62 kg)

4:45 p.m. – Semifinals (WFS 50, 53, 65, 76 kg)

6 p.m. – Finals (GR 60, 130 kg; WFS 55, 62 kg)
Wednesday, Sept. 14
10:30 a.m. – Qualification rounds (WFS 57, 59, 68, 72 kg)

10:30 a.m. – Repechage (WFS 50, 53, 65, 76 kg)

4:45 p.m. – Semifinals (WFS 57, 59, 68, 72 kg)

6 p.m. – Finals (WFS 50, 53, 65, 76 kg)
Thursday, Sept. 15
10:30 a.m. – Qualification rounds (MFS 70, 79, 86, 125 kg)

10:30 a.m. – Repechage (WFS 57, 59, 68, 72 kg)

4:45 p.m. – Semifinals (MFS 70, 79, 86, 125 kg)

6 p.m. – Finals (WFS 57, 59, 68, 72 kg)
Friday, Sept. 16
10:30 a.m. – Qualification rounds (MFS 57, 74, 92 kg)

10:30 a.m. – Repechage (MFS 70, 79, 86, 125 kg)

4:45 p.m. – Semifinals (MFS 57, 74, 92 kg)

6 p.m. – Finals (MFS 70, 79, 86, 125 kg)
Saturday, Sept. 17
10:30 a.m. – Qualification rounds (MFS 61, 65, 97 kg)

10:30 a.m. – Repechage (MFS 57, 74, 92 kg)

4:45 p.m. – Semifinals (MFS 61, 65, 97 kg)

6 p.m. – Finals (MFS 57, 74, 92 kg)
Sunday, Sept. 18
4:30 p.m. – Repechage (MFS 61, 65, 97 kg)

6 p.m. – Finals (MFS 61, 65, 97 kg)