News
USA Wrestling
International
USAW
Nowry advances to semifinals, Bey remains eligible for repechage in Greco-Roman at World Championships
by Gary Abbott, USA Wrestling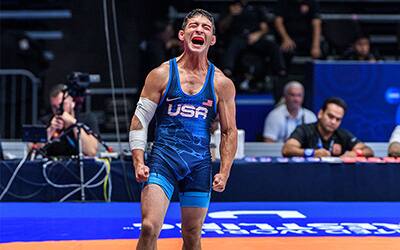 Max Nowry (USA) celebrates after a pin at the 2022 World Championships. Photo by Tony Rotundo, Wrestlers Are Warriors
BELGRADE, Serbia – No. 4 seed Max Nowry (Colorado Springs, Colo./Army WCAP) scored a pair of pins to power into the semifinals at the first session of Greco-Roman at the 2022 Senior World Championships in Stark Arena on Saturday.
In his opening bout, Nowry threw and pinned 2022 Asian bronze medalist Arjun Halakurki of India in 5:02. Nowry was trailing 3-0 at the break, after giving up a passivity and a takedown. In the second period, Nowry forced a stepout to close it to 3-1. Nowry hit a sweet four-point arm spin and was able to adjust and secure the pin in 5:02.
In the quarterfinals, Nowry fell behind No. 5 seed and 2019 European bronze medalist Fabian Schmitt of Germany after being hit for passivity in the first period. In the second period, Schmitt was called for passivity to knot it at 1-1. When on top, Nowry turned Schmitt for a 3-1 lead and adjusted after the turn to secure a pinning combination, ending the match at the 4:58 mark.
He will draw No. 1 seed and 2018 World champion Eldaniz Azizli of Azerbaijan in the semifinals. Azizli defeated Nowry in a bronze-medal match at the 2019 World Championships. Nowry is competing in his third Senior Worlds, with his best previous finish being fifth in 2019.
Kamal Bey (Colorado Springs, Colo./Army WCAP) remains in contention for repechage, pending the results of Saturday's semifinal round.
Bey dropped a first-round match to No. 4 seed and 2017 World champion Viktor Nemes of Serbia, 4-0. Bey was hit with passivity first, giving Nemes a 1-0 lead. Nemes powered Bey out of bounds for a step out point and a 2-0 lead at the break. Nemes got behind Bey for a second period takedown to lead 4-0, the final points scored.
Nemes won his next two matches to qualify for the semifinals tonight. If Nemes defeats Zoltan Levai of Hungary in the semifinals, Bey will be drawn back into repechage on Sunday morning.
Two U.S. wrestlers were eliminated after dropping their opening bout, then having their opponent fail to reach the semifinals, Benji Peak (Marquette, Mich./MNU-OTS/Sunkist Kids) at 72 kg and Alan Vera (New York, N.Y./NYC RTC/New York AC) at 87 kg.
Peak was defeated in the first round by No. 8 seed and 2022 European champion Robert Frisch of Hungary, 3-1. Peak was strong with his pummel in the first period, and Fritsch was hit with the first passivity, giving Peak the 1-0 lead. Fritsch got behind Peak for a takedown midway through the second period for a 2-1 lead. Fritsch forced a step out to extend to a 3-1 lead. Peak could not get a score as the bout closed out.
Peak was eliminated when Frisch lost his next match to Ali Arsalan of Serbia. It was Peak's first Senior World Championships appearance.
Competing in his second straight World Championships, Vera was edged by 2019 World bronze medalist Haitao Qian of China, 5-3 in the first round.The first passivity penalty went against Qian, giving Vera a 1-0 lead. In the second period, Vera was hit with passivity, knotting the score at 1-1. While on top, Qian lifted and threw Vera for four points and a 5-1 lead. Vera powered to a takedown with 58 seconds left to close the gap to 5-3 but was unable to score again.
Vera was eliminated after Qian lost his next match to Nursultan Tursynov of Kazakhstan.
The semifinals are scheduled for 6:00 p.m. local time, which is six hours ahead of U.S. Eastern time zone. All of the action will be broadcast live on
FloWrestling
.
WORLD WRESTLING CHAMPIONSHIPS

At Belgrade, Serbia, September 10


Semifinal pairings
50 kg
Eldaniz Azizli (Azerbaijan) vs. Max Nowry (USA)
Amangali Bekbolatov (Kazakhstan) vs. Nugzari Tsurtsumia (Georgia)
72 kg
Ali Arsalan (Serbia) vs. Ibrahim Ghanem (France)
Ule Ganizade (Azerbaijan) vs. Selcuk Can (Turkey)
77 kg
Zoltan Levai (Hungary) vs. Viktor Nemes (Serbia)
Azhol Magomedov (Kyrgyzstan) vs. Hyeonwoo Kim (Korea)
87 kg
Zurabi Datunashvili (Serbia) vs. David Losonczi (Hungary)
Turpal Bisultanov (Denmark) vs. Ali Cengiz (Turkey)
Greco-Roman performances
55 kg - Max Nowry (Colorado Springs, Colo./Army WCAP)
WIN Arjun Halakurki (India), pin 5:02
WIN Fabian Schmitt (Germany), 4:58
Semifinals – Vs. Eldaniz Azizli (Azerbaijan)
72 kg - Benji Peak (Marquette, Mich./MNU-OTS/Sunkist Kids)
LOSS Robert Fritsch (Hungary), 3-1
77 kg - Kamal Bey (Colorado Springs, Colo./Army WCAP)
LOSS Viktor Nemes (Serbia), 4-0
87 kg - Alan Vera (New York, N.Y./NYC RTC/New York AC)
LOSS. Haitao Qian (China), 5-3