News
USA Wrestling
International
USAW
McKenna, Berger of Pennsylvania RTC to compete at Kunayev Tournament in Kazakhstan, Nov. 3-5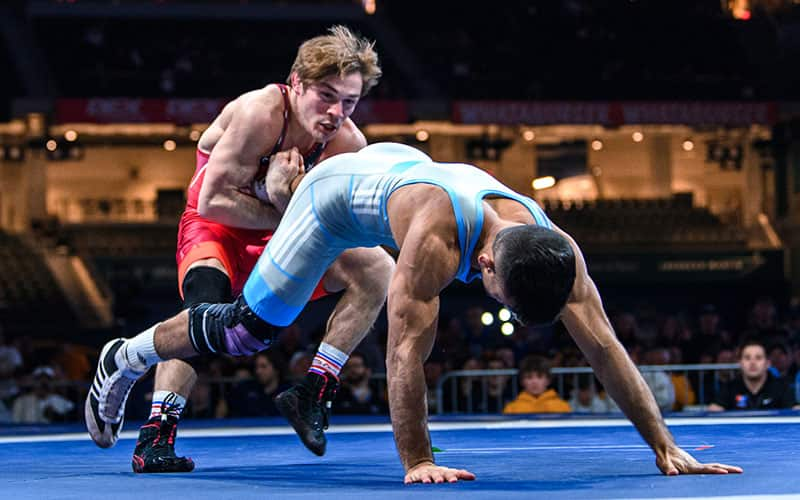 Joey McKenna (USA) competing in the Bout at the Ballpark. Photo by Tony Rotundo, Wrestlers Are Warriors.
Philadelphia, Pa – PRTC Senior Athletes
Joey McKenna
(65kg) and
Tyler Berger
(70kg) will travel to Taraz City, Kazakhstan with Head Coach
Brandon Slay
to compete in the Kunayev D.A. Senior Freestyle Tournament. The PRTC contingent will be the only representatives from the United States at the tournament to be contested at the Taraz Arena Sports Complex from November 2-6, 2022.
The two senior athletes are thankful to USA Wrestling for the opportunities they've experienced recently. This tournament will be a chance for them both to give a full effort while competing internationally.
"After being at the World Championships serving Team USA, I couldn't be more excited about the opportunity to compete again overseas!" said McKenna. "I want to seek out the best competition to continue to challenge myself and make adjustments in my wrestling." The three time U.S. National Team member last competed at the Poland Open in July, placing third at 65kg while earning a bronze medal.
This will be Berger's first official competition as a PRTC athlete. He joined the team in August 2022 after earning a spot on the National Team at 70kg earlier in the year.
"It's been a seamless transition joining the PRTC," said Berger. "I've felt at home since day one. Kazakhstan will be my first time competing at the senior level overseas and I couldn't ask for a better crew to be training with while preparing for this event."
At the World Championships last month in Belgrade, Serbia, McKenna served as the main training partner for 61kg World Team member Seth Gross who placed 5th. Berger served as the main training partner for Jordan Burroughs who won a record 7th World/Olympic gold medal. The US Men's Freestyle team won the team title while crowning four individual World Champions.
Seeing the success of their Team USA teammates on an international stage has inspired the two athletes to seek higher levels of competition. The Kunayev D.A. could feature some of the better athletes in the world as cash prizes will be awarded to the top three placewinners in each weight class.
"When I saw the competition in Kazakhstan on the schedule, I wanted to take advantage of another international tour before the end of 2022," said McKenna. "This is the perfect opportunity to implement what we've been working on and to sharpen my sword."
Competition begins on November 3rd for Berger at 70kg. McKenna will begin competition at 65kg the following day on November 4th. It will be a two day event for each weight class. There is a ten hour time difference between Philadelphia and Taraz City. At this time, it is unclear if matches will be streamed live. Stay tuned to the PRTC social media accounts for updates.
"I'm excited for the challenge and the opportunity," said Berger. "I love to train but nothing beats the feeling of putting your foot on the line and letting it fly!"