News
USA Wrestling
International
College
Women
USAW
Guilford wins silver, Howk claims bronze, Basham and Ramirez place fifth in women's freestyle at U23 World Championships
by Gary Abbott, USA Wrestling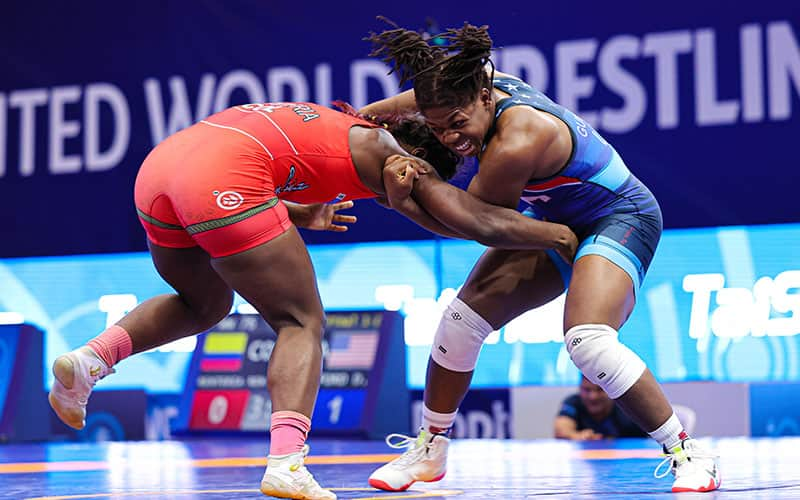 Dymond Guilford (USA) battles Tatiana Renteria (COL) in the U23 World finals at 76 kg. Photo by Kadir Caliskan, United World Wrestling
PONTEVEDRA, Spain – The United States won a pair of medals in women's freestyle during the Group One finals at the U23 World Championships on Thursday night.
Dymond Guilford
dropped a tight 2-1 decision to 2021 U23 World silver medalist Tatiana Renteria of Colombia in the 76 kg gold-medal finals. Guilford scored a point in the first period when Renteria was placed on the shot clock and could not score. In a key exchange in the second period, Guilford got behind Renteria and tried to finish a takedown, but Renteria stepped over and secured the only takedown of the match. Guilford was unable to score late in the bout.
Guilford, a member of the 2022 Senior World Team, had a strong run on Wednesday, winning two bouts by technical fall and a clutch 6-1 victory over Yasuha Matsuyuki of Japan in the quarterfinals.
Guilford is a two-time NAIA champion, winning one for the University of Cumberlands last year, and previously winning for Missouri Baptist.
The USA finished with two women's freestyle medals from Group One, as
Alisha Howk
claimed a bronze at 55 kg, the best finish of her international career.
Howk won a wild 13-5 shootout against 2022 Commonwealth Games bronze medalist Nethmi Poruthotage of Sri Lanka. Howk scored the two points on an exposure, but Nethmi Poruthotage responded to take a 3-2 lead. Howk scored a four-point takedown on the edge for a 6-2 lead, then a spin behind made it 8-2 for Howk at the break. Poruthotage came back hard, but a Howk hip toss and another late takedown stretched her lead in the second period.
Howk opened with a pair of wins on Wednesday, and was edged in the semifinals by eventual runner-up Mihaela Samoil of Moldova, 9-8.
Placing fifth after dropping bronze medal matches were
Lexie Basham
(59 kg) and
Sienna Ramirez
(68 kg), both competing in their first age-group World Championships.
Basham was defeated by 2021 European U20 champion Solomiia Vynnyk of Ukraine, 10-0. Vynnyk scored a four-point counter throw for a 4-0 lead. She added a body lock for four more, then a gut wrench to end the match.
Basham, a Final X finalist and NAIA champion for Texas Wesleyan, won her first two matches on Wednesday to reach the semifinals, where she was defeated by eventual champion Himeka Tokuhara of Japan.
Ramirez was pinned by 2021 World champion Irina Ringaci of Moldova at 2:33 in the bronze-medal bout. Ringaci scored first on a throw by to lead 2-0. Ringaci next hit Ramirez with a lateral drop, but Ramirez got out of danger with a reversal. Ringaci was able to whip Ramirez over from the bottom, putting her in danger again, and this time finishing off the fall.
Ramirez, an NAIA champion for Southern Oregon and also a Final X finalist, also won her first two bouts on Wednesday, and was defeated in the semifinals by eventual champion Nesrin Bas of Turkey.
The other U.S. women's wrestler in Group One was
Nyla Valencia
, who placed 19th at 50 kg.
After the first five weight classes, the United States is in third place with 55 points, behind leader Japan in first with 110 points and Turkey in second with 60 points. The final five weight classes will be concluded on Friday night.
U23 WORLD CHAMPIONSHIPS
At Pontevedra, Spain, October 20, 2022

Women's freestyle Group One results
50 kg
Gold - Yui Susaki (Japan)
Silver - Ankush (India)
Bronze – Sara Hamdi (Tunisia)
Bronze - Nada Medani Mohamed (Egypt)
5th - Emanuela Liuzzi (Italy)
5th – Lisa Ersel (Germany)
55 kg
Gold - Moe Kiyooka (Japan)
Silver - Mihaela Samoil (Moldova)
Bronze - Alisha Howk (USA)
Bronze – Elvira Kamaloglu (Turkey)
5th - Nethmi Poruthotage (Sri Lanka)
5th - Virginie Gascon (Canada)
59 kg
Gold - Magdalena Glodek (Poland)
Silver - Himeka Tokuhara (Japan)
Bronze - Solomiia Vynnyk (Ukraine)
Bronze – Mansi (India)
5th - Lexie Basham (USA)
5th - Ramina Mamedova (Latvia)
68 kg
Gold - Nesrin Bas (Turkey)
Silver - Naruha Matsuyuki (Japan)
Bronze - Irina Ringaci (Moldova)
Bronze – Manola Skobelska (Ukraine)
5th- Sienna Ramirez (USA)
5th - Noemi Szabados (Hungary)
76 kg
Gold - Tatiana Renteria (Colombia)
Silver - Dymond Guilford (USA)
Bronze - Yasuha Matsuyuki (Japan)
Bronze - Anastasiya Alpyeyeva (Ukraine)
5th - Inkara Zhanatayeva (Kazakhstan)
5th - Mehtap Gultekin (Turkey)
U.S. women's freestyle Group One results
50 kg: Nyla Valencia, Morgan Hill, Calif. (Hawkeye WC/TMWC), dnp/19th
LOSS Sarra Hamdi (Tunisia), 3-0
55 kg: Alisha Howk, River Falls, Wis. (Victory School of Wrestling/Sunkist Kids) – Bronze Medal
WIN Erika Bognar (Hungary), 2-1
WIN Elnura Mammadova (Azerbaijan), injury default, 3:20
LOSS Mihaela Samoil (Moldova), 9-8
WIN Nethmi Poruthotage (Sri Lanka), 13-5
59 kg: Lexie Basham, Roanoke, Texas (Spartan Mat Club), Fifth place
WIN Karoline Ortiz Rosado (Puerto Rico), 8-4
WIN Anne Nuernberger (Germany), pin 5:44
LOSS Himeka Tokuhara (Japan), 9-0
LOSS Solomiia Vynnyk (Ukraine). tech. fall 10-0
68 kg: Sienna Ramirez, Ashland, Ore. (Southern Oregon RTC), Fifth place
WIN Albina Kairgeldinov (Kazakhstan), 9-3
WIN Zsuzsanna Molnar (Slovakia), pin, 0:53
LOSS Nesrin Bas (Turkey), 9-4
LOSS Irina Ringaci (Moldova) , pin 2:33
76 kg: Dymond Guilford, Colorado Springs, Colo. (Titan Mercury WC), Silver Medal
WIN Daniela Tkachuk (Poland), tech. fall 10-0
WIN Yasuha Matsuyuki (Japan), 6-1
WIN Inkara Zhanatayeva (Kazakhstan), tech fall 11-0
LOSS Tatiana Renteria (Colombia), 2-1
Team Standings after five weight classes
1 Japan 110
2 Turkey 60
3 United States 55
4 Ukraine 47
5 Colombia 37