News
USA Wrestling
International
College
Women
USAW
Updated World Team Trials Challenge Tournament registered athletes, as of May 12
by Gary Abbott, USA Wrestling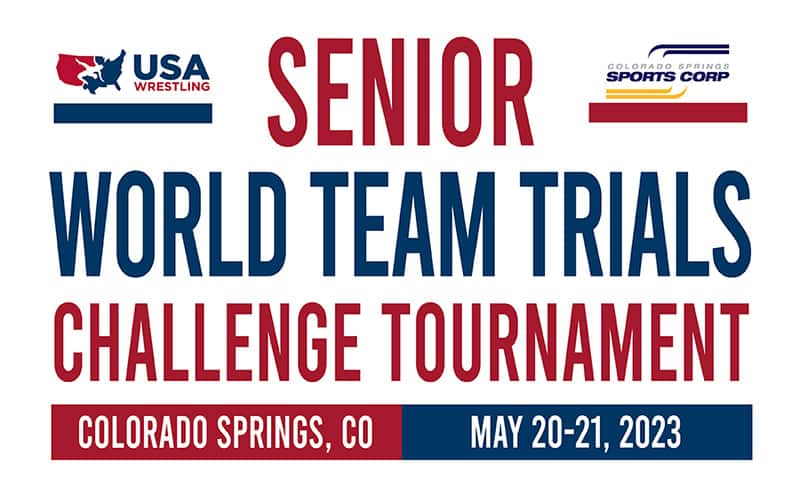 USA Wrestling has updated the list of registered athletes for the
World Team Trials Challenge Tournament on
May 20-21 at Discovery Canyon High School in Colorado Springs, Colo.
Currently, there are 110 registered athletes, 22 in men's freestyle, 54 in Greco-Roman and 34 in women's freestyle.
Since the initial list was posted on May 5, there are five additional athletes in the field, all in Greco-Roman. The newest registrants are marked in bold.
The winner in each of the 17 weight classes being conducted will earn a spot in their weight class at Final X in Newark, N.J., June 10. Each of these athletes will compete in Final X in a best-of-three series against the 2023 U.S. Open champion, with the winner at Final X earning a berth on the 2023 U.S. Senior World Team which will compete in Belgrade, Serbia, September 16-24.
All entries must meet qualification standards as set by the the
World Team Selection Procedures
https://www.teamusa.org/usa-wrestling/team-usa/team-selection-criteria
Note to all qualified athletes who are not yet registered:
The deadline to register to be considered for seeding is Sunday, May 14 at 11:00 p.m. MT.
Seeding meetings
for all three disciplines will be held on Monday, May 15, with seeds announced by USA Wrestling on its website TheMat.com.
The World Team Trials Challenge Tournament ticket prices are:
$40 – All Session Weekend Pass
$30 – Saturday Pass
$30 – Sunday Pass
Click here to order tickets online
The event will be broadcast
live on FloWrestling
SENIOR WORLD TEAM TRIALS CHALLENGE TOURNAMENT QUALIFIERS
Registered As of May 12, 2023
(Athletes may continue to register through May 19, so this list may increase. New registrants marked in bold)

Greco-Roman
55 kg
2022 Senior GR National Team member No. 3 – Dalton Duffield (Army WCAP)
2022 U23 World GR Team member – Camden Russell (MWC Wrestling Academy)
2023 U.S. Open GR fourth place at 55 kg – Jacob Cochran (Army WCAP)
2023 U.S. Open GR sixth place – Billy Sullivan at 55 kg (Army WCAP)
2023 U.S. Open GR seventh place – Tirso Lara at 55 kg (Top Gun WC)
60 kg
2022 Senior GR National Team member No. 1– Ildar Hafizov (Army WCAP)
2022 Senior GR National Team member No. 3 – Randon Miranda (Rise RTC)
2022 U23 World GR Team member - Phillip Moomey (TMWC/Spartan Combat RTC)
2023 U.S. Open GR third place at 60 kg – Max Black (NMU-NTS)
2023 U.S. Open GR fourth place at 63 kg – Leslie Fuenffinger (Army WCAP)
2023 U.S. Open GR fourth place at 60 kg – Dylan Koontz (Titan Mercury WC/Dubuque RTC)
2023 U.S. Open GR fifth place at 60 kg – Jonathan Gurule (NMU-NTS)
63 kg
2021 Senior GR World Team member - Sammy Jones (New York AC)
2022 Bill Farrell International GR highest U.S. medalist - Dylan Gregerson (Brunson UVRTC)
2023 U.S. Open GR fifth place at 63 kg – Savion Haywood (Iguana WC)
2023 U.S. Open GR sixth place at 63 kg – Xavier Johnson (Army WCAP)
2023 U.S. Open GR seventh place at 63 kg – Corbin Nirschl (New York AC)
67 kg
2022 Senior GR National Team member No. 1– Alejandro Sancho (Army WCAP)
2022 Senior GR National Team member No. 2 – Alston Nutter (Sunkist Kids)
2022 Senior GR National Team member No. 1 at 63 kg– Jesse Thielke (Army WCAP)
2023 U.S. Open GR third place at 67 kg – Chayse La Joie (Michigan)
2023 U.S. Open GR fourth place at 67 kg – David Stepanian (New York AC)
2023 U.S. Open GR fifth place at 67 kg – Joel Adams (The Best Wrestler)
2023 U.S. Open GR seventh place at 67 kg – Nicholas Leionetti (Suples WC)
72 kg
2021 Senior GR World Team member - Patrick Smith (Minnesota Storm)
2022 Senior GR National Team member No. 3 – Noah Wachsmuth (Cobra All-Stars)
2023 U.S. Open GR fourth place at 72 kg – Michael Hooker (Army WCAP)
2023 U.S. Open GR fifth place at 72 kg – Jack Ervien, Jr. (Viking WC)
77 kg
2021 Senior GR World Team member - Jesse Porter (NYAC/NMU NTS)
2022 Senior GR National Team member No. 3 – Payton Jacobson (Sunkist Kids)
2023 U.S. Open GR runner-up at 77 kg – Aliaksandr Kikiniou (Poway)
2023 U.S. Open GR fourth place at 77 kg – Burke Paddock (New York AC)
2023 U.S. Open GR sixth place at 77 kg – Ravaughn Perkins (New York AC)
82 kg
2021 Senior GR World Team member – Ben Provisor (New York AC)
2022 Senior GR National Team member No. 3 – Tommy Brackett (Tennessee)
2022 U23 World GR Team member – Tyler Cunningham (MWC Wrestling Academy)
2022 Bill Farrell International GR highest U.S. medalist – Ryan Epps (Minnesota Storm)
2023 U.S. Open GR third place at 82 kg – Andrew Berreyesa (New York AC)
2023 U.S. Open GR fourth place at 82 kg – Johanner Correa (North Carolina)
2023 U.S. Open GR sixth place at 82 kg – Kendrick Saunders (New York AC)
2023 U.S. Open GR sixth place at 87 kg – Barrett Stanghill (Minnesota Storm)
87 kg
2022 Senior GR National Team member No. 2 – Timothy Young (Illinois)
2022 Bill Farrell International GR highest U.S. medalist – Richard Carlson (Minnesota Storm)
2023 U.S. Open GR runner-up at 87 kg – John Stefanowicz (Navy WC)
2023 U.S. Open GR third place at 87 kg– Zachary Brunagel (Illinois RTC/IWC)
2023 U.S. Open GR seventh place at 87 kg– Jordan Lara (Texas RTC)
97 kg
2022 Senior GR National Team member No. 3 at 87 kg – Christian DuLaney (Minnesota Storm)
2022 U23 World GR Team member – Nicholas Boykin (Sunkist Kids/Ohio RTC)
2023 U.S. Open GR fourth place at 97 kg -Brandon Marshall (Big Game WC)
2023 U.S. Open GR seventh place at 97 kg - Cade Lautt (Tarheel WC)
130 kg
2022 Senior GR National Team member No. 2 – Tanner Farmer (New York AC)
2022 Bill Farrell International GR highest U.S. medalist – Donny Longendyke (Minnesota Storm)
2023 U.S. Open GR runner-up at 130 kg - Adam Coon (New York AC/Cliff Keen WC)
2023 U.S. Open GR fifth place at 130 kg– Brandon Metz (North Dakota)
2023 U.S. Open GR seventh place at 130 kg – Darryl Aiello (CYC-Concord Campus)
Men's freestyle

61 kg
2021 Senior FS World Team member – Daton Fix (TMWC/Cowboy RTC)
2022 Senior FS World Team member – Seth Gross (Sunkist Kids)
2022 Bill Farrell International FS highest U.S. medalist – Nahshon Garrett (TMWC/LVWC)
2023 U.S. Open FS runner-up at 61 kg – Austin DeSanto (TMWC/HWC)
2023 U.S. Open FS fourth place at 61 kg – Nathan Tomasello (TMWC/CKWC)
2023 U.S. Open FS fifth place at 61 kg – Joe Colon (TMWC)
2023 U.S. Open FS seventh place at 61 kg – Aden Valencia (TMWC/CRTC)
92 kg
2022 U23 World FS medalist at 97 kg - Tanner Sloan (Jackrabbit WC)
2022 Bill Farrell International FS highest U.S. medalist – Eric Schultz (Sunkist Kids/Nebraska WTC)
2023 U.S. Open FS runner-up at 92 kg – Kollin Moore (TMWC/ORTC)
2023 U.S. Open FS runner-up at 86 kg - Zahid Valencia (Sunkist Kids)
2023 U.S. Open FS third place at 92 kg – Nathan Jackson (NYAC)
2023 U.S. Open FS fifth place at 92 kg – Jay Aiello (TMWC/CWC)
2023 U.S. Open FS sixth place at 92 kg – Morgan McIntosh (Nittany Lion WC)
2023 U.S. Open FS sixth place at 86 kg – Samuel Mitchell (Bulls WC)
125 kg
2021 Senior MFS World Team member – Nick Gwiazdowski (TMWC/Spartan Combat RTC)
2022 U23 World MFS medalist – Tony Cassioppi (Hawkeye WC)
2022 Bill Farrell International FS highest U.S. medalist – Demetrius Thomas (NYAC/PWC)
2023 U.S. Open MFS fourth place at 125 kg – Wyatt Hendrickson (Air Force RTC)
2023 U.S. Open MFS fifth place at 125 kg – Dominique Bradley (Sunkist Kids)
2023 U.S. Open MFS seventh place at 125 kg – Ty Walz (Titan Mercury WC/Southeast RTC)
2023 NCAA Div. I champion at 285 lbs. – Mason Parris (Michigan/Cliff Keen WC)
Women's freestyle
55 kg
2022 Senior WFS National Team member No. 1 – Jacarra Winchester (TMWC)
2022 Senior WFS National Team member No. 3 – Lauren Mason (Brunson UVRTC)
2023 U.S. Open WFS third place at 55 kg – Areana Villaescusa (Army WCAP)
2023 U.S. Open WFS fifth place at 55 kg – Amani Jones (Cardinal WC)
2023 U.S. Open WFS sixth place at 55 kg – Gabrielle Skidmore (Minnesota Gold/Storm)
2023 U.S. Open WFS seventh place at 55 kg – Virginia Foard (New York AC)
2023 NCWWC champion at 116 lbs.- Jaslynn Gallegos (Cardinal WC)
59 kg
2021 Senior WFS World Team member – Maya Nelson (Sunkist Kids)
2022 Senior WFS National Team member No. 1 – Abigail Nette (Army WCAP)
2022 Senior WFS National Team member No. 2 – Lexie Basham (Spartan Mat Club)
2022 Senior WFS National Team member No. 2 at 57 kg - Alexandra Hedrick (Titan Mercury WC)
2022 Senior WFS National Team member No. 2 at 62 kg - Jennifer Page (Titan Mercury WC)
2022 Bill Farrell International WFS highest U.S. medalist – Amanda Martinez (Illinois)
2023 U.S. Open WFS third place at 59 kg – Brenda Reyna (Army WCAP)
2023 U.S. Open WFS third place at 62 kg - Bridgette Duty (Army WCAP)
2023 U.S. Open WFS sixth place at 62 kg - Savannah Cosme (Sunkist Kids)
2023 U.S. Open WFS seventh place at 59 kg – Lauren Louive (New York AC)
68 kg
2022 Senior WFS National Team member No. 3 – Solin Piearcy (Menlo WC)
2022 Senior WFS National Team member No. 3 at 65 kg - Emma Bruntil (Titan Mercury WC)
2022 Senior WFS National Team member No. 3 at 72 kg - Marilyn Garcia (California)
2022 Bill Farrell International WFS highest U.S. medalist – Chloe Ogden (Tar Heel WC)
2023 U.S. Open WFS runner-up at 68 kg - Alexandria Glaude (Titan Mercury WC/Beaver Dam RTC)
2023 U.S. Open WFS sixth place at 68 kg – Isabella Mir (Iowa Women's WC)
2023 U.S. Open WFS sixth place at 72 kg – Nahiela Magee (Army WCAP)
2023 NAIA champion at 155 lbs. – Kaylynn Albrecht (Baker/Wildcat Elite)
2023 NCWWC champion at 143 lbs. – Katerina Lange (Augsburg/Minnesota Storm)
76 kg
2021 Senior WFS World Team member – Adeline Gray (New York AC)
2022 Senior WFS National Team member No. 1 – Dymond Guilford (Titan Mercury WC)
2022 Senior WFS National Team member No. 2 – Yelena Makoyed (Titan Mercury WC/Cardinal WC)
2022 Senior WFS National Team member No. 2 at 72 kg - Skylar Grote (New Jersey)
2022 Senior WFS National Team member No. 3 – Precious Bell (Titan Mercury WC)
2022 U20 World WFS medalist – Tristan Kelly (Army WCAP)
2023 U.S. Open WFS third place at 72 kg - Brooklyn Hays (Minnesota Gold)
2023 U.S. Open WFS fifth place at 76 kg – Kylie Welker (Titan Mercury WC/Iowa's Women's WC)