News
USA Wrestling
International
Women
College
USAW
Guilford, Basham, Ramirez, Howk reach semifinals in women's freestyle at U23 World Championships in Spain
by Gary Abbott, USA Wrestling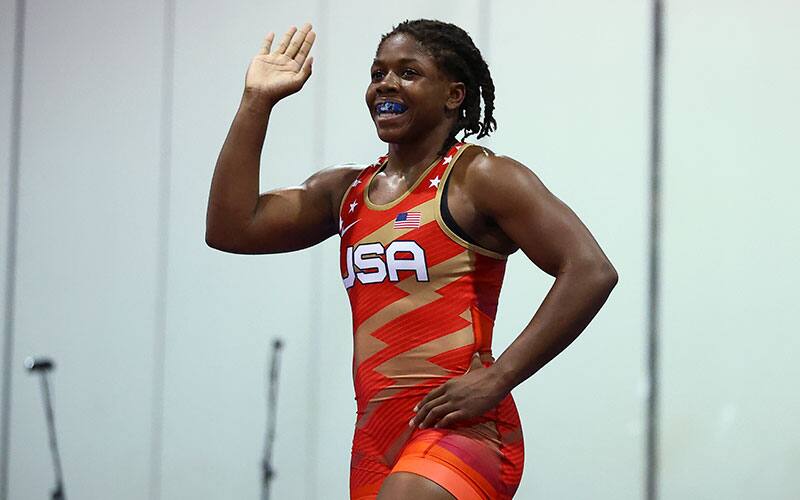 Dymond Guilford of the USA. Photo by Osvaldo Aguilar, United World Wrestling
PONTEVEDRA, Spain – Four U.S. women powered through the morning session to reach the semifinals at the U23 World Championships on Wednesday. It is the first day of women's freestyle competition at the championships, and Team USA is off to a roaring start.
2022 Senior World Team member
Dymond Guilford
won two matches and will face Inkara Zhanatayeva of Kazakhstan in the semifinals. Zhanatayeva was fifth in the 2018 U20 World Championships.
Guilford opened up with a dominant 10-0 first-period technical fall over Daniela Tkachuk of Poland. She scored a takedown and ankle lace for a 4-0 lead, then added another takedown to lead 6-0. Guilford ended it with a four-point bodylock.
In the quarterfinals, Guilford knocked off 2017 U23 World champion Yasuha Matsuyuki of Japan, 6-1. Matsuyuki led 1-0 at the break, after Guilford was unable to score on the shot clock. In the second period, Guilford took over, scoring two takedowns and two step outs to secure the big win.
Guilford is a two-time NAIA champion (one each for the Cumberlands and Missouri Baptist). This is her second age-group World Championships.
Senior National Team members
Lexie Basham
(59 kg) and
Sienna Ramirez (
68 kg), both who are Final X runners-up, scored pins in their quarterfinals bouts and advanced to the semifinals.
Basham, an NAIA champion for Texas Wesleyan, defeated another U.S. collegian, Karoline Ortiz Rosado of Puerto Rico, in the opening match, 8-4. Ortiz wrestles for Missouri Baptist. Basham scored a pair of takedowns and a step out, while Ortiz got a takedown, to lead 5-2 at the break. Ortiz scored a counter takedown, which Basham reversed, then later scored a takedown to close out the win.
In the quarterfinals, Basham was in control, and scored a late pin in 5:44 over Anne Nuernberger of Germany. She scored two takedowns and a step out for a 5-0 lead, and when Neurnberger went for a throw, Basham countered her to her back and secured the fall.
Basham has drawn 2018 U17 Asian silver medalist Himeka Tokuhara of Japan in the semifinals.
Ramirez was powerful in the second period in her opening 9-3 victory over Albina Kairgeldinov of Kazakhstan. Kairgeldinov opened up a 3-0 lead on a takedown and a step out, but a blast double by Ramirez closed it to 3-2 at the break. In the second period, Ramirez hit a slick four-point inside trip to lead 6-3, then added a shot clock point and a counter takedown to close it out.
Ramirez needed little time in the quarterfinals, putting away 2021 U20 World bronze medalist Zsuzsanna Molnar of Slovakia in just 53 seconds. Ramirez powered Molnar to her back and was able to finish it off.
Ramirez, who was an NAIA champion at Southern Oregon, will face two-time U20 World bronze medalist Nesrin Bas of Turkey in the semifinals.
Competing in her third age-group World Championships,
Alisha Howk
has guaranteed herself a medal match at 55 kg by reaching the semifinals with two clutch wins at 55 kg.
In her opener, Howk gutted out a tough 2-1 decision over Erika Bognar of Hungary. Bognar got the first point on the shot clock in the first period. Howk added a step out, then scored when Bognar was put on the shot clock which was the margin of victory.
In the quarterfinals, Howk won by injury default over Elnura Mammadova of Azerbaijan in the second period. Howk opened with a four-point takedown. She turned Mammadova to make it 6-0, but was reversed for two points for a 6-2 lead. Mammadova injured her knee, and after the doctor reviewed the injury, he ended the match.
Howk will face 2021 U20 World silver medalist Mihaela Samoil of Moldova in the semifinals.
Competing in her first age-group World Championships,
Nyla Valencia
was eliminated at 55 kg. She lost her opening match against 2020 Senior African champion Sarra Hamdi of Tunisia. Hamda scored a takedown and got a point from Valencia on the shot clock, to lead 3-0 at the break. No points were scored in the second period.
Hamdi was defeated in the quarterfinals by Olympic and World champion Yui Suzaki of Japan. Only losers to finalists are eligible for repechage, so Valencia's tournament has ended.
The USA had an 8-1 record for the session, with four wrestlers in the semifinals. Japan also had four semifinalists.
The semifinals are scheduled for 4:45 p.m. local time. Follow it live on
FloWrestling
. Pontevedra is six hours ahead of U.S. Eastern Time
U23 WORLD CHAMPIONSHIPS

At Pontevedra, Spain


U.S. women's freestyle Group One results
50 kg: Nyla Valencia, Morgan Hill, Calif. (Hawkeye WC/TMWC), eliminated
LOSS Sarra Hamdi (Tunisia), 3-0
55 kg: Alisha Howk, River Falls, Wis. (Victory School of Wrestling/Sunkist Kids), in semifinals
WIN Erika Bognar (Hungary), 2-1
WIN Elnura Mammadova (Azerbaijan), injury default, 3:20
Semifinals – Mihaela Samoil (Moldova)
59 kg: Lexie Basham, Roanoke, Texas (Spartan Mat Club), in semifinals
WIN Karoline Ortiz Rosado (Puerto Rico), 8-4
WIN Anne Nuernberger (Germany), pin 5:44
Semifinals – Himeka Tokuhara (Japan)
68 kg: Sienna Ramirez, Ashland, Ore. (Southern Oregon RTC), in semifinals
WIN Albina Kairgeldinov (Kazakhstan), 9-3
WIN Zsuzsanna Molnar (Slovakia), pin, 0:53
Semifinals – Nesrin Bas (Turkey)
76 kg: Dymond Guilford, Colorado Springs, Colo. (Titan Mercury WC), in semifinals
WIN Daniela Tkachuk (Poland), tech. fall 10-0
WIN Yasuha Matsuyuki (Japan), 6-1
Semifinals – Inkara Zhanatayeva (Kazakhstan)
Women's Freestyle Group One semifinals pairings
50 kg
Yui Susaki (Japan) vs. Emanuela Liuzzi (Italy)
Nada Medani Mohamed (Egypt) vs. Ankush (India)
55 kg
Virginie Gascon (Canada) vs. Moe Kiyooka (Japan)
Alisha Howk (USA) vs. Mihaela Samoil (Moldova)
59 kg
Magdalena Glodek (Poland) vs. Ramina Mamedova (Latvia)
Lexie Basham (USA) vs. Himeka Tokuhara (Japan)
68 kg
Naruha Matsuyuki (Japan) vs. Noemi Szabados (Hungary)
Sienna Ramirez (USA) vs. Nesrin Bas (Turkey)
76 kg
Anastasiya Alpyeyeva (Ukraine) vs. Tatiana Renteria (Colombia)
Dymond Guilford (USA) vs. Inkara Zhanatayeva (Kazakhstan)